During the offseason, it's not rare to find Patriots making their way to Boston Children's Hospital for a visit and to lift the spirits of those being treated there. On Tuesday, however, a pair of players paid a visit and got to work in the kitchen.
Nate Solder and Jordan Richards got busy quickly serving up breakfast to patients and their families on National Pancake Day. Complete with tall chef hats, the Patriots stirred, poured and flipped pancakes for a breakfast feast. More than breakfast to celebrate the delicious holiday, Nate and Jordan also brought joy to the patients and their families Tuesday morning.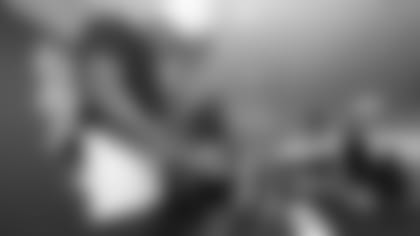 The pancake party at Boston Children's Hospital is an annual tradition, and this year's was the largest turnout yet. After Nate and Jordan whipped up pancakes for patients, they made their way around the hospital to visit some kids and their families.
Both Jordan and Nate added flare to their pancake creations, as well. While Nate tried to create a pancake Flying Elvis logo, Jordan attempted to make a pancake dinosaur and Mickey Mouse. Though the pancake art wasn't perfect, we still give them a solid A for effort and for spreading smiles throughout Boston Children's Hospital. 
For more photos, check out the gallery below. 
FULL GALLERY
Patriots tackle Nate Solder and defensive back Jordan Richards made and served pancakes to pediatric patients at Boston Children's Hospital on "National Pancake Day" Tuesday, March 7, 2017.