With the Patriots heading into the weekend with the annual in-stadium practice leading into an off day, New England's coordinators and assistant coaches spoke to the media ahead of Friday night's session inside Gillette Stadium for season-ticket holders and Foxborough residents.
Offensively, the Patriots have turned a corner over the last few days following an inconsistent start when the group primarily worked in the red zone. With nine practices now under their belt, the offense, and quarterback Mac Jones, have looked sharper in practice this week, executing offensive coordinator Bill O'Brien's base plays effectively.
Along with praising the players' work ethic, O'Brien also noticed the day-to-day improvement, speaking to the progress the group has made in the first full week of training camp. O'Brien also highlighted an excellent working relationship with head coach Bill Belichick.
"I love working with Bill & working for Bill. Bill is very involved in all aspects of what we're doing, what the defense is doing, what special teams is doing," O'Brien said. "I've always enjoyed working with Bill. I learn from Bill every single day."
As the Patriots offense has found a rhythm, it has sparked a healthy, competitive back-and-forth with a defense that projects as one of the NFL's best this season. For example, following a toe-tapping grab by Kendrick Bourne along the left sideline and a JuJu Smith-Schuster touchdown, the defense clapped back with a Jonathan Jones pass breakup and a would-be tackle for loss by rookie corner Christian Gonzalez in Thursday's practice.
"I think football nowadays it's very rare if you think you've got to just line up and run one play, and that's the play you're going to run, that's tough," O'Brien stated. "Defenses are still multiple and do so many different things. Not just our defense but all defenses. So we have to take that approach."
O'Brien has the Patriots offense pointed in the right direction. It's only training camp practice, and we are a ways away from talking about performance in games, but early returns are that O'Brien is doing what he was hired to do by coaching up the Pats offense into a bounce-back year.
Here are five takeaways from the Patriots assistant coach availability with offensive coordinator Bill O'Brien and the rest of the coaches guiding the offense: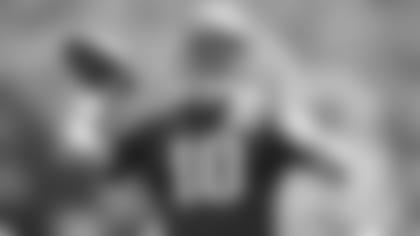 1. O'Brien talks Pats QBs: 'I really, really enjoy coaching [Mac Jones].'
The Patriots offensive coordinator was very complimentary of the third-year quarterback, but O'Brien wouldn't say that Mac Jones is this team's starting quarterback. As the Pats OC mentioned, some of that is that it's head coach Bill Belichick's call, while O'Brien also acknowledged that "most of the reps with the 1s" have gone to Jones.
"It's really about consistent, daily performance. Who is performing at a high level on a consistent basis every day? These guys are working hard to do that. Their performance every day has gotten better and better."
"Mac has done a really good job. He's worked extremely hard. I've really, really enjoyed coaching him. It's one of the better quarterback rooms I've ever been a part of," O'Brien said.
Although the head coach and offensive coordinator continue to stop short of publicly tabbing Jones the starter, if it's really about consistent daily performance, Mac has the upper hand on backup Bailey Zappe. That's not to say Zappe has practiced poorly. Zappe has made impressive downfield throws, maybe even more often than Jones. But the play-to-play consistency with decision-making, timing, and ball placement all favor Jones. The coaching staff might not feel like they have to publicly name Jones the starter as the incumbent, but it's clear from this point of view that Jones is being treated like and playing like this team's starting QB.
2. WRs Coach Troy Brown Slows Down the Demario 'Pop' Douglas Hype Train
As a Patriots Hall of Famer, Brown knows it takes more than a few good weeks at training camp to start fitting players for red jackets. However, Douglas's dynamic route-running to create separation has stood out amongst his teammates in the first nine camp sessions. The rookie, who primarily runs routes out of the slot, is making a hard charge for a roster spot and a role in O'Brien's offense as the quick-twitch inside receiver this group is missing.
With that said, Brown put the breaks on the Douglas hype train during his video conference call with reporters on Friday, saying, "I haven't seen a big enough sample yet. I'll put him in a bucket with the rest of the rookies," when asked about Douglas's performance in camp this summer.
Along with Douglas's emergence, fellow sixth-round pick Kayshon Boutte has also begun making plays over the last few days. Asked if anything has changed with Boutte leading to his recent success, Brown had a very straightforward response: "Practice. More practice."
The Patriots wide receivers coach sounded encouraged by the progress of the two rookie wideouts. Still, as they continue to garner headlines for their play in practice, Brown is trying to keep things in perspective for two young receivers with a long way to go in their development.
3. OL Coach Adrian Klemm on the Pats Offensive Tackles, Trent Brown
Another hot-button topic with the Patriots offense takes us to the trenches, where New England's offensive line has dealt with several key absences in the first two weeks of camp. The Pats have practiced without starters Trent Brown, Cole Strange, and Mike Onwenu for the last three-plus practices. Brown, who appears healthy, has been sitting out padded sessions, spending them on the conditioning field instead, while Strange hasn't practiced since sustaining a minor injury in Monday's session, and Onwenu (ankle) remains on the PUP list.
Despite his limited availability, offensive line coach Adrian Klemm gave an update on Brown, who, again, is on what appears to be a load management plan this summer. Although that's one theory, others have speculated that Brown might be unhappy with his contract.
"He's been with us the entire time here in these meetings and all those things, so he's been very good in that way in terms of taking Sidy [Sow] and some of the younger guys under his wing. He's working to get better every single day, and he's been really engaged with everything we've been doing. I'm encouraged by that, and I'm excited to see him when he gets back out on the field," Klemm said of the Pats projected starting left tackle.
As for the tackle group as a whole, the Patriots are counting on Brown's availability once the regular season rolls around but are holding an open competition for the other tackle spot. Most first-team reps have gone to veterans Riley Reiff and Conor McDermott, with Reiff filling in at left tackle for Brown while McDermott plays on the right side. The Patriots need a fully engaged and available Trent Brown this season.
4. RBs Coach Vinnie Sunseri on Rhamondre Stevenson's Lighter Workload in Camp
For daily observers at Patriots training camp, it has been notable that lead-back Rhamondre Stevenson has taken on a lighter workload in padded sessions this summer. In his breakout second season, Stevenson took on a significant workload, accumulating 279 touches while playing over 66 percent of the offensive snaps. Stevenson told reporters earlier this week that he's "itching to get in there," and he did participate more in Thursday's fully padded practice. But, ultimately, the Pats running back said to ask head coach Bill Belichick why his practice workload is being managed this summer.
Running backs coach Vinnie Sunseri echoed a similar sentiment when he said that the Patriots head coach is the one who is outlining the plan for Stevenson during training camp.
"Coach [Belichick] comes up with the plan, and I just try to go out there and execute it to the best of my ability, and so does [Rhamondre Stevenson]. We go out there, work extremely hard, and he goes out there and does everything I ask, just like he always does. He's a pleasure to work with. I love the kid. I love what he brings to the table, and it's a pleasure working with him," Sunseri told reporters on Friday.
Sunseri was then asked if Stevenson's lighter practice routine was due to the toll that the hefty workload put on the second-year running back last season, but the Pats RBs coach doesn't believe that's the motivation behind the decision to limit Stevenson in the summertime.
"No, I don't believe that's factored in. I think Coach [Belichick] takes what he believes is the best plan possible, and we just all go out there and do that," Sunseri added.
With the Patriots managing Rhamondre Stevenson's workload, we've seen plenty of second-year RBs Pierre Strong and Kevin Harris. Harris has gotten most of the early-down work when Stevenson is on the conditioning field, while Strong continues on the James White track in the receiving-back role. The question for the Patriots, who hosted free agents Ezekiel Elliott and Leonard Fournette on visits and have shown interest in Dalvin Cook, is can the second-year guys show enough to make the team feel comfortable going into the regular season with Harris and Strong behind Stevenson.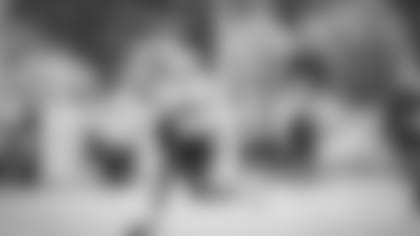 5. Patriots WRs Coaches Share Thoughts on Second-Year Wideout Tyquan Thornton
Lastly, a disappointing development this summer has been the lack of flashes from 2022 second-round draft choice Tyquan Thornton. Thornton, the 50th overall pick in last year's draft, made two standout plays with the second-team offense in Sunday's practice. But he hasn't stood out other than that and has been limited in practice over the last few days after missing time in the spring with a soft-tissue injury, per ESPN's Mike Reiss.
Brown referred to Thornton as a "rare breed" due to his combination of height (6-3) and speed. Despite the physical upside for the speedy wideout who ran a 4.28-second 40-yard dash at the 2022 scouting combine, we have yet to see consistent production for Thornton.
DISCLAIMER: The views and thoughts expressed in this article are those of the writer and don't necessarily reflect those of the organization. Read Full Disclaimer