The Patriots offense is on an upward trajectory through its first nine training camp practices this summer.
New offensive coordinator Bill O'Brien has come as advertised, adding a little more each day to a scheme that's really encouraging. Based on the first week-plus of the summer, O'Brien is aiming to return New England's offense to an efficient short and intermediate passing game that'll hopefully produce explosive plays with yards after the catch and supplement that with marrying the run game to under-center play-action — it's an updated version of the 2011 Patriots offense.
O'Brien rivals former OC Josh McDaniels's attention to detail, varied personnel groupings, and pace while adding a more modernized vision that borrows from the longtime offensive architect's recent stint at the University of Alabama.
Even under McDaniels, the Pats weren't utilizing motion at the snap (example: jet motion) or run-pass options (RPOs) as much as other modern offenses around the NFL, and O'Brien is adding more of that into the scheme. Along with other BOB staples such as empty formations, receiver stacks and bunch alignments, and option routes, New England's offensive install has been extremely impressive, with plenty of motion/window dressing and pre-snap control for quarterbacks. It's been apparent in recent days how the system puts stress on the defense.
As exciting as the scheme is for this football nerd to dissect, player execution during full-team drills has come in the form of baby steps as the players learn a new system. Admittedly, it's difficult to avoid riding the roller coaster during training camp, where the actual results can seesaw day-to-day, especially when installing a new offense.
In the first week of camp, the Patriots red zone offense was suffocated by a projected top-ten defense. There were some ugly periods, but we've seen steady progress as the Pats began moving the action outside the red zone and eventually back inside the 20
With the group turning the page from play installation to perfecting execution, the results are starting to come, even in the red zone, where they've shown significant progress. At this point, you're beginning to recognize O'Brien's staple concepts, and the group is challenging a really good defense on the practice field. It's a healthy back-and-forth, which wasn't the case last summer when the offense struggled to find its way, let alone play chess against a Belichick defense.
A good example of the offense-defense chess match came in Wednesday's practice, one of the best sessions we've seen not just this summer but in recent years. With the defense in a call to inside-out the two receivers, Jones ID'ed the coverage, checked to a coverage beater, and threw a touchdown pass to wide receiver JuJu Smith-Schuster.
After a nearly catastrophic second season, Jones's timing and confidence are improving daily. The Pats QB1 is also beating blitzes by the defense with a quick release. The offense, and Jones, are getting better at problem-solving, which is a huge plus given where things were a year ago. Jones is effectively operating the short and intermediate passing game, O'Brien's bread and butter, and the receivers are finding more separation downfield in the second week of camp.
Now, the question is can a Mac Jones-led offense be this sharp when the action is truly live? Until the quarterback sheds the red non-contact jersey and defenses are selling out to stop them, we can only predict how the offense will perform in the regular season and hopefully beyond.
The offense, and the quarterback agrees, has enough skill talent to move the ball when they're being put in a position to succeed by an experienced offensive coordinator. From this perspective, the Pats undoing won't be the quarterback or his pass-catchers but rather an offensive line searching for continuity and reliability.
New England's offense is on a nice run where they're making strides and adding more to their bag with each practice. But as good as it is to see competent offense again, we are still far from seeing them do it in the regular season.
Here is a position-by-position breakdown of the Patriots offense through nine training camp practices, and quick-hit notes on the defense: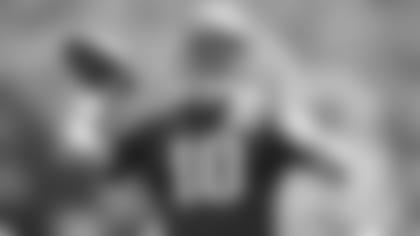 - Although his growth over the last nine practices has been encouraging, Jones, like any quarterback, still needs to improve in certain areas. Mainly, completing downfield throws into closing windows against zone coverage. Jones's touch and accuracy allow him to effectively and safely attack man coverage. However, there's been instances where receivers have flashed open in zone voids, but the pass was nearly intercepted. For example, the Pats ran a three-level flood concept (go, corner, flat) where Smith-Schuster was open on the corner route. But the Pats quarterback either didn't account for the flat defender (Marcus Jones) or didn't have the velocity on the ball to complete the pass. Instead, JuJu turned into the defender to prevent the interception. In Thursday's session, a similar play occurred where Jon Jones nearly had a pick. Mac either needs to hold/account for the boundary defender jumping the route or find an uptick in velocity to drive the ball into the closing window. This issue has accounted for most of Jones's turnover-worthy throws in practice.
- Let's make one thing clear: there isn't a quarterback competition in terms of the Week 1 starter in Foxboro. Mac is the starting quarterback, taking all the competitive first-team reps, and he's been far more consistent than backup Bailey Zappe. That said, it's not like the coaching staff is ignoring Zappe. They're still interested in the backup's development, and Zappe is getting reps with other frontline players. There's also a case to be made that Zappe has thrown more deep-ball dimes than Jones in camp, with dots to Tre Nixon (slot fade), Tyquan Thornton (fade), and now retired wideout Jalen Hurd (go) standing out as excellent passes. Zappe's processing speed, compact release, and deep accuracy are enough to remain in Belichick's back pocket if Jones starts the season poorly. However, Jones is clearly better than Zappe in the short and intermediate areas, while the second-year QB has taken too many sacks by holding the ball. Ultimately, it's Mac's job unless he loses it in the regular season.
- Third-string quarterback Trace McSorley is a camp arm and eventually depth to run the scout team. But he deserves kudos for some impressive throws, including a perfectly placed ball along the sideline to Raleigh Webb that was an absolute dime and a rocket between two zone defenders on a dig route to Thyrick Pitts. McSorley can certainly drive the ball on a line downfield, showing as much velocity on drive throws as any of the quarterbacks, but his game is all boom or bust. He's far too inconsistent with his ball placement to consider him a threat.
- It's challenging to evaluate running backs without the benefit of film review and when the Pats are dealing with so many absences along the offensive line. New England's rushing attack has primarily been zone-based, with the expectation that they'll build everything off that.
- Rhamondre Stevenson is on the load management plan, and it makes sense given his expected workload and their lack of depth at RB. Plus, the coaches likely want to give the second-year guys as many reps as possible to see what they have. Stevenson is in shape and has given the defense problems catching underneath throws out of the backfield. He had a nice connection with Jones, where he snuck into the flat behind a blitz for a walk-in touchdown.
- Pierre Strong is an intriguing player for this offense. Strong has an explosive gear and lateral quickness on his jump cuts to generate big plays on the ground or through the air. He also showed off that straight-line burst during a live goal-line sequence where he converted speed to power his way into the end zone. I'm clamoring to see the ball in his hands in space, and O'Brien can get him into daylight on screens, sweeps, shotgun runs, etc. The question for Strong is in the details and if his frame could handle being this team's primary receiving/sub back. Having to stand-up blitzing linebackers in blitz pickup is one concern for projecting him into a receiving-back role.
-Although he's still a hoss, Kevin Harris has come into camp slimmer, faster, and improved in the passing game. Harris is a power back vying for snaps in an early-down role. He lacks the elusiveness to significantly add yards after contact other than pushing the pile. I'm not down on the player, but he is who he is, and that's a guy who will get what's blocked. That said, if he gets a head of steam thanks to good blocking, he's a large human for DBs to bring down.
-Will the Patriots ever give J.J. Taylor a real shot? Who knows. He's very small, but Taylor has some nifty lateral moves, including an ankle-breaker where he jump-cutted around Ja'Whaun Bentley. If the Pats don't sign a vet, Taylor might make this team as the fourth RB.
-Ty Montgomery has missed seven-straight sessions with an apparent leg injury he suffered in practice. Montgomery is valuable as an RB/WR hybrid who can create intriguing personnel mismatches, but his durability is a real issue. It's too bad. He flashes when he's out there.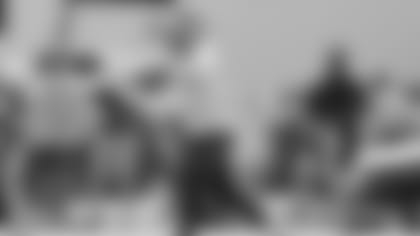 - JuJu Smith-Schuster and DeVante Parker are as advertised. Neither wows you with speed. But they're sturdy receivers with great hands, body control, and the experience shows. Smith-Schuster feels like a guy who will be even more productive in games when he gets into YAC mode, while Parker continues to win his fair share of jump balls. These are your top two WRs. Assuming they're healthy, they'll play a lot.
- Kendrick Bourne is starting to show up now that the Pats are in pads, and the coaching staff sure is gassing him up. Bourne has the inside track to be the third receiver in 11-personnel. Still, as a reminder, he has only played 27% of his snaps in the running game in his first two seasons with the Pats, meaning they don't view him as a three-down receiver. I expect him to be a passing-game specialist again.
- It's fair to start worrying about second-year WR Tyquan Thornton's development. He started to flash in team drills on second-team reps but was going against Shaun Wade and rookie Isaiah Bolden. Other than that, he's either been unavailable or struggling to stand out. Thornton's route-running must improve for him to break out. He's still not separating on horizontal cuts at the first two levels, and appeared to have a route-running miscue where he needed to be coached up by Mac Jones. Hopefully, he starts figuring it out, because this offense could use a deep threat to keep safeties honest.
- Rookie Demario "Pop" Douglas is one of the breakout players of Pats camp. His dynamic routes are noticeably twitchier than his teammates, with the ability to create early separation in his routes with his burst off the line and explosive cuts. Douglas's quickness makes him a natural in the slot, where he's the only jitterbug of the group. I'm not ready to call him a dude yet, but Douglas's skillset can thrive in O'Brien's system, where the Pats OC will get him space and matchups to dust slower defenders.
- Fellow rookie Kayshon Boutte is coming on lately after a slow start. He has some vertical juice to test corners downfield, and his thick frame has similarities to Smith-Schuster's game after the catch. Boutte doesn't have much separation quickness on horizontal cuts, though, and he is blocked by Bourne, JuJu, and Parker at the X/Z spots. I could see him making this team, but Boutte would be more of a stash for 2024 and injury depth, whereas Douglas has a clearer path to playing time because his skillset is different than the others.
- Tre Nixon remains a roster long-shot due to the locks at the position. But he has caught three deeper passes, two from Zappe on a slot fade and crosser, and one from Mac on an inverted over (post-corner). Nixon has legit vertical speed. I'm just not sure where he'd fit into the 53-man roster.
- Credit to Raleigh Webb for competing out there at wideout. He has made some great catches working with McSorley and could be a break-glass option at receiver while making the team for his special teams contributions.
- The Malik Cunningham hype train is at a standstill. He'll likely stick around for scout-team purposes as a dual-threat quarterback. We haven't seen enough from Thyrick Pitts, who signed three days ago, to have an opinion.
- Hunter Henry looks terrific entering his third season with the team and has been the most reliable pass-catcher for Mac in team drills. Henry creates separation with his craftiness and ability to use his frame to shield the catch point, while his chemistry with Jones is outstanding. The ball leaves Jones's hands earlier throwing to Henry than any other receiver by a mile. The anticipation with these two is off the charts.
- Mike Gesicki hasn't logged as many catches during team drills as he did in the spring, but the opportunities are coming. During Wednesday's session, he looked smooth running an angle/option route as the off-the-line receiver in a two-receiver stack and had two chances to make a play on crossing routes this week. Myles Bryant held him on one occasion, and the details were slightly off on another crosser. With a new QB-receiver relationship, Jones and Gesicki will iron things out, and I still expect Gesicki to contribute. The volume he'll see is less about him getting open and more about how the Patriots will view early downs. Will first and second down be purely run-game personnel, or will O'Brien try to maximize the passing game at all costs? If it's the former, Gesicki might be a part-time player here.
- Gesicki could lose snaps as an early-down receiver because TE Matt Sokol is climbing the depth chart. Listed at 258 pounds, Sokol is the roster's best in-line blocking tight end. He holds his own with edge defenders on kick outs/base blocks and has caught the eye during edge-setting drills working against Jahlani Tavai. Sokol gets a lot of work alongside Henry in 12-personnel packages during run-game periods.
- Anthony Firkser has also sometimes mixed in as a second blocking tight end. Firsker has more versatility than Sokol to make blocks on the move from wing positions and play a more flex role. He's also working with the core group on the side field during special teams periods. It's a good battle between Firsker and Sokol for the third tight end spot.
- Johnny Lumpkin, my favorite UDFA to make the roster candidate, has shown more promise as a safety blanket in the passing game than expected. But his blocking hasn't stood out, and he practiced in a red non-contact jersey over the last two days, which isn't good for a guy that needs to make the team as a blocking specialist.
- Scotty Washington has been limited in several practices and has yet to make an impression. Unless he pops in the preseason to catch on elsewhere, it looks like another year on the practice squad.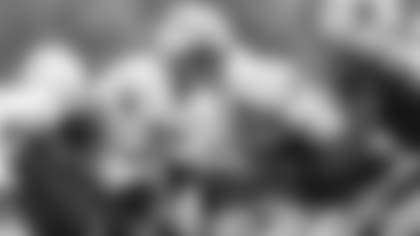 - David Andrews has been the only fully healthy starter throughout the summer, and it doesn't look like he's relinquishing the starting center job to the young guys yet. Andrews has been rock-solid in the middle of the line, even playing next to a revolving door at guard.
- The battle for the starting right tackle job between veterans Riley Reiff and Conor McDermott could make or break the season for this offense. As you'd expect for a physical guy, Reiff has looked better in pads. He fares well in drills, such as one-on-ones and edge-setting work, but looks overmatched by speed rushers at times. When rushers challenge his outside hip, Reiff has issues protecting his edge, with Josh Uche and Ronnie Perkins occasionally running around him. Reiff also struggles on pin-pull and outside toss schemes to his side. In a phone booth, a fine player, but tackles have to be able to play in space.
- As for McDermott, his run-blocking tape last season doesn't appear to be a fluke. The 6-8, 310-pound tackle is a people-mover in the run game, creating creases with Mafi, like he will with Mike Onwenu, when he gets on a combo block with the right guard. McDermott has the same issues as most taller tackles with pad level and instant changes of direction. I'd give the edge to McDermott over Reiff, but I'm not overly enthused by either option at the moment.
- Rookie Atonio Mafi has made the most progress out of the first-year linemen in padded practices. Mafi is a cinder block who uses his stout frame and impressive bend to get underneath defenders in the running game. He also has some pop in his hands to throw stiff punches in pass protection. Mafi isn't a great lateral mover, and I wouldn't recommend highlighting him in space, but he plays the Pats brand of right guard. It wouldn't shock me to see Onwenu at right tackle with Mafi sticking at right guard. That might be their best five.
- Patriots head coach Bill Belichick confirmed that fourth-round pick Sidy Sow is transitioning full-time to tackle. Sow has the athletic profile to kick outside but is still working on his footwork to keep his balance and maintain an anchor on the move. If Sow can master the fundamentals at tackle, the foot speed appears to be there, but it's a longer-term project. I'm not expecting Sow to be an option as a starting tackle this season. It's been a little shaky for him in 11-on-11s.
- Rookie center Jake Andrews has the brawler mentality that his college coaches outlined in the draft process. But he's had issues anchoring in pass protection against NFL power during one-on-ones. Admittedly, it's been harder to evaluate Andrews on the fly than the others, with so much going on in the trenches in a live 11-on-11.
- Second-year OT Andrew Stueber is seeing his first extended practice action after missing his entire rookie season, and as you'd expect, it's been up and down as he gets acclimated to the NFL. He's had a good back-and-forth with Keion White. White tossed him to the ground with a long-arm/bull rush in one-on-ones, but Stueber got him back in the edge-setting drill.
- After surprising some by being the first guy up at right guard in Onwenu's stead, Bill Murray has fallen back down to earth once the pads went on. Murray works hard and has a strong upper body but is still learning the fundamentals of the position, especially hand usage and recovery techniques.
- Kody Russey has gotten more looks at guard lately as the Pats try to put their best healthy five in front of Mac Jones. Russey is undersized for the interior but moves well and has a sturdier base than expected at 295 pounds. The next/new James Ferentz? There might be a little more upside there.
- Speaking of Ferentz, he's still serviceable as a backup center and has looked decent again this summer. Ferentz isn't good enough to be a full-time starter, but there are worse backups.
- Chasen Hines has once again been limited at times throughout camp. At 6-3, 320 pounds, Hines's size and length stand out among the guards. But he hasn't strung enough healthy practices together to get a good feel for his potential. TBD.
- Whether it's contract-related or not, Trent Brown isn't going to lose game checks by sitting out regular-season games. My guess is he'll start participating in the joint practices, maybe after receiving a Judon-like advance in pay. I'd also expect Cole Strange to return by joint practices. His injury is not serious. Onwneu's situation is more uncertain, and bears watching as we head toward the weeks in Green Bay and Tennessee. As inconsistent as it's looked in practice, you have to remember that they're down three-fifths of the starting O-Line.
- I would love to see Calvin Anderson out there before camp is over, but Belichick didn't sound too optimistic about that. Anderson has a far better athletic profile than McDermott and Reiff, while his film as a starter last year in Denver was promising—the highest upside option at OT.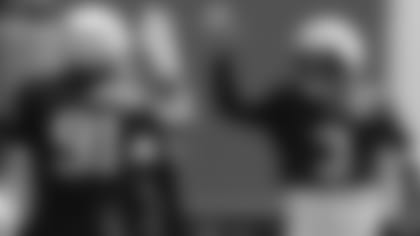 Quick-Hitters on the defense
The Pats defensive front is still basing out of an odd front, which nowadays is mostly a 3-3-5 nickel that still plays like an old-school 3-4. We've mostly seen Guy-Godchaux-Wise as the base D-Line.
Christian Barmore's potential flashes still. His upper-body power to press run blocks and defeat pass blocks stands out, but I'm waiting to see the light fully come on to make him a consistent game-wrecker.
Rookie Keion White's ability to convert speed-to-power using his first step and length is apparent. The rookie can dent the pocket, and his outside-inside move on Conor McDermott during one-on-ones was filthy. I like him best in a three-point stance. Let's see him against a healthy starting O-Line, please.
With Mattew Judon not practicing, Josh Uche has made some plays against the run lately. He has gotten in the backfield for two TFLs and held his ground on one stop. Hopefully, a sign that he can play more this year.
Marte Mapu is a linebacker. Next.
Rookie CB Christian Gonzalez looks terrific in press-man. He has lost a few times to DeVante Parker at the catch point, but he has mostly suffocated Parker and JuJu. He still needs to work on his anticipation and recognition in off-coverage and zone, especially when the offense purposely floods his zone, making him midpoint routes and break on the ball. I'd also like him to trust his long speed more to sit on underneath throws in off-man. None of these Pats receivers are running by him on the outside. It's possible the coaches are trying to train good habits rather than asking him to adjust to who he's facing in that regard, though. Overall, an excellent start for Gonzo.
The Pats best CB trio is Gonzo, Jack Jones, and Jonathan Jones (slot), allowing Marcus Jones to be a super-sub as a CB/S. If Jack isn't available, they'll probably roll with Jon and Gonzo on the outside, with Marcus in the slot, while Myles Bryant elevates to the dime package CB/S spot. Bryant and Marcus Jones are still battling for that fourth CB role, which isn't a small thing given Jack's situation.
My concern level at free safety, where the Pats are replacing Devin McCourty, is growing. The communication has been fine, and the versatility to spin the dial is intriguing. But there isn't a true center fielder in the group. McCourty's range and route recognition were flawless. It still seems like Dugger, Phillips, Peppers, and Mills are learning how to play to their strengths at that spot and recognize/anticipate route combinations. Luckily, there's still time find the best combinations.
DISCLAIMER: The views and thoughts expressed in this article are those of the writer and don't necessarily reflect those of the organization. Read Full Disclaimer