All six of the Patriots Lombardi trophies represent something different – a different game, a different season, a different team. One represents the first, the beginning of a dynasty. One stands for the greatest comeback of all time. The newest is a reminder of the latest triumph in Super Bowl LIII.
Looking at them, inscriptions aside, it's hard to tell them apart. All stand at 22 inches tall, weigh 7 pounds and are made of sterling silver. And yet, the Super Bowl LIII trophy has a unique visual marker that makes it stand out from its five siblings.
On the backside of the silver football, what was once a smooth, shiny surface now has a baseball-sized crater. From afar, if you aren't looking for it, you wouldn't notice, but up close, it is clear there is a story behind this indentation.
There is in fact a story, and it's a damn good one involving Opening Day at Fenway Park, a Super Bowl MVP and a future Hall of Famer.
The following is the account of what happened on April 9, when the Patriots were invited to throw out the first pitch at the Red Sox home opener, as told by those who witnessed it.
Joe Cardona: There we were, waiting to step out in front of the crowd at Fenway, and of course, you give a big group of football players too much time, we'll find a way to mess something up.
Matthew Slater: Well, when you do those type of events, sometimes scheduling is a little bit of an issue, timing wise. They brought us down on the field and said, "You, you and you are going to carry out the trophies when we go."
Ted Karras: We got down there a little early.
Joe Thuney: We had gone under the flag initially to be welcomed on to the field, and then we were there a couple of minutes early and they pulled us all back in. We were just waiting in a tent, waiting, pacing, anxiously excited.
Jason McCourty: You knew something was going to go wrong when you hand out the six Lombardi trophies, especially one to Rob Gronkowski with idle time.
The Patriots were moved to a tent in the corner of left field, hidden from sight during the Red Sox World Series ring ceremony. There they waited until it was time to line up again and make their entrance.
Brian Hoyer: The first thing I remember is Julian [Edelman] like, "Hey, if I'm throwing out the first pitch, I need to get loose. I need to warm up."
Slater: Julian winds up in his very dramatic fashion, which will be par for the course for him. He starts heaving it down there like he's Pedro Martinez or somebody.
McCourty: Then Steph [Gilmore] comes in, warms up. Of course, Gronk goes up there and looks like he throws the ball about 80 miles per hour, just being the pure athlete he is.
Stacey James, Patriots Vice President of Media Relations: He throws the ball through the tent, leaves a hole in the tent.
Thuney: Jules is like, "Let's put a body out there so I can get my accuracy down."
Hoyer: Somebody had the bright idea to have Rob go be the hitter while Julian was practicing pitching.
Duron Harmon: He didn't have a bat when he stepped up to the plate. A little strange.
Danny Etling: All of a sudden, Gronk grabs the trophy.
Keion Crossen: You see Gronk with the trophy, and you see Julian at our fake mound. He's at the fake mound preparing to pitch like it's the World Series and Gronk is just the final batter here. He's definitely not going to hit it.
Thuney: He's not going to do anything, right?
Cole Croston: My first thought was if it's Rob and he's standing up there with the trophy, he's not going to not hit that ball that Julian's throwing. He's definitely going to hit it. Julian isn't throwing it real soft. He's throwing it pretty hard.
Slater: I see Rob standing at the backdrop where they've been throwing with the trophy, wielding it around like he's getting ready to swing for the fences, but I say to myself, "Certainly that's just Rob having some fun. He would never hit the ball with that."
Etling: I was like, he's not actually going to swing. I don't think Jules thought he was going to actually swing.
Anonymous Patriots player: Everybody who was there watching was thinking the same thing, but also wanting to see it. It was kind of like our child side was like, "We really want to see this happen," and then our adult side left the room. We were just like, "Let the kids play."
Hoyer: I mean, I know it's Rob, but there's no way he's going to swing at this pitch when Julian throws it. Julian's doing the wind up, comes back to the stretch looking like there's runners on base, and he throws it. I'm watching the ball like it's in slow motion.
Cardona: Julian threw the ball right down the middle, and Rob squared up a bunt. He made great contact.
Karras: It sounded exactly what you think a baseball hitting the Lombardi trophy would sound like.
McCourty: Everybody went wild like the bunt just won us the World Series.
Croston: Everyone starts jumping around and everything because Rob just hit it with a trophy.
Cardona: Everybody went crazy.
James: That was not my reaction.
Slater: I saw the look on people's faces like I see on my son's face when he's done something that he shouldn't have, and Rob's got a little grin. Then I turn to our fearless leader Stacey James. I see the look on his face, and it dawns on me, "Oh goodness. Something has gone awry here."
Thuney: We looked down at the trophy like, "Oh my goodness. There's a dent in the Lombardi trophy."
Etling: It's got this big old dent in it.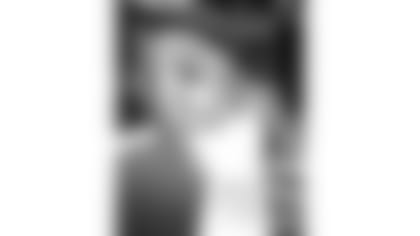 Slater: Now, we're all under the impression these are replica trophies, then we learned that indeed these were not replicas. These were the real trophies.
Stephon Gilmore: And it's not an old trophy. It's the brand new one.
Harmon: You can't hide a baseball dent in there. Everybody literally went to the trophy and saw it. I think Rob thought it was more funny than anything.
Anonymous: Between the two of them, the words were thrown out, "Take it out of my paycheck."
Harmon: The funniest thing about it all was it actually was a really good bunt. Like it was perfect technique. I don't even understand how he controlled the Lombardi. If the Red Sox had bunting practice, that would be teaching tape for them. He does everything perfect.
Gilmore: He said at the last second, in his mind, he was like, "I'm going to bunt it." I'm glad he didn't swing it.
McCourty: There might not be a football on the Lombardi trophy anymore if he swung, so I guess we're all thankful for that part of it.
Etling: It was one of the more reckless things I've seen in my life.
Cardona: I doubt we're going to be allowed to go anywhere with any of the trophies ever again. Every single time I see it, I'm just like, I can't believe that happened.
James: I'll give the Krafts credit. It wasn't the reaction I was fearing. They were very receptive. It's hard to explain at first. "He did what?" It's hard to picture where this was and what happened.
Slater: Not exactly what we're looking for, but if it had to happen on that day with all of us that were there, the two guys that I would say, "Okay, maybe we can get away with this" would be the MVP and the future Hall of Famer.
Karras: I mean, I'm glad it wasn't me batting.
Gilmore: Nobody would have done that but Gronk.
James: Maybe they'll fix it down the road. That's something they can always fix in the future, but at least for now, we're going to keep the dent and tell the story.
Thuney: I don't think the value of the trophy is diminished at all. I think, if anything, it's increased because of the story behind it.
Crossen: We had even more fun when they introduced us on the field and we held that dented trophy up. That trophy means just as much as any other one, but we had a little bit of fun with that one.
Karras: I love that's how he ends it. It's going to go down in sports lore: the dent in the Lombardi from Gronk and Edelman.
Hoyer: Rob's parting gift to the organization was leaving his mark on his last Super Bowl trophy.
Cardona: He's going to go all out no matter what he's doing. What you see is what you get with him. He always has the biggest smile in the room, so to see him have a little fun right there in the outfield of Fenway Park, maybe at the expense of priceless sports history, he's earned every right to do it.
Slater: Only fitting though that the lasting mark, pun intended, left by Rob would be on a Super Bowl trophy, right?