The New England Patriots will open their annual training camp presented by Optum on Wed., July 27, when players report. The first scheduled practice will be on Thurs., July 28 at 9:15 a.m., on the practice fields behind Gillette Stadium. The daily practice schedule throughout training camp is tentative and subject to change. Fans planning to attend practice are encouraged to check www.patriots.com/trainingcamp for last-minute updates or call the training camp hotline at 508-549- 0001. Parking, admission to practices, admission to Patriots Fan Zone and rosters are all free.
Gillette Stadium offers ample parking for the thousands of fans who attend training camp practices and enjoy the family-oriented entertainment. Bleacher seating, located on the west sideline of the practice fields, will provide seating for thousands of fans with overflow seating for thousands more on a hillside in the north end zone.
FAN ZONE
Besides watching practice, fans attending training camp can enjoy other types of family entertainment, including Patriots Fan Zone, an interactive, football-themed area open to fans of all ages. Located adjacent to the practice fields, Patriots Fan Zone features fun activities and games, appearances by Patriots alumni and cheerleaders, concessions, and much more. Fan Zone is scheduled to be open on training camp practice dates from July 28 until Aug. 10. Please go to www.patriots.com/trainingcamp for updates throughout camp.
JOINT PRACTICES WITH SAINTS AND BEARS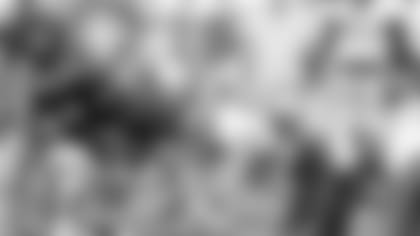 The 2016 season marks the fifth straight year that the Patriots will hold joint practice sessions when they host the New Orleans Saints on Aug., 9 and Aug. 10, prior to the preseason- opener on Aug, 11, and then host the Chicago Bears on Aug. 15 and Aug. 16 prior to the Week 2 preseason game on Aug, 18. Those practice sessions will be open to the public.
Last season, the Patriots traveled to West Virginia, the site of the Saints training camp, for joint sessions prior to traveling to New Orleans for the preseason opener.
In 2014, the Patriots held joint sessions with two different teams. The Patriots conducted joint sessions at Washington and at home against Philadelphia.
In 2013, the Patriots traveled to Philadelphia for joint practice sessions and then hosted Tampa Bay in joint sessions. In 2012, the Patriots held joint practice sessions with New Orleans prior to the first preseason game of the year and then traveled to the Buccaneers' headquarters for two joint practices prior to their preseason matchup that year.
ROSTER REDUCTION DATES
The NFL roster limit during training camp is 90 players. The first mandatory preseason roster reduction date is Tues, Aug. 30, two days prior to the Patriots' final preseason game. On that date, rosters must be reduced to 75 players. On Sat., Sept. 3, rosters must be reduced to the regular-season limit of 53 players.
PATRIOTS 2016 HALL OF FAME INDUCTION
The New England Patriots will host the team's 2016 Hall of Fame induction ceremony for Kevin Faulk on Mon, Aug. 1, 2016 at 5 p.m., on the NRG Plaza outside The Hall at Patriot Place presented by Raytheon. The event will coincide with the team's first in-stadium practice of 2016, which is an annual ticketed event for Patriots Season Ticket Members and Foxborough residents at Gillette Stadium. (The clear bag policy will apply).