The Patriots went back to work on the practice field Tuesday, just two days before they host the Houston Texans on Thursday night. Every player took part in the walkthrough session except cornerback Eric Rowe, who suffered an ankle injury last Thursday in practice.
One player who looked especially anxious for the Texans game was Rob Gronkowski. While his teammates just brought their helmets to the walkthrough, Gronk came out it full pads. Once the coaches realized this, however, they made him remove them.
"Yeah, I haven't been in full pads in a while, so, I kind of felt like I wanted to get used to it," explained Gronkowski, who's been recovering slowly from a hamstring injury for the past month. "It's part of the training process, but obviously, I wasn't allowed to wear them. Really no big deal. I just like the feel."
While the All-Pro tight end has been a regular practice participant lately, he was held out of New England's first two regular season games. He wouldn't let on if he is prepared to make his return Thursday night.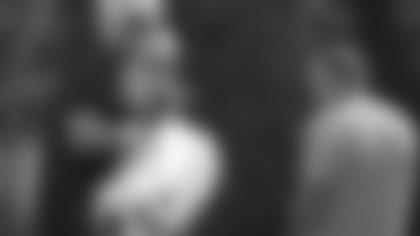 "I'm feeling decent," he chuckled. "We'll see. It's going to be a coaches' decision, trainers' decision. We'll all come together. Just doing everything I can right now to be as healthy as I can be. I'm improving every single day… yes, for sure, I'm feeling better every single day. That's all I can ask for."
Meanwhile, it seems more certain that rookie Jacoby Brissett will make his first NFL start at quarterback for New England. After Jimmy Garoppolo injured his throwing shoulder Sunday afternoon against Miami, Brissett played the entire second half and helped the Patriots hold on for a 31-24 victory.
"It's the same preparation every week," Brissett maintained after today's practice. "It's been learning process since I got here. It's going to continue to be. Just taking this week the same. I'm just worried about Thursday."
Garoppolo was limited in today's walkthrough – he wasn't on the field when the media were allowed to watch the beginning of practice – and as of Tuesday evening, the Patriots hadn't brought in another player at that position. It remains unclear if Garoppolo will be healthy enough to suit up and serve as Brissett's backup. That decision could be made as early as tomorrow, when the Game Status report is distributed by the Patriots, or as late as 90 minutes before kickoff Thursday, when the list of game-day inactive players must be revealed.
With that in mind, it was noteworthy that aside from Gronkowski, wide receiver Julian Edelman showed up at Tuesday's walkthrough wearing shoulder pads and chatting with Jerry Schuplinski, the team's assistant quarterbacks coach. In all likelihood, he will be the emergency QB if Brissett were incapacitated against Houston.
The likely reason Edelman was allowed to wear his pads, while Gronkowski was asked to remove his, is because he would need to get comfortable and accustomed once again to throwing the football with the full equipment. Edelman, a college quarterback at Kent State, immediately began warming up by throwing passes as soon as he arrived on the field this afternoon.
The Patriots will have another walkthrough on Wednesday, but that session will be closed to the media.