The Patriots will carve their roster down to an initial 53 players this afternoon, while also setting an initial 16-player practice squad. As we've already seen over the last couple of days, players are already coming and going, with two trades adding two new tackles to the depth along the offensive line.
Those moves make plenty of sense based on how the summer went, addressing a considerable need after the injury bug struck the tackle group particularly hard. This offseason the team signed three veteran tackles, Riley Reiff, Calvin Anderson and Conor McDermott and none are currently healthy.
Understandably, the offensive line occupies many of the questions this week. Wheatley and Lowe are not proven starters but young players with quality traits. We'll see how quickly they can get up to speed in New England and reinforce arguably the most beleaguered position on the roster.
Here are your questions as the start of the regular season rapidly approaches.
One of the big issues with last year's offense was the lack of that 3rd down back that has been a staple of the Pats offense forever. At least last year BB brought in someone -Montgomery, who got hurt. So here we are again Montgomery is hurt and we still don't have a 3rd down back. It seems over the past few years BB planning for the future has been pretty bad. Why is it so hard for BB to find a 3rd down back? Why has BB been so poor in the last few years in preparing to replace platers? -Badax Michaud
This is an interesting question because to be honest, I thought they became a bit too predictable at times in recent years with the clear divide between passing back and early-down back. I think those lines have blurred a bit with Stevenson's and Elliott's ability to catch the ball at a plus level. Now, Montgomery was back at practice last week and seems to be trending towards being ready to go for Week 1. I know those who look at the veteran Montgomery's stats aren't all that excited for what he could do with the Patriots, but as someone who watched every training camp practice and OTA that Montgomery has taken part in, I can tell you he's consistently involved and looks really comfortable in this system. I can't say if he's suddenly going to hit new career heights this season, of course health is probably the biggest thing for him, but I can tell you if the Patriots have Stevenson, Elliott and Montgomery healthy, it's a really good place to be and all their bases are really covered.
I get the point about developing another third-down back and many thought Pierre Strong could be that guy, but Stevenson's balance is underrated here. I am however all in on the lack of development at tackle, which came home to roost this weekend after injuries hit all three of their free agent veteran signings. Hopefully, because these two players are young, one of them can develop and fill that long term need. Trent Brown is set for free agency next year so this is an issue that needs to be carefully considered. -Mike Dussault
After two lackluster years in the NFL with our New England Patriots I have not been completely sold on linebacker Anfernee Jennings but after watching his performances over the course of the full preseason I have been left pleasantly surprised and impressed with his overall play and attitude and think he has done enough to warrant a spot on this year's roster, would you agree with me that he has looked more focused and effective than before or are you more inclined towards letting him leave and find work elsewhere? -Marc Saez
I think Jennings has been one of the most improved players this summer and yes, he sure showed it in the preseason games when he not only demonstrated his usual stoutness on the edge, but some added pass rush moves that have enabled him to be more impactful on the quarterback. I really think they needed this jump from him, to provide a strong run-stopping stand-up edge presence. I was worried entering the summer what might happen if Matthew Judon went down but I feel a little better after seeing the strides that Jennings has made. His performance should make him a candidate for a contract extension in my opinion and I hope that he can continue to make plays like he has been this summer. -Mike Dussault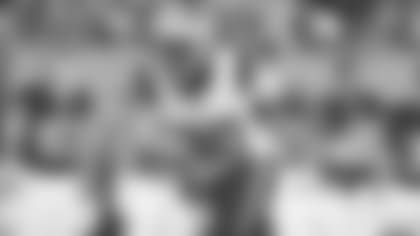 Why do you guys list Marte Mapu as a linebacker? It seems like he was a safety in college and played safety against the Titans. He doesn't have the body of an NFL linebacker. Maybe he eventually plays some LB on third down, but other than that, I don't see it. Have you seen him play a lot of LB in training camp practices, or is him playing LB something that you are just wishing for? -Hannah Johnson
Well, the first rule is that you should never put too much stock into the "unofficial depth chart" on Patriots.com. The second rule is one you're following and that's trust your eyes and yes, Mapu was a safety in college and from what I've seen he's been a safety thus far in the pros. I think we all generally get too carried about with the difference between linebackers and safeties these days. In fact, all of New England's safeties right now blur those lines on a snap-to-snap basis because all are comfortable moving down to the second level. If a "safety" drops down to the second level on a passing down does that make them a linebacker? Or just a strong safety who is covering a running back or tight end in that particular situation. For me, a linebacker plays early downs and isn't just out there to cover someone situationally, they're there to do what linebackers do, take on offensive linemen, defeat them and get to the ball carrier. I don't think we'll ever see Mapu doing that full time, like lining up next to Ja'Whaun Bentley on 1st-and-10 while the offense has heavy personnel on the field. That's just not the Patriots match-up defense.
Now, with all that said, I really like the traits Mapu showed in his preseason debut. His size, recognition and quick trigger all showed up to me like they did in his college tape. I don't need him to play linebacker but I'd love to see him emerge as an every down player who can seamlessly rotate to any number of spots depending on the situation. -Mike Dussault
When the Pats picked up Antowain Smith and Corey Dillon we had a decent o-line. Do you think Ezekiel Elliott will have much of an impact with our current o-line? -Thomas Clarke
We'll see who's out there Week 1. Because if you're asking me how I feel about running behind a Brown-Strange-Andrews-Onwenu-(fill in the blank), I'd feel pretty decent especially up the middle, even if it's a stopgap at right tackle. Now if that shifts to only Brown and Andrews out there with rookies and guys who are just arriving this week, I'm not feeling so great. The great mystery of the next two weeks will be who gets healthy and who is able to play against the Eagles. Of course, it will be a season-long process and I have to think with Adrian Klemm he'll be able to find a starting five and get them to play at a high level eventually. It's just a question of how quickly guys return and how quickly they can pull it all together. Even in the best of years, September could be a little scary for the blockers so I'd at least be ready for some inconsistency early no matter who's in there. -Mike Dussault
Do you think there is scope for Marcus Jones to be more than just a gadget Swiss Army knife? I feel there is too much of an athlete there to not have a featured role on either side of the ball. Thanks! - @ShawMellors
Gotta be honest, I'm not sure how big Marcus' role will be, at least at this point. He was in the mix at cornerback all summer, both as a slot and on the outside, and he had his ups and downs. I had thought he could take the starting slot role but I'm still not sure between him and Myles Bryant how that will play out. Neither have great height and that could be a matchup issues, but I like Jones' ability to mirror in man coverage. I think that's still a developing trait for him, but he has the quickness and speed to stick with receivers. They could start working behind the scenes on some offensive stuff for him, but from what we saw he's a punt returner and cornerback first and foremost. I believe he'll be in the mix on defense but I think it's going to be a process figuring out what the best configurations will be. ­-Mike Dussault
Hi Deuce. Which player do you see going from the initial 53 roster to IR with destination to return? -@MoeReese74
Tyquan Thornton seems like a pretty good candidate after being injured against the Packers in joint practices and then not returning. It's been an unfortunate summer for the Patriots' top two picks of 2022. Cole Strange got hurt the first day of pads and Thornton had a mostly quiet summer until starting to come on late and then getting hurt. I had high hopes for the strides both of them might take in their second seasons and it's obviously not too late but the clock is ticking for both of them to get on track and help this team like they're needed to. Calvin Anderson, Trey Flowers and Cody Davis could all find themselves moving to the PUP list that will cost them the first six games. Otherwise, it seems like most health-related issues for those who didn't start on PUP are headed in a positive direction. Riley Reiff could be a dark horse to potentially also get moved to IR after making the initial roster, depending on his health status. -Mike Dussault
Hi Deuce, which part of the defense has you the most confident and why? -@ClazzyClare
Maybe this is a cop out but it's really the entirety of the defense that I love most. They have good depth and quality pieces across the board without an obvious weakness. The safety group is an easy place to start, especially with how well Peppers and Mills played this summer. Still, we'll see whether or not they miss Devin McCourty and all he brought to the defense as far as communication and range. I'd also throw Jennings in as a player who elevated their play this summer. I do wonder how they'll match up against teams with multiple receiving threats, how well Gonzalez, Marcus and Jack Jones can hold up as young players. Still, there a lot to like and the defense overall had a strong summer, but they'll get a stiff test right out of the gate that could reveal issues we haven't seen yet from them. -Mike Dussault
DISCLAIMER: The views and thoughts expressed in this article are those of the writer and don't necessarily reflect those of the organization. Read Full Disclaimer