New England dealt the 2022 fourth-rounder to the Browns for offensive tackle Tyrone Wheatley Jr., the son of former running back Tyrone Wheatley. Wheatley has yet to play in an NFL game, starting his football journey as a tight end at the University of Michigan before transferring to Stony Brook. Following his collegiate career, Wheatley switched positions to offensive tackle first in a developmental league called The Spring League, which led to stints with the Bears and Raiders. The 26-year-old went to Cleveland's practice squad for the 2022 season and then signed a futures contract to try out for the Browns again this summer.
The two sides decided to trade depth player for depth player, each trading from a position of surplus to fill an area of need. The Patriots signed veteran running back Ezekiel Elliott, who now projects as the top backup to lead-back Rhamondre Stevenson, while Browns draft pick Dawand Jones has shined this summer behind starting tackles Jedrick Wills and Jack Conklin.
Along with swapping Strong for Wheatley, the Patriots also announced they've released 11 players in their first wave of roster cuts to bring the 90-man roster to 78 players.
Why did the Patriots trade RB Pierre Strong?
Before we get to our thoughts from reviewing Wheatley's preseason film, let's close the book on Strong. The former Jackrabbit had an opportunity to develop as a change-of-pace back and potentially fill James White's shoes in a receiving back role as a fourth-round pick in the 2022 draft.
Strong flashed his big-play ability and lateral quickness as a ball carrier in a small sample size in his first season. On 17 touches as a rookie, Strong accumulated 27 rushing yards after contact (out of 100), caused four missed tackles, and had three runs of 10-plus yards. Although there was optimism initially, Strong didn't make the year-two leap in his second training camp.
Strong struggled with his reads and instincts to find rushing lanes between the tackles and missed four practices and a preseason game against the Packers, reportedly due to a concussion. He was clearly on the bubble when he finished the third preseason game with other roster longshots.
It's possible that the Patriots drafted the running back, who ran a 4.37-second 40-yard dash, as a part of a transition to an outside zone rushing scheme, going away from their downhill gap schemes. However, the outside zone experiment failed under former offensive play-caller Matt Patricia, and now offensive coordinator Bill O'Brien is putting his own spin on things.
Under O'Brien, the Pats are majoring in more duo and trap schemes designed for running backs to get vertical on the defense by reading the linebacker level. In outside zone, the back reads the play-side defensive end, scanning the line of scrimmage to either "bounce" the run to the outside or cut back through the middle of the field, which is why speed is important.
In After Further Review this week, we noted that Strong was having difficulty making decisive decisions to get upfield in O'Brien's scheme. He will return to an outside zone system in Cleveland under Kevin Stefanski. Although Strong showed promise as a ball carrier, he was likely traded by the Patriots because he wasn't grasping the details of the offense and wasn't a scheme fit for O'Brien's system.
As for what it means moving forward, fourth-year pro J.J. Taylor made a big push this summer to make the roster as a similar scat-back to Strong. Head coach Bill Belichick spoke of Taylor's improvements in pass protection and added versatility as a returner last week.
"J.J. has just gotten better every year. Had a couple good things in pass protection [vs. the Packers], which with his size is always a little bit of a challenge, but he's a tough kid and strong for his size. So, that's an area that he's really grown in and just in general in the passing game, Belichick said. "He's always been a good ball carrier and a physical runner for his size."
Belichick's praise for Taylor's development suggests that the Patriots might view him as a game-day option this season. Last season, Taylor appeared in one game and has played in 12 total games in his three-year career, spending most of his time on the practice squad.
Along with Taylor, WR/RB Ty Montgomery returned to practice last week after reportedly suffering a leg injury early in camp but didn't dress against the Titans. Montgomery has looked the part in camp practices over the last two summers, offering versatility and smarts to run routes at various wide receiver spots and out of the backfield, but has failed to stay healthy throughout his two seasons in New England.
With Elliott and Stevenson as the early-down power backs, one would think the Patriots would fill out the depth chart with scatbacks. However, 2022 sixth-rounder Kevin Harris is still around as another 225-pound bulldozer. Harris doesn't create many yards after contact, but he can grind out yards between the tackles and possibly develop in short-yardage situations. In my estimation, Montgomery and Taylor each have strong chances to make the initial roster, while Harris will stick around on the practice squad if he clears waivers.
The Patriots giving up on Strong a year into his development was surprising, but someone had to be the odd man out with Elliott in the mix, and New England needed offensive line help.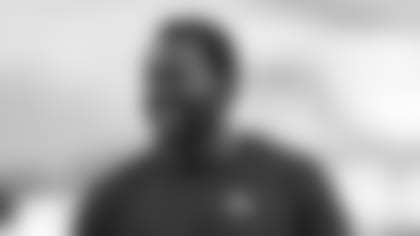 Thoughts on new Patriots OT Tyrone Wheatley Jr.
New England's depleted offensive line and subsequent struggles in camp practices and the preseason were a major storyline in Foxborough this summer.
The Patriots have practiced most of camp without starters Mike Onwenu, Cole Strange, and newcomer Calvin Anderson, while others such as Trent Brown, Conor McDermott, and Kody Russey have also missed time. Then, veteran Riley Reiff suffered a knee/leg injury when he was rolled up on in the preseason finale against the Titans last Friday night.
Building continuity has been an issue with the Patriots down multiple bodies along the offensive line, and the product on the field has suffered. Working behind a patchwork offensive line, starting quarterback Mac Jones was sacked twice and pressured on two other instances in his 12 preseason drop-backs, with some theorizing that the offensive line woes contributed to Jones's limited work in the preseason this summer (he only appeared briefly in one preseason game).
Wheatley joins a group that recently elevated rookie Sidy Sow, who is transitioning from his collegiate spot at guard to a tackle in the pros, to the starting right tackle position. The Patriots offensive line got good news over the last week or so with Onwenu's activation from the physically unable to perform list and Strange's return to practice on Sunday. Still, right tackle is up in the air, and the Pats projected starting five has yet to practice together this summer.
Although he hasn't appeared in an NFL game in his first two seasons, the arrow is pointing up on Wheatley, who, as a converted tight end, has legit athletic traits to mold. In some ways, his film and body type remind me of Calvin Anderson, who is still on the non-football illness list.
Wheatley's film shows a smooth athlete with good balance on the move in the running game. He worked combination blocks in zone schemes, second-level climbs, and made effective reach blocks when moving laterally to the line of scrimmage. This summer, Wheatley registered an outstanding 95.6 run-blocking grade, second among offensive linemen, and his tape backed up the high praise from Pro Football Focus in my eyes.
In pass protection, Wheatley allowed three quarterback pressures in 62 pass-blocking snaps, with all three pressures coming in Week 2 of the preseason. He's still a work in progress as a pass-blocker, sometimes exposing his chest by failing to establish first contact, which leads to issues giving up ground against power. In other words, there are concerns over his ability to drop anchor.
Given what the Patriots are working with, Wheatley was a worthwhile flier on an ascending player who is probably their second-best run-blocking tackle immediately (behind Brown). Wheatley needs time to get up to speed in the system, but he offers more foot speed than veterans like McDermott and Reiff and is further along in his development than Sow.
Although it's lofty to expect him to catch on as quickly as the regular-season opener on Sept. 10 against the Eagles, Wheatley has real upside to push for a starting role down the line.
Thoughts on new Patriots OT Vederian Lowe
The Patriots also traded for former Vikings OT Vederian Lowe, the team announced on Monday. Lowe played his college ball for former Pats assistant Bret Bielema at the University of Illinois, making him a Pats draft target for many, but ultimately was a sixth-round draft choice by Minnesota in 2022.
Lowe is a big, long-armed tackle (6-5, 314 pounds, 35-inch arms), was a team leader for the Illini, and has good functional strength. He showed solid power in the run game by using his length and hand power to create leverage on his base and combination blocks, while his length and stout anchor allow him to prevent pass-rushers from turning the corner on the edge. However, Lowe's foot speed and change of direction on an island in pass protection has held him back from being a starter in the NFL to this point. On film, there are too many instances where Lowe gets beat to the inside because he doesn't have the athleticism to redirect to inside counters.
Although it will take time for Lowe and Wheatley to get up to speed, they both should improve New England's depleted tackle depth. At this stage, Lowe is viewed as a more immediate starting candidate, especially on the right side where his playing strength is a scheme fit, while Wheatley is a high-upside developmental tackle with ideal athletic traits.
Thoughts on other Patriots roster cuts
The Patriots released 11 players on Sunday to bring the roster down to 78, with the 53-player limit deadline on the horizon (Tuesday at 4 p.m. ET). While understanding the sensitivity of roster cuts, most of these cuts weren't surprising and were predicted in roster projections.
However, the Patriots releasing veteran nose tackle Carl Davis was somewhat unexpected (although we had that in our final roster projection, too). Davis is a capable two-gapping nose tackle who played 276 and 219 snaps over the last two seasons. The Pats relied on Davis to clog running lanes in short-yardage situations and bigger fronts where they wanted to play Davon Godchaux at defensive end to load up against the run.
The most straightforward explanation is that waiver-eligible players like Sam Roberts, who stood out this preseason as a twitchy defensive end, will make the team, while Davis doesn't pass through waivers as a vested veteran. USFL find Jeremiah Pharms also put together decent tape this preseason as a run-stopper, and we wrote about both Roberts and Pharms as dark-horse candidates to make the 53-man roster last week.
A longer explanation is that the Patriots plan to play fewer snaps in two-gapping odd fronts this season, which potentially could stem from needing to play more split-safety coverage shells. As always, the front and the backend are connected, and without future Pats Hall of Famer Devin McCourty patrolling in center field, New England might need to transition to different coverages.
If the Patriots feature more two-high safety structures, such as quarters or cover-two schemes, then the defensive line might be one-gapping or playing a gap-and-a-half technique to "spill" runs to the perimeter rather than building a wall as a two-gapping front. If that's the case, more explosive upfield defenders such as Roberts and rookie Keion White make more sense in the scheme over two-gapping kings like Davis.
We'll need to see the Patriots play a regular season game before asserting that different front mechanics played a role in roster decisions, but it's one theory that comes to mind.
The Patriots will have more difficult roster decisions in the coming days, with 25 more cuts or roster space-saving moves to come before Tuesday's 4 p.m. ET deadline.