The Patriots rode their defense to a victory for their first win of the season last week in the Meadowlands, but the uneven start for the offense is leading the discussion.
After scoring only 13 points against a stingy Jets defense, New England, even with an experienced offensive coordinator directing the offense, ranks 26th in points per game (17.3). It might hurt to look, but the Patriots averaged more points (21.4, 16th) and had a higher expected points added mark (-0.05 to -0.11) last season with Matt Patricia calling plays.
Although it's a results-based business, the film offensively is much cleaner under new offensive coordinator Bill O'Brien, who has been working around a patchwork offensive line while facing three above-average defenses in the early stages of installing his system. Based on the eye test, the details are more buttoned up, with things like route spacing, blocking assignments, and scheme-created separation standing out in the first three weeks.
Several key areas have also statistically improved, suggesting that the offense will put more points on the scoreboard with improved timing and execution the more this group plays together this season. For starters, the Patriots offense has significantly improved in reducing negative plays, speaking to better assignment-sound football in the 2023 offense.
As we mentioned, New England's offense is better equipped to handle blitzes and defensive line movement, so there are fewer free runners through the line of scrimmage. Currently, the Pats rank 12th in success rate at 43.7%, compared to 25th (41.1%) a year ago, which speaks to getting the offense moving in the right direction more consistently.
Furthermore, two key areas often attributed to good coordination where the offense has improved are on third down and in the red zone. Converting in those situations at a high rate means the offense has a plan of attack and sound schemes in their game plans to beat specific defenses, something Pats players said they felt was lacking in 2022. Under O'Brien, New England is 12th on third down (40.8%), albeit in a smaller sample size, and seventh in the red zone with a touchdown rate of 71.4%. For comparison, the Patriots were 27th on third down (34.9%) and dead-last in the red zone (42.2%) one year ago.
Table inside Article

| Mac Jones, Under Pressure | 2023 Season | 2022 Season |
| --- | --- | --- |
| Completion % | 50.0% | 42.4% |
| Turnover Worthy Play % | 1.9% | 7.0% |
| Passer Rating | 72.4 | 35.1 |
| PFF Grade | 72.3 | 26.4 |
Lastly, along with better situational football and fewer negative plays, Patriots quarterback Mac Jones has flipped the script when facing pressure, an area Jones completely fell off in his second season. Despite having the sixth-most pressured drop-backs, Mac ranks sixth in PFF grade (72.3) with a 72.4 passer rating while under pressure this season. In his second year, Jones was 39th out of 40 qualified quarterbacks with a 26.4 overall grade and a 35.1 rating under pressure.
On the surface, it might not look like the Patriots made major strides offensively in the first three weeks, with offensive points totals of 20, 17, and 13. But, if you want to be optimistic, the signs are there that the offense is better with O'Brien. Now, it's on improving their timing and execution to turn those areas of growth into more points.
Without further ado, let's empty the Patriots Unfiltered mailbag heading into Week 4: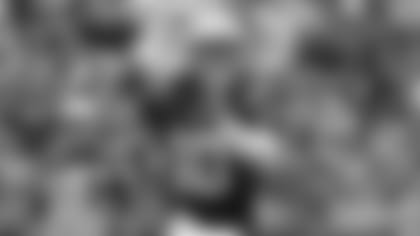 Q: Are the downfield throws on third downs a matter of the QB making decisions, or does the play-calling draw them up that way? Is it system or player-driven? - Scott
There are multiple things at play here. First, Mac's air yards per attempt on third down ranks tenth-highest among 34 quarterbacks (9.7 AY/A), so it's not routine that the Patriots are throwing way past the sticks on third down. Second, Jones sees man coverage on 47.2% of third downs, which is above the league average. Teams are still challenging the Pats receivers to beat press-man on third down, and so far, they've been middling in success. On Sunday, the Jets dared Mac to beat them downfield by taking away the in-breakers and throws at the sticks.
In other words, the single coverage matchups were on slot fades, so that's where Mac went with the ball. As always, there were shorter routes and routes at the sticks available to the quarterback, but sometimes the defensive coverage forced certain throws. This is a chicken or the egg thing; hit on more vertical shots, and the underneath coverage will back off, while there's definitely some truth to the fact that the Pats are missing that instant separator to move the chains on third-and-manageable.
Q: How badly do you think Mac is missing Jakobi Meyers? He doesn't seem to have a go-to receiver, and it seems after three weeks that JSS has not been an upgrade - Joel L
Whether it's Meyers or another pure separator in the slot, Bill O'Brien's offense is at its best when it has quickness on the field from the inside receivers. Although the Pats have been better on third down, it does feel like the offense is missing that traditional slot and receiving back. The hope is that Demario Douglas emerges as the shifty slot receiver who can move the chains on third down, while you wonder if the team would benefit from more snaps for Ty Montgomery in the passing game. Montgomery has been serviceable in that role over the last two summers but has yet to have an opportunity in games (10 snaps).
Q: Tony Romo said that Christian Gonzalez is already one of the best cornerbacks in the NFL. While that certainly would be over-hype, having faced Garrett Wilson, Tyreek Hill, and the Eagles wideouts over the first three weeks, Gonzalez has more than held his own. Does the credit go to the scheme, or has Belichick found our shutdown corner? - Dave D
This week, I had a full breakdown of Gonzalez's film against the Jets in After Further Review. To summarize, this has been a perfect marriage between scheme and a talented player. Gonzalez has the cover talent to hang in New England's man coverage system while playing within the scheme's structure to cover specific routes closer than others. We knew that Gonzalez was an athletic specimen who could run with any receiver, but his ability to quickly grasp the techniques in the Pats system has been extremely impressive. Gonzalez is playing to his help/leverage like a seasoned vet, which is why he's hanging with these elite receivers.
Q: Do you believe using a lead blocker and possibly a heavier package early on in games might help the offense get a ground game rolling and help the passing game in turn? - Robert H
You're speaking my language, Robert, and O'Brien is also apparently taking notice. The Patriots were in '13' personnel on 16 snaps against the Jets with all three tight ends in a jumbo package, while blocking ace Pharaoh Brown played six snaps at fullback. New England also ran 20 gap plays (man/downhill blocking) to just eight zone runs last week, with five play-action passes from under center (one in the first two weeks). Long story short, O'Brien adjusted the offense vs. the Jets to incorporate heavier personnel groupings and more downhill runs. My hope is that it'll continue moving forward because it fits their personnel best.
Q: Based on the small sample size, do you feel Vederian Lowe has the potential to be a long-term fit at right tackle? He seemed better than expected - Andrew D
Lowe's film had some expected ups and downs. He has a stout build and hand power to develop into a solid run-blocking tackle, which lends itself to the right side in New England's offense. His grip strength and punch power allow him to stall rushers in pass protection once he gets his hands on them. However, it's either hit or miss, where he stuns the rusher with his punch, or his feet stall with his punch, and the rusher turns his corner. The final verdict on Lowe was eight quarterback pressures allowed (two hits, six hurries) in his first start at right tackle. It was his first time out against two great edge rushers in John Franklin-Myers and Bryce Huff, so there's time for Lowe to change my mind. But I'm not currently viewing him as a long-term starter due to his foot speed in his pass sets. Lowe can compete as OT3 in the future without improvement, while some seasoning could make him a low-end starter. There's enough there to continue working with him.
Q: What's the percentage of 12 personnel for the Patriots offense? It feels like it's been low, given Henry and Gesicki are on the roster. - James
The Patriots have the sixth-highest rate of '12' personnel groupings at 30.3% and have also played 22 snaps in '13' personnel, so they're using multiple tight ends plenty. In 12, they're 23rd in yards per play (4.0), so they need to get more out of their two tight-end sets to make it a more prominent part of their offense.
Q: Has WR Tyquan Thornton been around the facility, and how close is he to returning? - Joey B
Rehabbing players are always around the facility as they work their way back from injuries. Thornton is eligible to return from injured reserve in Week 5, and there's an opportunity there for him to emerge as a vertical threat. The Patriots haven't had much success in the deep passing game, with Mac only completing 2-of-16 deep throws through three weeks. A more consistent deep threat who can create vertical separation downfield would open up the entire offense. However, I've fallen in love with Thornton's speed in practice before, and it has yet to stick. Availability is the best ability, and there were still route-running miscues holding him back when he was healthy over the summer.