After two days in pads, the Patriots pulled back to shells on Wednesday but still featured plenty of competitive team periods. What has stood out from training camp thus far has been the involvement of all the players on the roster.
While many are focusing on the quarterback competition, the reps have been pretty fairly distributed across the roster, even at positions with more proven top-line talent.
"We want to try to give everybody an opportunity to get the basics, and we're really doing that at all the positions," said Bill Belichick, later acknowledging that eventually things will start to be narrowed down. "I mean, everybody's rotating through and we're trying to give everybody an opportunity to run the basic plays, get the basic fundamentals down. Yeah, of course at some point, we'll have to not equalize the reps – I mean, that's obvious – but we're not there now."
It has been remarkable how evenly the quarterback reps have been divided up and, while the three QBs jockey for position, it has an added benefit for the defense getting to see different skillsets.
"We have three great quarterbacks with all different styles of play," said defensive lineman Deatrich Wise Jr.. "That definitely helps us. We have to look out for all the attributes -- whether it's throwing ability, it's their quick release, their agility, whatever it is, it definitely helps us become a better team."
With all the rotation, the youth on the roster has been apparent. After significant veteran departures this offseason, younger leaders like Wise are stepping up and trying to get everyone on the same page as quickly as possible.
"It's the same for all of our young players, trying to get them to get down the basic fundamentals of their position, understand the basic things they have to do, and then we'll take it from there based on how that goes," said Belichick.
"It's a lot of young guys but we still have our leaders on our team -- the McCourty brothers, Guy, and myself and other guys, Adam Butler," said Wise. "We're still out there playing together teaching guys whatever they need to help move forward."
Gunning for a year-two jump
After fellow second-year receivers N'Keal Harry and Jakobi Meyers spoke with the media on Tuesday, it was Gunner Olszewski's turn on Wednesday. Olszewski has had a strong start to camp, which included a nice catch in practice with Stephon Gilmore in coverage on him.
It's easy to see how much more comfortable Olszewski is this season after making the team as an undrafted cornerback out of Bemidji State last year.
"Year two's a lot more fun, you have an idea how every day's going to be," said Olszewski. "Being a rookie's tough, especially for our rookies this year not having the spring portion. I feel good, I know our whole rookie class from last year, we're all talking about it and we say, 'year two's a lot more fun, less thinking, just playing ball.'"
It may be more fun, but the wide receiver is keeping the focus that he had last summer and is willing to go wherever he's asked to play.
"I'm just excited every time I get in that huddle, whether it's slot receiver or outside receiver," said Olszewski. "I'll just do whatever the team needs me to do. All of our guys we are expected to be able to switch and move around from X to Z to F whatever it may be. It's just playing ball."
The biggest challenge to moving around though?
"You get to go against Stephon Gilmore, which is always fun," smiled Olszewski.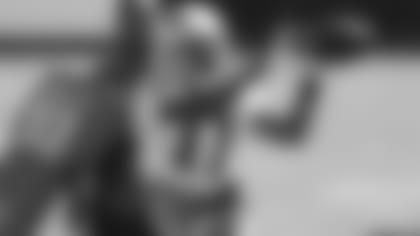 Ross confident and consistent early on
While Olszewski has made some notable grabs early on in camp, Devin Ross has done the same, making two impressive downfield catches in the two padded sessions. The 2019 practice squadder is making the most of his opportunities, crediting the virtual work in the spring for his fast start.
"Going back to our virtual meetings, that helped me a lot," said Ross. "Being able to learn everything, learn the whole scheme, and play fast. It's all coming together."
Ross might've been under most radars coming into training camp after joining the Patriots practice squad in October of 2019, but he proudly wears a chip on his shoulder as motivation and the results are showing up.
"My chip just comes from being undrafted and just for my family. Just growing up in the Los Angeles area, not always in good times, I want to do everything I can every day to represent my family well and make the Ross last name mean something more than it already does," said Ross. "I'm working for my family, not just myself."
Despite his draft status and three-year stint on NFL practice squads, Ross hasn't lost any confidence. He, along with fellow undrafted veterans Olszewski and Damiere Byrd, have been three of the most notable receivers in the early going of camp.
"Out of the huddle, I come to line every time with the mindset that no one can match me or cover me," said Ross. "That's just the mindset I've always come to the game with. I just want to be the best player I can so I come to the line with complete confidence."
After being told by his position coach Mick Lombardi that every rep is "like a pot of gold" has been playing like an angy leprechaun so far and it could pay off with a roster spot if he can continue to stay consistent.
Webex Quotes of Note
J.C. Jackson on what Cam Newton brings to the Patriots:
"He's got the juice every day. He's dancing, he's clapping guys up. I love Cam's energy, man. That's what we need."
Gunner Olszewski on the Def Leppard t-shirt that caused a stir this offseason:
"Def Leppard's awesome, that's all I'll say about that.
Devin Ross on having to run penalty laps as a football player:
"It's just all about discipline, you know? I feel like it's necessary, we gotta to be disciplined as players and as coaches. I feel like you gotta be disciplined and dingo everything right as much as possible. Because you're never too old to get disciplined, definitely not in my household I was never too old to get disciplined."