Though Tuesday was the players' day off, Bill Belichick and the Patriots coaches spoke with the media via WebEx. With the Chiefs Monday Night Football win over the Ravens fresh on everyone's mind, the book had been quickly closed on the win over the Raiders and all eyes were turning toward Kansas City.
"They're very well-coached, they have an excellent attack, they have a lot of good players, they're very experienced in their system and they can do a lot of things, no question," said Bill Belichick, who kicked things off in the morning.
After watching the Chiefs escape with a win in Foxborough last year, then go on to win the Super Bowl, the Patriots are now tasked with the question the entire NFL is asking themselves -- how to stop Patrick Mahomes and his speed merchant offense?
"This team, they have speed all over the place," said Jerod Mayo. "They have guys coming off the bench you can run a 4.3 40. Definitely a challenge, definitely one of the fastest offenses I've seen on film."
"Last year was the fastest team I'd seen on tape, this year's is the fastest I've seen on tape," said cornerbacks coach Mike Pellegrino, before rattling off each of the Chiefs weapons and how dangerous they are. "The speed is pretty evident out there."
What has taken the Chiefs offense to another level so far? First-round draft pick Clyde Edwards Helaire has quickly carved out a fresh role, further complicated an already layered attack.
"[Clyde] Edwards [Helaire] has given them an explosive player in the backfield," said Belichick. "That's more than what they had last year, so that's why they drafted him and he's delivered that for them in the three games this year."
But at the center of it all remains Mahomes, who continues to quicken his processing speed and make head-turning plays, all while throwing the ball up and down the field.
"He can beat you with his legs, he can beat you with his arm, he can beat you in the pocket, out of the pocket," said defensive line coach DeMarcus Covington. "We have to do a good job of handling him in the right way that we want to handle him and just go from there."
So what will New England whip up?
"That's what we're trying to figure out, what's the best way to attack these guys," said outside linebackers coach Steve Belichick. "They do everything well. We'll definitely have our hands full. They're dangerous at every position, they always have 11 good players on the field. If you take something away they can beat you with something else. As always, we got our work cut out for us."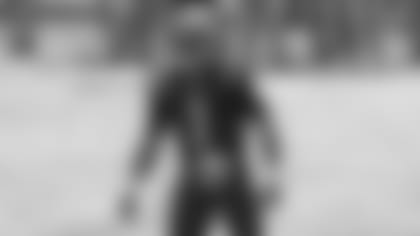 Newton continues to impress offensive coaches
It's hard to believe that Cam Newton has been a New England Patriots for just a couple months. After an abbreviated offseason and training camp, we've dove in headfirst to a new era with Newton under center.
In that short time, Newton has made a big impression on his position coaches -- offensive coordinator Josh McDaniels and quarterbacks coach Jedd Fisch. There's been no secret that Cam has been embraced by the team and it only seems to be growing as Newton continues to do and say all the right things.
"I've certainly observed someone who is truly inspired to play as well as humanly possible," said Fisch. "His work ethic has been obviously well-documented since he's been here, we've talked about it repeatedly. It's all true -- he's here first in the morning, he's last to leave. He's really trying to dive deep into a playbook that has been established over a 20-year span. And he's had maybe close to two months of that playbook."
The man responsible for that playbook is McDaniels, who tailored it to the talents of Tom Brady over two decades. Now, McDaniels gets to accommodate a quarterback with a different skillset, a relationship where communication is critical.
"He's a really good listener," said McDaniels. "He communicates well. If he has a question, you always hear the question. He doesn't hold anything in. Honestly, those are the things, if you could ask anything of a player, it's that they will communicate when they don't understand something clearly or if you want to try to correct something that they listen to you intently and try to make those changes."
Together, the offensive coaches and Newton hope to build an offense that can take them deep into the playoffs, and as Newton continues to put in the extra work, while building on what he's already learned, the results will continue to come.
"I've been super impressed with his humility," said McDaniels. "He's accomplished a lot in his career and being 10 years in the league and doing all the things he's done -- coming here and having no familiarity with our coaching style or our system or the way we do things. I have been incredibly impressed with the way he's embraced it, looks forward to it and really wants to be coached, wants to be great, wants to improve."
Patriots-Chiefs Stat Check
Table inside Article

| Stat | Patriots (2-1) | Chiefs (3-0) |
| --- | --- | --- |
| Overall DVOA | 12th | 9th |
| Offensive Points | 29.0 (11th) | 30.3 (4th) |
| Offensive 3rd Down | 45.5% (11th) | 58.5% (1st) |
| Offensive DVOA | 4th | 5th |
| Offensive Passing DVOA | 10th | 1st |
| Offensive Rushing DVOA | 1st | 26th |
| Offensive Red Zone | 60% (18th) | 70% (t-10th) |
| Turnover Ratio | +4 (t-2nd) | +2 (t-9th) |
| Defensive Points | 22.0 (11th) | 20.0 (6th) |
| Defensive 3rd Down | 37.0 (7th) | 40.6 (13th) |
| Defensive DVOA | 25th | 13th |
| Defensive Passing DVOA | 27th | 15th |
| Defensive Rushing DVOA | 19th | 30th |
| Defensive Red Zone | 55.6 (9th) | 60% (13th) |
| Special Teams DVOA | 25th | 30th |