We sure have a way with words, don't we?
Bill Belichick's "it is what it is" has become the standard-bearing phrase for trying to explain the inexplicable when it comes to dealing with the Patriots and the NFL.  In other words, in some cases you can't really explain the "why" to a particular question or issue, because there simply is no definitive reason or answer.  Whatever happens just happens.  You take it, whether you like it or not, and move along to the next item on the agenda.
It's much easier to say it, than do it.  But let's do just that.  The next item on the agenda is a big one, to be sure.  So big, in fact, that multiple legacies appears to be hanging in the balance of any outcome to "DeflateGate."  Is that right?  Is that fair?  Fifteen years of excellence for this franchise - and for one of the greatest quarterbacks to ever play this game - boils down to about a pound of air pressure.
Let that last sentence roll around in your head for a minute.  Is it really possible?  NFL Commissioner Roger Goodell has managed to let something as ludicrous as under-inflated footballs become the talk (or the scourge) of his league.  Did these footballs have anything to do with the outcome of any game?  Of course not...and isn't that really what this issue should be about?
Shouldn't it be about the actual integrity of the game?
Non-Patriot fans might believe that scuffing or deflating footballs constitutes cheating; bending the rules, or not following the rules-to-the-letter equates to cheating.  Having been in many competitive athletic situations in my past (in and away from athletic venues), I'm here to tell you that everyone - everyone - I've ever competed against did what they could to gain an advantage, whether they were within the rules and their very gray periphery, or not.  Some competitors chose to stretch that boundary, and some got away with their choice.  But at the end, it was about competing; it was about trying to win.  All is fair in love and war - and football, or your sport of choice.  Play by the rules, written or unwritten, or don't play at all.
Where does this place the Minnesota Vikings and Carolina Panthers from this past season, as both were found to be illegally heating footballs on their sidelines?  Where does this put the Atlanta Falcons for pumping extra crowd sound into their stadium?  Where does this put the Cleveland Browns for sending and exchanging text messages to coaches on the sideline - all violations of rules put in place?  Green Bay's Aaron Rodgers and New York's Eli Manning have also gone on record as to their preference for preparing footballs to their liking, regardless of rulebook specs.  ESPNBoston's Mike Reiss brought up a great point recently - none of these other transgressions brought about full-fledged investigations costing millions of dollars.
So why did this one?  What makes deflated footballs different from the other alleged dirty deeds?
It's three things, really.  One, is the Patriots' success.  31 other teams wish they could be in New England's shoes, with four Lombardi Trophies won in the past 15 seasons and all safely tucked away within the confines of the Hall at Patriot Place.  In an age of free agency and relative parity in the NFL, New England's reign is unprecedented.  There must be a catch, right?
Two - and this definitely hurts - involves integrity.  Team integrity and personal integrity.  They're both under the current microscope.
Having real integrity involves being truthful - and while the NFL is surely no arbiter for integrity of late, past Patriots' deeds (see SpyGate, et al) have raised a collective eyebrow toward Foxboro.  It may very well be that the league and other teams have often looked the other way when it comes to interpretation of actual rules, and previous misdeeds have been chalked up as trying to gain that "competitive advantage."  In other words - oops, you caught us.  Back to the drawing board.
Not this time.  Not when you have a track record, whether that record is warranted or not.  Not when you win with such regularity, not when you experience such success that your opponents will do everything they can to beat you...including the NFL itself.  Why would the league strike out against a marquee franchise, and subject a star player like Tom Brady to treatment that includes the scorn, ridicule and doubt he's been subjected to?
Because the real truth is in doubt.  And the result we see has become pure Hollywood.  Our perception of this world - the glamour world of pro football - has been inexorably altered.  What we don't see, is the ugliness.  Teams stretch the boundaries of right and wrong all the time.  Brady's reputation has been impeccable, unmatched.  We have placed TB 12's abilities, virtues and the teams' successes on the highest pedestal possible.  What they've achieved is rare, and therefore, also admirable.  Our value system praises these abilities, because they are so hard to attain; yet when you uncover these successes came within the confines of "gaining a competitive advantage," the clouds quickly gather.  How could these players - these stars, our heroes - bend or break the rules?
Because this is how you play the game.  The dirt under the rug has been exposed, and we're shocked.  No one should be.  And the third reason as to why deflated balls are different from other unseemly actions?  The league loves the drama.  They love the soap opera, the story, the entertainment, and the shock factor - all of the good and bad publicity, and during the off-season, no less.  It is what it is.
Until the truth - the actual truth - comes out, questions will remain.  We may never get that truth, and the sad fact is, questions may never entirely go away.  That is what is more probable, than not.
Draft recap - digging for the hidden gems
Certainly no one can say for sure where the real value picks in this year's NFL Draft came from.  True value can only be determined once a player has, well, become an actual player.
But in gaining a sense of value - which in this case would be a player selected in the later rounds who could be productive right away - there is some consensus the Patriots may have a couple of gems.  Cultivating them, however, is another matter entirely.
Most recaps gave New England a grade of B or B+ for their work throughout the three-day draft, with attention given particularly toward the 1st day selection of Malcom Brown and the Day Three choices of offensive linemen Tre Jackson and Shaq Mason.  Brown's slide from a possible mid-first round pick to #32 overall was seen more as a fortunate circumstance for the Patriots than it was an indictment on Brown's ability.  So, he's not exactly a hidden gem, but the team will take him anyway...thank you very much.
As for the selections of Jackson and Mason, they directly fill needs on an offensive line that had its share of shaky moments last season.  At the very least, the two newbies can help with depth, if not move into starting roles at some point.  Jackson appears to excel at pass blocking; Mason comes from a run-oriented program at Georgia Tech.  And Jackson has already been mentioned as a potential all-rookie caliber player in some circles, but only if he earns himself a feature (starting) role on that line.
Stars are nice, and you have to find them and keep them around to be any good...no doubt.  But if you find potential starters from the "value" guys, taken on Day 3 of the draft or through free agency?  Those are the kind of guys, if you find the right ones, where championships can be won.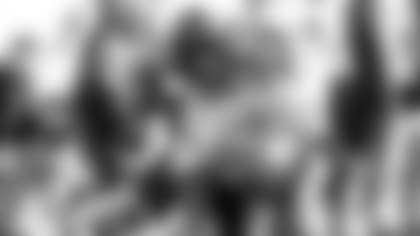 My name is Wes, my career is a mess
I feel badly that it's ending this way for Wes Welker.
The former Pro Bowl Patriot wide receiver is a free agent without a new deal right now, but that's largely due to his questionable health status surrounding the three concussions he's had documented over the past two seasons.  Welker is 34 years old, and in spite of the hits he's taken, he's apparently been given a clean bill of health to continue his career.
"I knew there were concerns out there but on top of that I wanted to know for my own peace of mind," Welker told Mike Klis of KUSA-TV in Denver.  "If there was something wrong, I wanted to know.  For me, everything came out all good...I'll be dying if I'm not playing."
His numbers in Denver weren't even close to comparable to his performance in New England, and to some Welker was a near-liability in the Broncos' offense last season.  The fearlessness is dissipating, and the ability to elude tacklers is disappearing...along with his common sense.  His former employers in Miami brought him in for a visit, then went and hired another receiver on the downside of his career in Greg Jennings instead.
Maybe he'll show us he's got gas left in his tank?  Maybe some team will give him another shot.  And that's the problem here.  The next shot he takes to his head - with all of the issues surrounding concussions, eventual brain damage and even death for some ex-players in the news - could be his last.  Do you really want to leave it all on the field, including some quality of life in retirement?  Read the signs, Wes.
It doesn't have to end that way.
*John Rooke is an author and award-winning broadcaster, and has been the Patriots' stadium voice for 22 years.  Currently serving in several media capacities - which include hosting "Patriots Playbook" on Patriots.com Radio - Rooke has broadcast college football and basketball for the past 26 years and is a member of the Rhode Island Radio Hall of Fame.  *
Follow him on Twitter - @JRbroadcaster