When the Boston Patriots selected Ron Burton as their first-ever American Football League draft pick in 1960, they couldn't have known that his lasting legacy would go well-beyond his football career.
Burton dedicated his life to others, starting the Ron Burton Training Village to empower and enrich challenged youth. Every year, the Patriots Foundation celebrates this legacy of volunteering and taking time to support others by choosing a current Patriot who best embodies these traits with the Ron Burton Community Service Award.
At the annual Patriots Foundation fundraiser, the Patriots Premiere, Robert Kraft announced that Kyle Van Noy is the 2019 Ron Burton Community Service Award winner, and it is a well-deserved honor for the Patriots linebacker.
"The person I am is just trying to give back and help out," he said. "What I do on the football field, I really enjoy my job, but I love this more, seeing people smile."
When it comes to taking time to help others, Kyle is constantly attending Patriots Foundation events, like hospital visits, the annual Thanksgiving in a Basket event and Gifts from the Gridiron, an annual holiday shopping event.
Beyond joining for events through the team on days off, Kyle and his wife, Marissa, actively forged their own community as soon as they arrived in New England. Through their Van Noy Valor Foundation, they work with adopted and fostered kids, as well as their families, to empower them through unique experiences.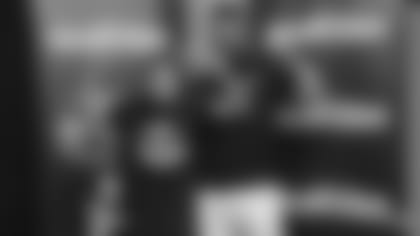 Since he was traded to the Patriots from the Lions in 2016, Kyle jumped right into the New England community. He hosted his first celebrity waiter night the following year to benefit the Van Noy Valor Foundation. The money raised there helped pay for events he and Marissa host throughout the year.
With the celebrity waiter night as their now signature annual fundraiser, his teammates turn out to serve dinner, and throughout the year, the Van Noys treat kids in foster care and who have been adopted to once-in-a-lifetime experiences.
The idea, he said, is to help these kids know they are loved and supported.
"There's a lot of people out there that need help, and I want to help. I was given a lot growing up. I was blessed with second chances being a troublemaker, and I know there are people out there that are just looking for that chance and opportunity just to put a smile on their face, that's the least I can do," Kyle said. "It's fun to see kids smiling."
For this community in particular, having a light shone on causes that relate to foster care and adoption is appreciated, and for the Van Noys it's personal. Kyle was adopted as a child, as were Marissa's father and brother. At every event, the sentiment is similar: having Kyle and Marissa take an interest in these kids is a game-changer.
""It brightened his whole day up. A lot of times at school, kids say things. They do. This gives him an outlet. You don't see a lot of this happening for these kids," she said. "I'm happy for all the children that they're getting this opportunity. I mean they're with a Patriots player. What's better than that? It's empowering, and he'll never forget it."
Around the holidays, Kyle hosts a tree and coat giveaway, where families with foster children received everything they would need for the holidays and winter. Each family walked away with a toy, wrapping paper, decorations and a new winter coat.
Throughout his work, he has formed genuine relationships with kids and families who are in the foster care system, and many of his teammates, in turn, have supported the cause as well. So when James White hosts a bowling tournament or Lawrence Guy hands out backpacks to local students, Kyle is often among the volunteers, eager to lend a hand for his brothers.
As the 2019 Ron Burton Community Service Award winner, Kyle's legacy of giving back is secured, but if his past actions are any indication, he won't be stopping any time soon. Congratulations, Kyle.