INDIANAPOLIS – For a team that's had such an impressive run of success and reliable personnel track record, drafting a wide receiver has been a somewhat fruitless endeavor over the years in New England.
Bill Belichick's team has had a shoddy history picking and developing outside pass catchers, with the last draft day hit at the receiver position being Julian Edelman as a seventh-round pick back in 2009. And really Edelman, a converted college quarterback, was drafted as an athlete more than a true option at receiver.
More recently the New England "re-do" of the wide receiver position in 2013 included the addition of second-round pick Aaron Dobson, fourth-round pick Josh Boyce and undrafted rookie Kenbrell Thompkins. None of the three played much of a role for the team last fall – Boyce was cut and spent the bulk of the year on the practice squad, Thompkins released and landing with the Raiders – and only Dobson, who finished the year on IR, has any semblance of a future in New England, as tenuous as his may be.
But the draft misses at receiver haven't left the Patriots with an empty cupboard at the position. Edelman has been Tom Brady's top target the last two years and is coming off a huge Super Bowl performance. Brandon LaFell evolved into a trusted option in his first season as a free agent addition. Even Danny Amendola battled through to become a key contributor down the stretch last fall. Add in the hope that Dobson will return from injury and compete for a key role, the potential development of Brian Tyms and the always-there-in-a-pinch role of Matthew Slater and the receiver depth chart isn't exactly bare.
That said, there is no doubt the team would still like to develop a young, cost-friendly receiver at some point.
And looking at the position as it pertains to the 2015 NFL Draft, there are plenty of talented options to choose from if the Patriots decide to go that route.
A year after college football produced one of the best classes of receivers in history – Odell Beckham Jr., Mike Evans, Sammy Watkins, Jordan Matthews just to name a few – the crop of Combine prospects at the position is once again very impressive.
"I think it's stacking up favorably," Pittsburgh GM Kevin Colbert said. "Last year's wide receiver class was unique. It was unique in terms of numbers and in terms of impact players. You really felt that at this time of the year last year. So I think that group is coming together. Again, I am not sure it will have quite the impact of last year's class but in all honesty not many will going forward, because that was a special group of players. It's coming together."
NFLDraftScout.com currently has 43 receivers it expects to be selected over the seven rounds of draft weekend. That includes a group of as many as seven or more who might be first-round considerations, many of whom bring big bodies and big-time speed to the pre-draft process.
"You see these guys 6-4, 6-5, they used to play basketball. Now they are playing wideout. There is a great number of talented guys coming out," Cardinals coach and offensive mastermind Bruce Arians raved.
Alabama underclassman Amari Cooper (6-1, 210) is considered the consensus top prospect coming off a year in which he tallied 124 catches for 1,727 yards and 16 touchdowns for the Tide. But he's followed relatively closely by three other would-be first-round picks in West Virginia's Kevin White (6-3, 210), Louisville's DeVante Parker (6-3, 209) and Missouri/Oklahoma underclassman Dorial Green-Beckham (6-5, 237).
Parker is seen as an A.J. Green type who finished the year strong after missing seven games following foot surgery. And White is a total package of what a team would look for at the receiver position, putting up 109 receptions for 1,447 yards and 10 touchdowns for the Mountaineers last fall.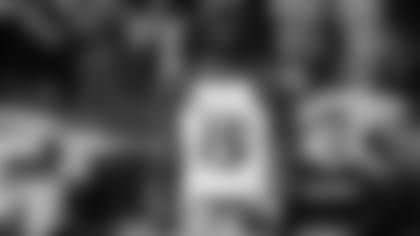 But Green-Beckham is the wild card at the receiver position and maybe one of the most intriguing prospects in the draft. He has been compared physically to Randy Moss and Calvin Johnson. But he has numerous off-field questions – reportedly dealing with marijuana, burglary and domestic violence – that led to him being kicked out of Missouri and then sitting out last season at Oklahoma.
Green-Beckham caught 59 passes for 883 yards and 12 scores in his final season of college football at Missouri in 2013. But he has to prove much more to NFL teams than his ability.
"All the decisions I made I wish I could take back," Green-Beckham said as he tries to sell his new-found maturity to media and NFL teams alike. "I was young. I made mistakes. I understand that."
Beyond being a top-10 talent with baggage, Green-Beckham also reportedly has a questionable football IQ. So while the Patriots may not even get the chance, picking at 32, to consider the freakish athlete, they might not even see him worthy as the team's first first-round receiver of the Belichick era.
That's especially true considering the depth and varied options available throughout all the levels of the draft.
Michigan underclassman Devin Funchess (6-4, 232) is projected to go right in the area where the Patriots are projected to be picking. Funchess played both tight end and receiver for the Wolverines, catching 62 passes for 733 yards and four scores last season.
While his size is obvious, and some project him as a move tight end in the NFL, Funchess doesn't believe that's his only positive attribute.
"My size, my speed. I got sneaky speed," Funchess said. "I get up under defenders real quick. It doesn't look like I'm moving fast, but I cover ground. And then just my athletic ability."
While Funchess said he considers himself "just a ballplayer" rather than a receiver or tight end, he does realize his impressive size could be a money maker for him in an NFL red zone.
"(I'm) just a big athletic body that they can just throw the ball up to and go get it," Funchess said.
While Funchess' size may make him a borderline first-round pick, Ohio State's Devin Smith (6-0, 190) is in the same ballpark due to his elite speed. Smith had just 33 catches for the National Champions last fall, but turned those into 931 yards and 12 touchdowns. He had a 28.2-yard average last fall, and averaged more than 20 yards a catch in three of his four seasons with the Buckeyes.
There is no question Smith is a big-play weapon, but there are questions as to whether he's more than that. So his Combine is about more than just hoping to run a 4.3 40.
"It's very important especially when everybody says all I can do is run go routes," Smith said of his Combine on-field receiver drills. "It's very important for me to show these coaches that I can run every single route."
If a speedy, big-play threat is the goal, Miami's Phillip Dorsett (5-10,183) also fills that bill. Another would-be Combine 4.3 40 guy, Dorsett averaged 24 yards per catch for the Hurricanes last fall.
Fresno State's Josh Harper is a target who likes to tout something other than size or speed that some of the other prospects put forth. Harper had 90 catches for 1,097 and seven scores this past season.
"I'd say my biggest strength is my hands," Harper responded to the common Combine query. "Anything that's catchable, I'll make that catch. I tend to catch the uncatchable ones, too."
In terms of prospects projected for the middle rounds, there are plenty of varied options as well. Central Florida underclassman Breshad Perriman (6-2,214), the son of former NFL receiver Brett Perriman, had 50 catches for 1,044 yards and nine scores last fall for the Knights.
Perriman has seen his stock seemingly rise in recent weeks, offering a decent combination of overall skills to go with his size.
"As a big receiver you have to go up and get the ball at its highest point, you have to be able to wall off defenders, you have to be able to block and you have to be able to also kind of shrink your mentality as a smaller receiver as well," Perriman said.
Also in that mid-round pick is East Carolina's Justin Hardy (5-11, 190), who may be flying under the radar a bit as the FBS career leader in receptions with 387. He doesn't wow in any one aspect of his game, and seems used to being overlooked.
"It's one of those things I've been looking at my whole life. I didn't have any (scholarship) offers coming out of high school," Hardy said.
The late rounds of the draft also offer boatload of different types of receivers with NFL potential. That group includes the likes of Central Arkansas' Dezmin Lewis (6-4, 215), Baylor's Antwan Goodley (5-11, 210), Nebraska's Kenny Bell (6-1, 185) and UNLV's Devante Davis (6-3, 220).
As is the case with so many receivers in the draft, Lewis was asked for guys he's watched at the NFL level in order to improve his own game. Common answers to that question often include Calvin Johnson, Andre Johnson and, with increased regularity this spring, Steelers playmaker Antonio Brown.
"I would say I resemble Calvin Johnson, a younger version of Calvin Johnson," Lewis said in a moment of overconfidence the likes of which is common at the Combine.
Davis played in the pistol, a pro-style attack and a spread offense in his career at UNLV, so he clearly has the ability to learn offenses and like so many prospects is promoting his own versatility.
"I feel like I can fit in any offense," Davis said based on his collegiate experience.
In the end, the fit is key for both the prospect and the team that drafts him. Talent and physical tools are one thing. But finding a way to learn an offense, create a role and produce are another. That's part of the reason the Patriots have struggled over the years to develop receiver talent, and why the team could once again take a swing on draft weekend at finding a young target.
Will the Patriots tap into the pool of wide receiver prospects this spring? Is a young, big-play target a complementary desire or a true need for the New England offense? Would Belichick consider a receiver in the first round for the first time?
Those are all reasonable questions heading toward draft weekend in Foxborough.
One thing that's not a question, is that for the second year in a row there are plenty of talented, NFL-ready wide receiver available for 32 teams to pick through in the 2015 NFL Draft.