For the sixth time in 18 years in the first-shall-be-last construct of the NFL draft, the Patriots enter the proceedings owning the No. 32 pick in the first round, an honor that goes to the defending Super Bowl champions. It is familiar ground indeed, and New England has played its hand with that valuable spot in a variety of ways.
The Patriots were actually the first team to ever hold a first-round selection at No. 32 slot, in 2002 — the year the league made the Houston Texans its 32nd franchise. New England wound up trading that pick to Washington to move up to No. 21 and select Colorado tight end Daniel Graham, with Tulane quarterback Patrick Ramsey being selected by the Redskins at No. 32.
Seven times from 2002 on, the team that originally owned No. 32 did not end up picking there, choosing to move the selection. That has been the case in four of the past five drafts, including the past three in a row, with only the Patriots in 2015 choosing to stick and pick at 32, taking Texas defensive tackle Malcom Brown. The Seahawks in 2014, Broncos in 2016, Patriots in 2017 and Eagles in 2018 have all vacated the slot.
Twice in the past five drafts, the No. 32 spot has been the target of teams eager to trade back into the first round to selection a quarterback from Louisville, and thus add a fifth season of control to their rookie contracts. The Vikings dealt with Seattle in 2015 to select Teddy Bridgewater at 32, and the Ravens swung a deal with Philadelphia last year in order to draft Lamar Jackson with the first round's final selection.
The first five times it sat at No. 32, New England has opted to trade it twice and stay put and select in that slot three times. No other NFL team has wound up drafting at No. 32 more than twice from 2002 on, with only Baltimore, the Giants and New Orleans taking multiple cracks at closing out the opening round.
What will the Patriots decide to do at 32 this time around? Will the pick bring a tight end to help replace the retired Rob Gronkowski? Or an edge rusher to perhaps take up some of the slack left by the departed Trey Flowers? Maybe even a quarterback to groom as Tom Brady's eventual successor (in 2023 or so). With or without a trade at No. 32, could a fifth quarterback slip into the first round the way Jackson did last season, and who is the most likely candidate? North Carolina State's Ryan Finley, West Virginia's Will Grier and Auburn's Jarrett Stidham are considered first-round possibilities.
Fifteen more days will provide answers, with the first round set to unfold in Nashville on April 25. While pick No. 32 has come to be seen as a prime position in any NFL draft, the slot hasn't always produced prime results. All told there have been 15 players selected in the first round's No. 32 slot since the league expanded in 2002, with the Patriots being penalized their first-round pick in both 2008 and 2016, thus shortening the opening round to just 31 selections.
Here's a chronological review of those 15 players, and what kind of return they provided to the club that invested in them at No. 32:
2002: Washington quarterback Patrick Ramsey
Anointed the club's new franchise savior when he arrived from Tulane at the start of the Steve Spurrier coaching era, Ramsey spent a forgettable four seasons in D.C., going 10-14 as a starter, with 34 touchdown passes and 29 interceptions. He backed up a year with the Jets and two more with the Broncos and was out of the league by the end of 2008. At least the Patriots got more out of Graham, who spent the first five seasons of his 11-year NFL career in New England, helping earn two Super Bowl titles.
2003: Oakland defensive end Tyler Brayton
Acquired with one of the first-round picks the Bucs had to pay the Raiders to obtain coach Jon Gruden, Brayton made little impact on some very bad Oakland teams from 2003-2007. He totaled just six sacks for the Raiders, all in his first three seasons, and started just 47 games in his five-season stint in Oakland. He was better in his three seasons with Carolina (2008-2010), posting a total of 9.5 sacks in his first two years, but out of the NFL after 2011.
2004: New England tight end Ben Watson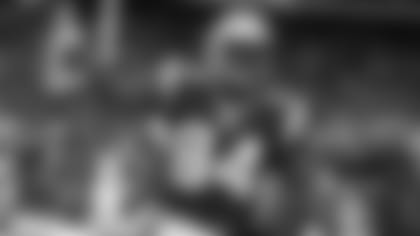 Maybe the best No. 32 first-round pick in league history, if we're measuring strictly in terms of longevity and dependable production. Watson just retired at age 38 after last season, having logged 14 NFL seasons for four teams (he didn't play in 2016), with 530 receptions, 5,885 yards receiving and 44 career touchdown catches. He spent his first six seasons with the Patriots, where he'll always be remembered fondly for running down Broncos cornerback Champ Bailey to save a 100-yard interception return touchdown in a 2005 AFC Divisional playoff loss at Denver.
2005: New England guard Logan Mankins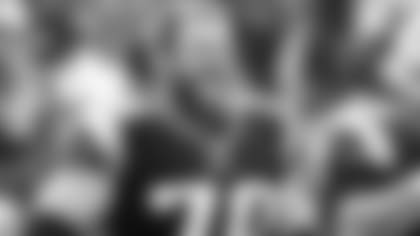 As solid as Watson was, the Patriots hit a home run the next year in choosing Mankins out of Fresno State. He went on to start all 130 games he appeared in for New England, being named to six Pro Bowls and one All-Pro team in his nine seasons in Foxboro. Mankins was a rock at left guard (and left tackle when need be), but he was unlucky in the sense that his entire Patriots tenure of 2005-2013 fit between the club's twin Super Bowl winning eras of 2001-2004 and 2014-2018. Mankins spent his final two seasons in Tampa Bay after his surprising late-August 2014 trade to the Bucs.
2006: New York Giants defensive end Mathias Kiwanuka
When the Steelers traded with the Giants to move up and select Ohio State receiver Santonio Holmes at No. 25, New York responded by taking Kiwanuka, the former Boston College star pass rusher. He played his entire nine-year career with the Giants, earning two Super Bowl rings and producing decent results as a defensive end and linebacker, adding rotational pass rush help. He started 82 of his 120 games with New York, logging 38.5 sacks and a very respectable 97 quarterback hits.
2007: Indianapolis receiver Anthony Gonzalez
His career wasn't long, but Gonzalez was one of Peyton Manning's favorite targets for two seasons, catching a combined 94 passes for 1,240 yards and seven touchdowns in his first two years in the NFL in 2007-2008. Then injuries took a steady toll and he appeared in only 11 games, with one start and five receptions, over the final three seasons of his Colts career. He had a brief stint with the Patriots in the spring of 2012, then retired and eventually pursued a career in politics, earning election to Congress as a Republican House representative from Ohio in 2018.
2009: Pittsburgh defensive tackle Evander "Ziggy'' Hood
Mostly a part-time player throughout his 10-year, five-team NFL career, Hood is currently a free agent after spending portions of 2018 with both Washington and Miami. In his first five seasons he was a Steeler, starting 46 of his 80 games in Pittsburgh, with 11.5 sacks and most of his action coming on presumed running downs.
2010: New Orleans cornerback Patrick Robinson
Now on his second stint with the Saints, Robinson saw his 2018 season ended after just three games due to injury. But he was an important and productive cog for the Super Bowl champion Eagles in 2017, batting down Tom Brady's Hail Mary heave at the end of the game. In his first five-year stay in New Orleans, he started a middling 33 of 58 games, with nine interceptions and one touchdown, before one-year tenures with the Chargers, Colts and Eagles.
2011: Green Bay offensive tackle Derek Sherrod
One of the bigger draft busts in recent Packers history, Sherrod was released by Green Bay midway through his fourth season and never returned to the NFL. The one time Mississippi State standout started just one of the 20 games he played in with the Packers, and never really recovered from a leg injury that cost him most of his first two NFL seasons.
2012: New York Giants running back David Wilson
The former Virginia Tech star went to the Pro Bowl as a rookie kick returner for New York, rolling up 1,533 return yards and a touchdown in 2012. But Wilson's NFL career was ended after just 21 games, at age 22, when a second neck injury and bout of numbness in the 2014 preseason led Giants team doctors to advise him to retire in order to avoid potential paralysis. He gained 504 yards rushing and scored five touchdowns as a Giants running back in 2012-13.
2013: Baltimore safety Matt Elam
After a fairly promising rookie season in which he started 15 games and showed play-making ability, Elam's career started heading downhill in 2014. He lost playing time due to poor performance that season, and lost the confidence of the Ravens coaching staff. He missed all of 2015 due to injury, barely played in the second half of the season in 2017, and Baltimore cut ties with him completely after a February 2017 arrest. He has not returned to the NFL and played for Saskatchewan in the CFL in 2018.
2014: Minnesota quarterback Teddy Bridgewater
Bridgewater's challenging saga is well known. He started 28 games for the Vikings in his first two seasons, making the Pro Bowl and leading Minnesota back to the playoffs in 2015. But a devastating knee injury in late August 2016 cost him all that season and led to him appearing in only one game in 2017, effectively ending his Vikings career. He spent 2018 as Drew Brees' backup in New Orleans, and this spring re-signed with the Saints after investigating his starting options on the market.
2015: New England defensive tackle Malcom Brown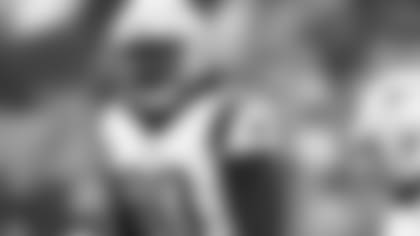 The Patriots declined to pick up Brown's fifth-year option last offseason, then watched as he signed a three-year, $15 million deal with the Saints in free agency this spring after four years in New England. Brown played very well in the Patriots' most recent Super Bowl run, and was a fairly dependable run defender cog on early downs in 2018. But he battled inconsistency at times in 2017 and was seen as mostly a one-dimensional player, although he did rack up 8.5 sacks in his four seasons in Foxboro.
2017: New Orleans offensive tackle Ryan Ramczyk
Ramczyk is the player the Saints drafted at No. 32 after trading veteran receiver Brandin Cooks to New England in March 2017. The former Wisconsin Badgers standout has been a stud so far for New Orleans at left tackle, starting 31 of 32 regular-season games and all four playoff contests the Saints have had the past two seasons. It was a surprise pick at the time when New Orleans turned in the card with his name on it, but the move has paid immediate dividends.
2018: Lamar Jackson, Baltimore quarterback
The jury obviously is still somewhat out on the former Heisman winner, but how can you argue with the results he turned in as a rookie for the Ravens? Inserted into the starting lineup for the final seven games of the regular season, Jackson was nothing short of difference-making, leading Baltimore to a 6-1 record and a return to the playoffs for the first time since 2014. His playoff start at home against the Chargers was streaky to say the least, but with Joe Flacco traded to Denver, this is Jackson's team, his town, and his time in Baltimore. The Ravens traded into the No. 32 slot to get him, with Philadelphia willingly moving out of the round to acquire more picks.