The Patriots kick off the 2023 preseason on Thursday night, welcoming the Houston Texans in the first of three contests in August that will help shape the team before final cuts and the start of the regular season. Based on Tuesday's training camp practice participation, it appears that many backups will get the majority of the snaps, while the starters rest up for joint practice sessions set to begin next week in Green Bay.
Asked about his expectations for the game, Bill Belichick said, "To give the players a chance to play and see how they perform in contact situations. They're somewhat limited out here, but it's putting it all together, not just a drill or first-and-10s, 7-on-7s, it's real football. Things change quickly, they'll have to make in-game adjustments, how they compete, physicality, and a lot of guys will get a chance, so we'll see how it goes.
Here are 10 players to watch who could improve their roster standing with a strong outing.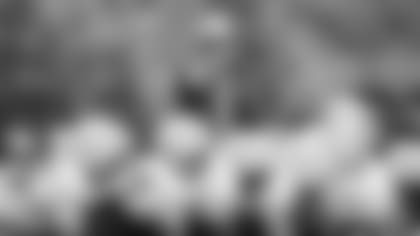 Zappe is expected to get the start but how long he lasts before Trace McSorley or Malik Cunningham enter the game is anyone's guess. Zappe has had some strong moments in his second training camp, acknowledging he is a lot more comfortable with a season under his belt, saying it's a "night and day" difference. The head coach agreed. "Much better idea of what to expect, knows the offense, knows defenses much better than he did last year, has a much better idea of just the pace of installation, camp, what to expect, all those things," observed Bill Belichick of Zappe at the start of training camp. "He's had a really good spring, too."
After dealing with a reported "soft tissue" injury in the spring and spending time on the lower conditioning fields during parts of the summer, Thornton is re-emerging over the last week of training camp, showing up with multiple catches often while running with the second team as he gets reacclimated. He was also especially hard to tackle during open-field live one-on-one tackling drills, showing some surprising wiggle in tight quarters. His long speed is well-documented, but his quickness is underrated. Thornton is likely to see some quality snaps early in the contest and it's another chance to continue stacking good days. It seems like he's got a bit of momentum rolling that could ideally be carried on to the top offense in Green Bay.
Douglas has turned heads this summer as the lightning-quick sixth-rounder has made life miserable for those trying to cover him in one-on-one drills. This will be the first chance we get to see how Pop looks against live competition. Can he get off the line and get away from NFL defenders? It seems like a pretty good bet that he can and will. Fans at training camp have already gotten a taste of what Douglas can do, now it's time for a bigger stage and slightly higher stakes. A positive performance would keep Douglas on track to be a contributor on offense this season.
"Pop Shotta, that's my guy," said Mac Jones of Douglas. "I'm going to call him Pop Shotta. Anyways, he's a great kid, works really hard. I think a lot of the young receivers are really learning from the older guys, which is something that I think is really cool. DP [Devante Parker] and JuJu and KB [Kendrick Bourne] and Hunter [Henry] and Mike [Gesicki], and everybody, they're kind of looking up to these guys and learning the right way because those guys are really good, world-class players. So I think that's the biggest thing. Pop just needs to keep working, you know, just keep his head down and work. Don't listen to any of the noise, good or bad, and he'll just keep doing his thing."
Another receiver who's been coming on in recent training camp days is Kayshon Boutte, who had one of the catches of camp on Monday with a one-handed snag in the end zone. After a self-admitted quiet start to the summer, Boutte maybe hasn't flashed the dynamic movement skills of Douglas or Thornton, but is finding himself consistently in the right spot and coming down with the ball without any drop issues. Like Thornton, Boutte has some momentum going right now and could further build upon it with a nice performance against the Texans.
With Rhamondre Stevenson unlikely to see any action, it's time for second-year player Kevin Harris to get a chance to carry the load. Training camp's sparse running back depth chart has allowed Harris and fellow second-year Pierre Strong to see a lot of action after both played small roles in their rookie seasons. While the team can and should still add another veteran to the running back room, Thursday night will be an opportunity for Harris and Strong to both state their case to be part of the team's gameday rotation. Expect J.J. Taylor to also come in and make his presence noted with some electric cuts.
"He's doing way better than he was last year,," said Bill Belichick earlier this summer of Harris. "He's way ahead of things; he's in good shape. He's had a good offseason, so he's ready to go. He's a guy that plays well with his pads on. We'll see how that goes as he gets those opportunities."
This is a big game for the backup offensive line. Of the three rookies, Mafi has seen the highest quality reps with injuries striking three of their veteran guards. So much so that there could be a question if the team even chooses to risk him with depth already so tenuous. Regardless, Mafi, Sidy Sow and Jake Andrews are key players that the Patriots could really use if they can get up to NFL speed in a hurry. Chasen Hines and Kody Russey figure to be heavily involved as well. It would be a huge boost to get solid games from a couple of them, offering hope that the team has enough along the line to fight the relentless battle of attrition that strikes every year. Right now though, Mafi is the clubhouse leader to make the most immediate impact.
"Another guy that, similar to Bill Murray, has only been playing offense for a short amount of time, converted defensive lineman," said Belichick about Mafi. "Obviously played a whole year at UCLA on offense, but in terms of long-term experience, he has less than a lot of other players. But yeah, he's a smart kid, well coached at UCLA obviously with Chip [Kelly]. He's doing fine."
It's no surprise that White really started to show up at Patriots practice when the pads came on. His size and power have been a problem for Patriots blockers in drills and now we'll get a chance to see what White can do in a live football situation. White's value as a rotational piece along the defensive line is already emerging and the growing question is how big of an impact can he have this season. He has the size to contribute on early downs but also that power to slide inside as a pass rusher on third down. Likely the Patriots will give him a look at everything and continue to tailor his role to what he does best. For a defensive front that returns largely intact, White is one of the few pieces who could change the dynamic of the defense in 2023.
"We've played him some inside, some outside," said Belichick of White. "So, yeah, we'll see how it goes. [Deatrich] Wise [Jr.] does that; again, we have three or four guys that, obviously, guys like DG [Davon Godchaux], Lawrence [Guy Sr.] and Carl Davis [Jr.] are really inside guys. [Josh] Uche, [Matthew] Judon, Anfernee [Jennings], for the most part outside guys, and then you have a few other guys that can play in different spots, whether it's inside 3-technique or move outside, play 5-technique, defensive end. So, it gives our front some versatility between the odd spacing, even spacing, playing inside versus playing outside."
With Matthew Judon slowly working his way into practice and Ronnie Perkins leaving with an apparent injury on Tuesday, depth at outside linebacker is thin and it puts a big spotlight on fourth-year linebacker Anfernee Jennings. Jennings was a solid role player last season but could be called upon to expand his role this season, especially if injuries strike. Josh Uche figures prominently into this equation as well, but the expectation is that Jennings and perhaps second-year player Damarcus Mitchell will take the majority of snaps on Thursday night. Jennings is a bit under everyone's radar, but has a great chance to expand his role and contributions this year.
With size, speed and kickoff return ability, the rookie seventh-rounder Bolden has been one of the rising players at training camp and should see a large number of snaps against the Texans both on defense and special teams. It's a golden opportunity for the Jackson State product. The Patriots have a knack for developing low-round defensive backs and with Christian Gonzalez already fitting in with the starters, Bolden is the kind of player who could add early depth before being called upon to make an impact. He checks all the physical boxes and has looked comfortable coming out of Deion Sanders' program which seems to have prepared him to make the NFL jump.
10. Specialists
With roster battles at the punter and kicker spots, Thursday night will provide the first opportunity for rookies Bryce Baringer and Chad Ryland to see what it's like to kick in an NFL game. Both have had solid summers thus far, with Baringer consistently booming punts with over five seconds of hang time. Ryland has also demonstrated a big leg while going head-to-head with veteran Nick Folk. Both have had their occasional misses but have generally made the majority of their attempts, usually with just a single miss mixed in. Now, against a live opponent in an NFL stadium, we'll get an even better sense of how the competition is shaking out and how the rookies handle the pressure of a kick in a (preseason) game.
DISCLAIMER: The views and thoughts expressed in this article are those of the writer and don't necessarily reflect those of the organization. Read Full Disclaimer