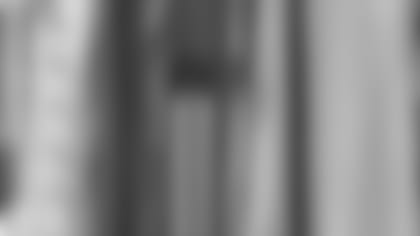 ]()
            So-called experts had a field day criticizing the New England Patriots when they picked nose tackle Dan Klecko in the fourth round (117th overall) of the NFL Draft.  

As far as Klecko's concerned, he'll have the last laugh, even though he has an unusual pedigree.
Klecko, a true senior who will graduate from Temple this spring, never played organized football until he was a freshman at Grand Valley (Pa.) High in 1995. (His family moved to Great Neck, N.J. a year later, and he enrolled at Marlboro High).
In addition, Klecko was constantly barraged with labels that he was too short, too weak and too slow.
But by the time draft day rolled around, Klecko had proved his critics wrong, due in large part to two factors:
He lined up against quality competition during his three years at Marlboro, the first two of which were played under then-head coach Larry Zdilla.
His father is somebody you just may have heard of, defensive lineman Joe Klecko, the 12-year NFL veteran (Jets, Colts) who earned four trips to the Pro Bowl -- the same Joe Klecko who also played for Temple, and whose number 73 was worn by his son throughout college.
That Dan Klecko heeded his father's advice is evident when he was asked why he never played youth football.
"My dad didn't like the way (some youth) coaches pushed you into football," he said. "They really made you dislike the game before it gets good.
"He let me develop on my own."
Dan Klecko "developed" so well at Marlboro that he: set single-season school records with 28 sacks and 107 tackles in 1998; twice earned First Team All-District, All-County and All-Shore honors; played in the 1999 New Jersey North/South All-Star Game.
Oh, yes, one other detail: Klecko played fullback as well as defensive end.
"(Zdilla) was my first coach and he gave me my chance to get out on the field and play," recalled Klecko during the Patriots' mini-camp. "Technique-wise, I owe a lot to my dad.
"But as far as getting a shot, I owe everything to coach Zdilla. If he didn't, I don't know what might have happened."
Klecko also owed a lot to the teams Marlboro played against in Central Jersey Group IV (he joined a big-time program, since the Mustangs won the 1994 state title).
"We played at the top level in the state, which means you play against the bigger guys, the stronger guys and the bigger teams that have more guys like that," he said. "It gives you the best experience and it gives you the best stepping stone to get to a bigger college."
Klecko enjoyed a stellar career for the Owls. He was a uninamous two-time All-Big East selection and the 2002 Big East Defensive Player of the Year. But at 5-11, 283 pounds, he heard questions about his size being a detriment to a pro career -- questions he heard even while starring for Marlboro.
"People always have thought I'm too short or too small," said Klecko, who bench presses an amazing 529 pounds. "I don't give it any thought. I've never believed that a certain size and height get it done. If a guy can play, he can play no matter the size.
"I don't feel I have to prove people wrong. Instead, I feel that I have to prove to people that I can play. My motivation comes from wanting play hard every week."
That was something instilled in Klecko by his father and his high school coaches.
"Technique and quickness is how you beat bigger guys," he said. "Everything my dad and coaches taught me is based on that.
"Size may be a big issue for the media, but I don't put any emphasis on it. The Patriots selected me for a reason."
The Patriots need somebody who can stuff the run and prevent opponents from controlling the ball. Not surprisingly, Klecko's time as a high school fullback helps him on defense.
"You get to learn the offensive side of the ball, and that's a big key on defense," he said. "To understand terminology, and to understand what the blocking schemes are, are a big help."
Even though Dan Klecko's famous father was a "big help," the fact Joe Klecko didn't go overboard -- which might have led to a contentious relationship -- was an even bigger help.
"He didn't push me into anything at all," said the younger Klecko. "He let me develop my first love for the game, and pursue it on my own.
"Moreover, I didn't let the comparisons get to me, even though I went to the same college, played the same position and wore the same number.