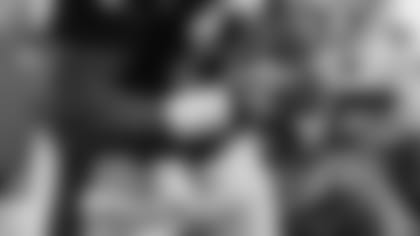 Daniel Graham** 2006: Graham is extremely versatile because of his athleticism, inherited from his father Tom Graham, a former Denver Bronco. He's often regarded as one of the best blocking tight ends in the NFL, but at 6-3, 257 pounds, he's also been an effective target forTom Brady. Graham was added to the prestigious list of Patriots team captains mid-season, and although he's relatively quiet, he leads by example and has a reputation as an extremely hard worker. Graham played an integral role in the Patriots postseason victory over the Chargers, reeling in a pair of 19-yard passes, the second of which produced the first 19 yards of the Patriots game-winning fourth-quarter drive.
Outlook: Graham just wrapped up the fifth and final year of his rookie contract, so he'll be an unrestricted free agent in the beginning of March. The candid Graham has admitted that he'd like to play a bigger role in his team's passing attack (his 753 receiving yards led the nation's tight ends during his senior year at the University of Colorado). That could lead him to another franchise this offseason. He could also be a candidate for the team's franchise tag if they decide to let cornerback Asante Samuel walk.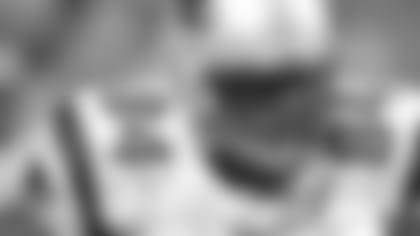 Benjamin Watson2006:** Watson found a bigger role in the Patriots passing game, finishing as the team's No. 2 receiver with 49 catches for 643 yards and three touchdowns – and did all that despite sitting out the last three games of the regular season. He had a number of costly drops and fumbles, which probably seemed like more of a problem than it actually was, considering the number of passes he had thrown to him. He could improve his consistency, nonetheless. This was only Watson's third season in the league, and a strong offseason could help him pull things together. He certainly has the size, strength and smarts to be a top pass-catching tight end in the league; he just needs to put in the time to pull it all together.
Outlook: Watson said recently that, unlike his first two NFL offseasons, he won't need any surgeries before the 2007 campaign begins. That means he's got all Spring and Summer to improve his technique and route running. Another career year could be forthcoming for him.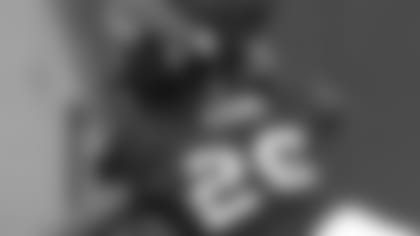 David Thomas** 2006: Thomas stepped in as a rookie and recorded starts in four big games this year, against: Denver, Miami, Jacksonville and San Diego (playoffs). He showed sure hands and gained the confidence of Brady in the passing game, while improving as a blocker.
Outlook: He filled in for Graham when he was injured, and if Graham moves on, Thomas' role on the team could see a big increase. He and Titans QB Vince Young were joint recipients of the Longhorns' Most Consistent Offensive Player award after the team won the National Championship during his senior year at Texas. That could be seen as an indicator of his ability to build on what he's learned entering the next season.
Garrett Mills and Matt Kranchick
Mills didn't take a snap during his rookie season but caught a few passes in the preseason, showing he can be versatile in the passing game. He was placed on injured reserve with a hip/thigh injury early, but he never missed a college game while playing at Tulsa. Kranchick is one of seven practice squad players signed following the Patriots loss to the Colts in the AFC title game. He's spent time with the Steelers and Giants, but has only recorded one start in the NFL.
Outlook: A fourth-round draft pick, Mills, could be something of a sleeper, but he'll have to be healthy and show a spark in training camp in order to carve out a niche for himself. Kranchick specializes in blocking. If Graham leaves, he could be kept around to pick up some of Graham's blocking duties.
Analysis:The franchise number for Graham, as a tight end, is significantly lower than the number for Samuel, since cornerbacks are generally higher-paid players. It's tough to predict which one, if either, the Patriots will choose to franchise given the various ins and outs of the franchise tag. If Graham isn't with the team next season then Thomas could potentially step into a starting position. Obviously, with Graham and Watson both being first-rounders, and Thomas and Mills both being selected in last year's draft, it wouldn't be out of the question for coach Bill Belichick and VP of Player Personnel Scott Pioli to grab a tight end or two in the upcoming 2007 NFL Draft. They seem to like picking tight ends, since it goes with their general strategy of grabbing up big, highly athletic players that can – at the very least – find roles in special teams while they mature in the Patriots system.