INDIANAPOLIS – Tim Tebowbasically had the spotlight to himself on Friday, so Jimmy Clausen(6-3, 222), Sam Bradford(6-4, 236), and Colt McCoy(6-1, 217) – the three other top QBs in this year's draft – had to share the limelight on Saturday.
All three signal callers appeared to acquit themselves well in front of dozens of reporters, cameras, and microphones. Clausen, with his obvious connection to New England via Charlie Weis, spoke about wanting to become "a gym rat" when it comes to watching film. He cited Tom Bradyand Peyton Manning, both of whom are known for their dedication to the film room, as the types of players he wants to be like now that football is about to become his full-time job.
Bradford, as you might imagine, had to face repeated questions about his throwing shoulder – which he injured not once, but twice last season – and the status of his rehabilitation. He insisted that he's ahead of schedule, even saying that his surgeon, the noted sports doctor James Andrews, was optimistic about where Bradford is at this point in his rehab.
"It was a grade 3 separation and from what I've heard from doctors," Bradford detailed, "after the second time, for my long-term health, if I wanted to continue playing football and get stronger in the weight room, I needed to have the surgery."
It was notable how very business-like Bradford was in his answers and his general approach to the Combine, including the marked difference in his appearance. He's trimmed his trademark mop of shaggy, curly hair in exchange for a more traditional, parted 'do, perhaps in an effort to present a more mature attitude to NFL teams.
Curiously, Bradford refused to answer when asked what teams he's met with so far at the Combine.
"I don't think that needs to be out there," he responded.
McCoy most frequent questions focused on his smaller-than-normal stature for his position, but he addressed those concerns with ease.
"That's what God gave me, and I'm going to use it the best I can," he declared.
McCoy also welcomed comparisons to another diminutive QB who's found success in the NFL – Super Bowl winner Drew Brees.
"I hope you guys can see that because I see that. Drew's a tremendous football player. He's worked his tail off to get to the point where he is. To play in the National Football League you have to be pretty special. I understand that, I'm going to continue to do what I've done my whole career, that's work harder than anybody else, that's prepare better than anybody else. And I can't wait for the opportunity.''
Clausen, meanwhile, came across as a likeable guy as well, and that's very important to him. He revealed that he's trying to dispel what he called the misconceptions about him that he's "cocky, arrogant."
"I just want to go somewhere where they want me as a person and a player, to go to that organization and help them win games. That's all I'm about. I'm about going there and trying to make my team better. Whether it's being on the practice squad, helping the defense, whether it's being the staring quarterback - that's a coach's decision. My goal is just to go in, whoever drafts me, go in there and learn the playbook as quick as I can and get out there and do everything I can to help the team win."
Jets coach Rex Ryan held court for 22 minutes Saturday morning at the Combine. Not surprisingly, he had reporters in stitches with many of his comments. Ryan made a number of jokes about the much-viewed incident at a recent hockey game when he showed the entire world his oversized stomach while attempting to change shirts in the stands.
"I'm working on the abs a little bit … I thought I had the fight strap attached to the t-shirt. I didn't. Big mistake … I'm watching ESPN like, 'OOOOH, that's not a real good shot.'"
Ryan balanced his light-hearted comments with some of his trademark braggadocio. On his football team's tough schedule for next year, he remarked, "Get ready. Strap I up tight, because here we come."
And when asked about the Jets' potential to improve despite their limitations in the uncapped year as one of the final four teams, he insisted, "We'll improve as much or more than any team in the league."
At times, he mixed in a little of both at the same time. Discussing the gauntlet that is the AFC East with the Patriots, Dolphins, and Bills, Ryan said, "Miami will be ticked because I never put them on top. I really don't care."
A reporter asked him about Raiders CB Nnamdi Asomughasaying he'd like to play for the Jets, but Ryan wouldn't bite.
"There you go, trying to get me. I get myself in enough trouble. I'll pass."
The joke that drew the most laughs, though, was about watching some of the drills at the Combine.
"You watch an offensive lineman run a 40 and say, 'Whew, he made it!"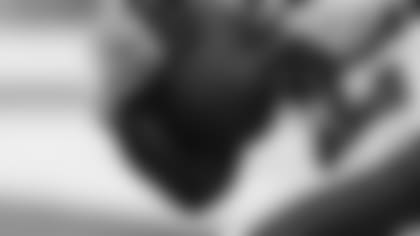 Undersized Mississippi running back/wide receiver Dexter McClusterhad an impressive press conference in Indy. The dynamic playmaker measured in at 5-8, 172 pounds. He says he's looking to run a 40 in the 4.3 on Sunday.
He added that most teams have talked to him about being a running back, but that he met with the Patriots at the Senior Bowl and they saw him more as a slot receiver.
"They put me at the board and had me drawing up routes," McCluster said. "I create mismatches on the inside."
McCluster will also make a mark as a special teams guy in the NFL. Not only can he return both punts and kicks, but he also loved working as a gunner in college.
"Punt return, kick return, gunner, whatever, I'll do it."
UMass tackle Vladimir Ducasse(6-4, 330), a Connecticut resident who hails from Haiti originally, fielded numerous questions about the plight of his native island nation in the aftermath of last month's devastating earthquake.
At age 14, Ducasse's family sent him and his older brother to live with an uncle in Stamford, in order to escape the poverty and despair of their situation. Several other family members live with him now in the U.S., while his father, two uncles, and some cousins still reside in the capital city of Port-au-Prince.
"It was a little setback when I found out what happened," said Ducasse, who has not been back to Haiti since coming to America.
"The whole city was hit. Our house went down actually. Pretty much everything, they have to find another place to stay … when I heard from my family and that everyone was OK, after the two days I came back and started working out again."
Ducasse said his spirits have been buoyed by the outpouring of support for Haiti from U.S. donors.
"A lot of people have helped. Much more than what I was expecting, so it was pretty good."
This Bulldog is the original Wildcat?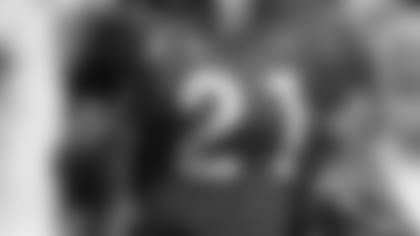 With the growing popularity of the Wildcat offense in the NFL, teams like the Patriots, who don't currently have a player to run the gimmick offense effectively, might be on the lookout for someone in this draft who can do so. They might want to consider Fresno State RB Ryan Mathews(5-11, 220), and not just because of the Pat Hill-Bill Belichick connection.
"A couple people have said I invented the Wildcat," Mathews explained. "I think I did some pretty good things in high school with the Wildcat. I think I could play with and help establish it a little more."
According to his Fresno State bio, Mathews played a quarterback/running back combo position in high school, in which he lined up in a shotgun formation and ran the ball after taking the direct snap. As a senior, he totaled nearly 3,400 yards and 44 touchdowns on the ground – a whopping average of just under 300 yards per game, helping him earn second-team All-America honors.
However, there's a catch (pun intended). The Wildcat relies on a player's ability to run with and/or pass the football with equal efficiency.
"But I really can't pass that good, so it wasn't really my forte," Mathews admitted. In his senior prep season, he threw for 851 yards and 11 TDs.
Nittany Lion a real wild cat
Penn State QB Darryl Clark(6-2, 235), on the other hand, believes his proven abilities as a passer in Happy Valley, coupled with his athleticism, make him the ideal candidate to run the Wildcat offense at the NFL level.
"I'd say so. I definitely feel like I can fit a Wildcat offense. I've been blessed with speed and am able to run. But I'm able to throw as well," he said at the Combine this week. "I've always been a passer as well as a runner. Always looking to make the pass and if nothing is there, then I've been able to take off and keep the chains moving."
… During a half-hour Q&A session with New England-area reporters, Patriots director of player personnel Nick Caseriocommented on the team's recent re-signing of one-time WR David Patten, who is 35 years old and was out of football last year. "Obviously we have a history with David Patten, he's a pro's pro, he's a veteran. It was a few years back. I don't think we're living in the past or trying to go back to the past, but here's a guy who still shows a pretty competitive skill set, at least based on the workout. David kept himself healthy, we kind of maintained some contact with him, it was more towards the end of the year. We brought him in, worked him out, gave him a physical, and based on his performance just on the field, you saw a lot of things that you saw from David Patten – he was fast, he was quick. So that decision was made."
… During Friday workouts, Arkansas guard Mitch Petrus(6-3, 310) tied the Combine record for most 225-pound bench press reps with 45. The mark was previously reached by Ohio State DE Mike Kudlain 2006.
… After running a 4.7 in the 40-yard dash, Maryland tackle Bruce Campbell(6-6, 314), super-agent Drew Rosenhaustweeted that Davis instantly became a sure-fire, top-ten first-round pick. Later, Combine officials announced Davis' official time was changed to 4.85. Still, not bad for a guy that size. By the way, Davis also tossed up 34 repetitions in the 225 lb bench press…
… LSU kick return specialist Trindon Holliday(5-5, 161) ran a blazing 4.22 in the 40-yard dash, besting Titans RB Chris Johnson's2008 mark of 4.24 as the fastest time of the new millennium. …
… Oklahoma State WR Dez Bryant(6-2, 225) answered (or at least gave answers, not necessarily revealing ones) a barrage of questions this week about his NCAA suspension last season. He admitted to lying to college officials about his professional relationship with former NFL player/TV analyst/player mentor Deion Sanders. "It was a bad mistake," Bryant said of his being untruthful. "But I'm a great person. I enjoy the opportunity to make people smile. I'm good at making people smile." …
… Clark, the Penn State QB, commented on his former head coach, the legendary Joe Paterno, abandoning his trademark, coke bottle glasses. "I just heard he had Lasik surgery. His glasses were on sale for about 10 grand." …
… Ducasse may be a transplanted New Englander, but he's not necessarily a Patriots fan at this point. He explained that he started playing football as a high school junior and that the first game he watched was New England's Super Bowl victory over the Eagles. "I don't really have a favorite team," he claimed, "but I have a couple of teams I like: the Colts, the Giants, Jets, Chargers." …