The Patriots fell to 1-5 on the 2023 season after their 21-17 loss on Sunday to the Raiders that felt like it followed an all-too-familiar script. Sloppy out of the gate, too many penalties and then just enough mistakes at the end to cost the team a chance at a comeback, it feels like the Patriots have played some variation of this game for much of the last two seasons.
However, while it'd be easy to chalk the Raiders loss up with the rest of them there were some elements from this game that showed some positive signs that the Patriots can look to build upon as they look to salvage the 2023 season. At 1-5 silver linings are hard to come by and until the Patriots turn the corner on the scoreboard there is little time for moral victories. Still, with 11 games still to play this season, the team must do their best to find and foster the positive, even if it will eventually be with more of an eye toward 2024 at this point.
Here are some of those things to build off of as the team prepares to face back-to-back contests against AFC East rivals.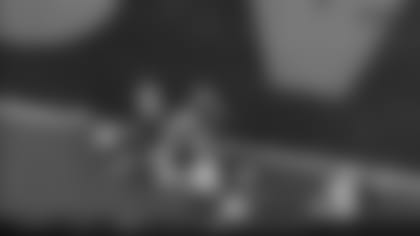 First takeaway in three games
The Patriots defense forced just two punts and allowed points on five of eight drives in the game not including the final kneel-downs, but they did just enough to stay in the game with an opportunity to win on their final possession. One small reason why was the team's first takeaway in four games, as Jabrill Peppers delivered a huge and well-timed hit on Davante Adams that forced the ball out and up into the air. It was collected by Jahlani Tavai for the interception as the defense broke a trend and made a statement already down 3-0 with the Raiders looking to add to their lead.
"It's definitely something that we work on as a defense, just creating opportunities to get our offense back on the field," said Ja'Whaun Bentley following the game. "So, it's always good seeing what we work towards each and every day kind of come into fruition on the field. So, it was big for us today. And I thought if we put ourselves in a good position, we just have to keep building off of that, for sure."
It was the second forced fumble of the season for Peppers, who led the team with seven tackles and two passes defensed. With the defense struggling recently to make the kind of game-changing plays that were commonplace as recently as last year, the veteran Peppers, who signed a two-year extension last offseason, has been one bright spot.
"Contagious tenacity, for sure," said Bentley of Peppers. "Bro is definitely one of those bell cow kind of players, do anything you ask him to do, whether it's defense, special teams. We all know how valuable he is to the team as far as his versatility in general and the physicality that he brings to this team as well. So, we are definitely appreciative for Jabrill [Peppers] as well as that whole safety room. They bring a different kind of edge to this defense, and we appreciate it."
Red zone defense steps up
Perhaps the defense's most important contribution was getting red zone stops on five of the Raiders six trips inside the 20-yard line. Tavai's interception was one of those plays, while penalties both helped and hurt the defense close to their own end zone. Sam Robert's leverage penalty gave the Raiders a new set of downs at New England's 11, but the defense stayed focused and still forced an opening drive field goal.
A Jakobi Meyers OPI call prevented the Raiders from getting inside the red zone in second quarter, while a third-quarter holding penalty also helped force the Raiders to settle for another field goal. It wasn't all the Patriots defense, but it was enough of them as the team continues to search for personnel answers in the wake of losing Matthew Judon and Christian Gonzalez.
The Raiders were the 25th-ranked red zone offense in the NFL entering the game and head coach Josh McDaniels said after the game his team will continue to work on those issues.
"We had a couple holding penalties that put you in first-and-20, or second-and-20, and that's obviously a difficult situation to be in," said McDaniels. "We missed some opportunities, and we just have to be able to capitalize whatever it is, run or pass, play penalty-free and be able to capitalize on the opportunities that we have down there. I mean, there's less space, which means your execution has to be better than it is at the 50-yard line and right now we're not doing a good enough job."
No stand was bigger than the defense's hold at their own six-yard line early in the fourth quarter. While Daniel Carlson's fourth field goal of the game still extended the lead to nine points, it might've been a nearly unreachable 13 points had the Raiders gotten into the end zone there. The Patriots offense responded off that stop and reeled off an epic but plodding 17-play, 75-yard touchdown drive, another moment that could offer a small ray of hope.
First touchdowns in two games
After going two and a half games without a touchdown the Patriots finally broke through on their opening drive of the second half with a 10-play, 75-yard drive that Ezekiel Elliott finished off with a one-yard touchdown run. Rhamondre Stevenson and Pharoah Brown had the two longest plays of the drive, 15 yards each, as the Patriots were methodically picking up positive gains on eight of ten plays on the drive.
The fourth-quarter, 17-play drive was far more up and down with just one gain of more than 10 yards, a 15-yard pass to Kendrick Bourne. The Patriots had to overcome two five-yard penalties but got some significant help from a third-down roughing the passer call that essentially swapped a touchdown for what would've been a field goal. The drive was effective but lacked the kind of urgency a two-score deficit in the fourth quarter requires.
"[We] do need to be faster, we do need to score faster," said Kendrick Bourne after the game. "It's a great drive, it says a lot about us and how much we fought, which I love. But we need to score faster in my opinion. Just ate too much time, and then we get in a situation at the end where it feels like we put more pressure on ourselves when we can make it easier. So, just to be a little bit faster, more urgency for sure, that's what we need."
"Honestly, I just tried to get the call and call it in the huddle," said Mac of the pace on the long drive. "The coaches do a good job of managing all that stuff. I did want to push the tempo a little bit more than just the operation and everything, but we were subbing a lot, and that's part of putting pressure on the defense, playing fast and getting in and out of the huddle to put the pressure on the defense."
Bourne himself was a bright spot in this game, posting a career-high 10 catches on 11 targets as the most effective member of New England's receiving corps. With slot receivers Juju Smth-Schuster and Demario Douglas missing the game, Bourne saw the biggest uptick in targets and could continue to see his role expand as the offense looks for effective weapons.
"We're just being tested, battle-tested, and it's up to us to look at ourselves in the mirror and see who we are individually and what we're going to bring every day," said Bourne. "Are we going to just quit and come to work to just work? Or are we going to come to work to really work and put in an effort so we can change this thing around here? If we get guys coming in like that, I think it'll change."