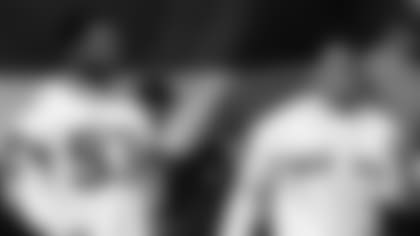 ]()BOSTON -- Someone once said that since we have two ears and one mouth we should listen twice as much as we talk. Well when the legendary Bill Russell is speaking about winning championships, the listening ratio increases beyond 2:1. His Celtics teams won 11 NBA titles including eight in a row in the 1960s, but his words on this day weren't prepared for a speaking engagement as they might have been back in the summer of 2002 when Patriots Head Coach Bill Belichick invited Russell to speak to his first defending championship Patriots team.
No, the setting Monday was completely informal. It was a small room inside Fenway Park where Russell, donning a Celtics cap and his signature high-pitched laugh, recalled some of the elements and players that made his teams great while Patriots Tedy Bruschi and Richard Seymour, three-time champs themselves, soaked it all in alongside another Boston sports legend, Bruins icon Bobby Orr, he of two Stanley Cup titles.
The championship quartet was on hand on a brisk, sun-splashed afternoon to help the Boston Red Sox celebrate their first home opener as defending World Series champion since 1919. But a couple of hours before the four would emerge from underneath the massive American Flag draped over the fabled Green Monster to throw out the ceremonial first pitch preceding another Red Sox-Yankees duel, they sat around a long wooden table eating cold cuts, sharing anecdotes, talking about golf and about winning, laughing and tossing a baseball around in somewhat nervous preparation for their on-field undertaking.
Actually, it was the smoothest and niftiest skater and stick handler of our time, Orr, who battled the butterflies in what was surprisingly his first trip to the Fenway mound to fire a baseball ceremoniously toward home plate. "My son said, 'Dad don't embarrass us and don't throw it underhand,'" Orr relayed.
The clutch Orr did neither when his 3 p.m. curtain call came, firing a strike from the pristine infield grass in front of the mound. "I'm honored to have been invited to take part today as really a highlight of my career," Orr said. "I'm thrilled, my children are thrilled and my friends are thrilled. They think it's the greatest as I do."
The sellout Fenway Park crowd was treated to a glorious experience, especially when the Sox went on to pound the Yankees, 8-1, but the magnitude of the pregame events couldn't have been lost on anyone in attendance and certainly wasn't on the two Patriots champions on hand.
"I feel like a little kid," an upbeat, smiling Bruschi said from beneath the left field seats in what marked his first public words since suffering a mid-February stroke.
Speaking about neither his health nor football future, but rather his day at the ballpark, Bruschi put the experience in perspective. "Bobby Orr, Bill Russell and me and Richard? The Patriots, Celtics, Bruins and Red Sox all together. We're all champions now. What the Red Sox did last year was historic and it sort of solidified all the championships together and it seems like they're coming in bunches. Hopefully there can be more.
"It's different than the previous two times [we were here]," he added. "We had the whole team out there a couple times before and that was great, but this is Boston history here … especially with Bill Russell and Bobby Orr and the guys you've heard all the stories about and watched all the highlights of, and it's an honor to be next to them."
"It's fun, being a younger player, to be around some of the guys that won championships and see what it took and the things that it takes to stay at that level and to see the mindset they have," Seymour said. "It's an honor to be a part of this city and everything the fans, the sportswriters and the players are going through at this point. Growing up, I never thought I'd be in this position. All I knew was that I was just putting in hard work."
Seymour spent plenty of time with Russell throughout the day. As a slew of former Red Sox greats including Yaz, Dewey, Rice, Lynn, Gedman, Oil Can, Lomborg, Lee and so many more marched on to the field a few feet away, Seymour and Russell engaged in a lengthy one-on-one conversation off to the side while occasionally being interrupted for a picture by a stray fan or admiring United States Marines decked out in full dress blues.
"He's a great guy," Seymour said of Russell. "You can see why he's a champion. He's a guy with a lot of insight, a lot of wisdom, and I try to hang around guys like that. I told him I'm trying to get his record and then he said, 'which one? Eight in a row or 11 in 13 years?' I told him, "I'm three-for-four right now. That's not bad."
Bruschi, who grew up a Celtics fan in Northern California, also was a willing Russell listener. "[It was] spending time with him and picking his brain a little bit and now we sort of have something we can relate to. We have three [championships] and I think he had 11. I don't know if we'll get eight more but at least we were able to put a couple more on there so we could sort of be in his company a little bit."
He was in that elite company Monday. It was championship company and a championship party for all of New England. But the champs representing the Pats, Celts and Bruins recognized that the day was about their latest championship brethren, the 2004 Boston Red Sox.
"What this team has done is incredible," Orr said. "Going back to last year to the championship series, everyone said, 'they're gone,' but they fought back and showed a lot of character and they're true champions."
And Monday they celebrated their amazing accomplishment one final time. It was truly a Championship Monday celebrated by and with legendary champions. Bruschi, Seymour, Russell, Orr, and now the ring bearing Red Sox from 2004.
For more coverage including exclusive, must-see behind-the-scenes video footage and a brief on-camera interview with Tedy Bruschi, be sure to watch Tuesday's edition of Patriots Video News. Brian Lowe and the PVN camera followed Bruschi and Richard Seymour throughout their afternoon at Fenway Park.