There's still nearly five months until the Patriots kick off their 50th season. But with the anticipation of the announcement of the NFL's regular season schedule on Tuesday, CBS Scene at Patriot Place was filled with the same kind of anxiousness found leading up to the season's first kick.
A throng of Patriots fans were on hand to celebrate the league's new season as the NFL Network broadcast live with reporter Kara Henderson on site detailing the reaction from Foxborough, complete with an interview with Patriots Chairman and CEO Robert Kraft.
Among the many highlights the 2009 Patriots schedule has to offer are return trips to two of the sites of New England's three Super Bowl victories.
Kraft hoped those dates would serve as omens for success in 2009.
"We're excited that we're going back to Houston and New Orleans. We have very good memories the last time we played there, especially New Orleans, which was our first Super Bowl win. So we think there is a lot of good karma going this year, and we can't wait for football to start."
As part of the festivities, CBS Scene gave away two tickets to the Patriots' season opener at Gillette Stadium, a Monday Night Football tilt against Terrell Owens and the Buffalo Bills. Mark Tinley of Mansfield, Mass. was the lucky recipient of the pair of seats on opening night.
"This is great," Tinley said, proudly wearing a Patriots hat and Tom Brady jersey. "A group of us from work came up for dinner and it was great to see Mr. Kraft here. He's a very approachable guy and he relates so well to the fans. This was a terrific night."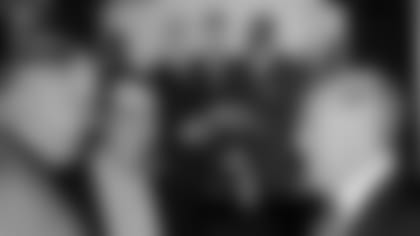 ]()Meanwhile, others soaking in the action at CBS Scene were shifting their attention to travel plans for the upcoming season. Ana and Greg Derosier of Raynham, Mass. watched as the schedule was released and immediately began sending text messages to friends who were stationed at their computers to begin booking hotels and flights to New Orleans around the Patriots' Nov. 30 tilt with the Saints.
"We always look forward to when the schedule is released," said Ana Derosier, who has been a season ticket holder with her husband for the past 15 seasons. "We try to pick a different city to visit each year and watch the Patriots. We plan our travel around the team."
Brothers Sean and Scott Besarick were planning their own road trip when New England travels to Denver on Oct. 11 to take on the Broncos and former Patriots offensive coordinator and quarterbacks coach Josh McDaniels. While they were yet to finalize their plans, they were in no hurry for the time being.
"This isn't a bad way to spend a Tuesday night," Sean Besarick said. "My brother and I thought it would be a good night out and we're having a good time. I just can't wait for the season to start now."