The Patriots are notoriously unpredictable when it comes to Bill Belichick's approach to the NFL Draft.
It's anyone's guess which names New England will call in April, but their recent draft record isn't as difficult to decipher as you might think when it comes to the position on the roster they'll address.
Over the last five drafts, the Pats have targeted the biggest hole on their depth chart with their top selection. For example, they had a massive void at guard after they traded Shaq Mason, and veteran Ted Karras went to Cincinnati as a free agent, so Belichick selected UT Chattanooga guard Cole Strange in the first round. The year before, the obvious position of need was quarterback, and the Pats took Mac Jones with the 15th overall selection in 2021. The year before that, they were preparing for safety Patrick Chung's retirement, selecting Kyle Dugger with their first pick. You get the idea. The Patriots might surprise us all with the names they're pulling out of the hat, but the positions they target have been predictable.
Bringing it to the current draft, it's clear and obvious that the biggest hole on the Patriots roster is offensive tackle. We've laid it out for you before, but Trent Brown is in an expensive contract year ($12.25M), and every right tackle who played a snap for the Pats in 2022 is a free agent (Cannon, Cajuste/RFA, McDermot, Wynn).
After taking in both Senior Bowl and Shrine Bowl practices, we have good news: it's a great OT class. There could easily be seven offensive tackles taken in the top 50, five in the first round, and a dozen in the top 100.
The group in Mobile featured several top-100 tackle prospects despite the consensus top four first-rounders sitting out the college All-Star games. This feels like a no-brainer for the Patriots, who can upgrade a position of dire need at an affordable price.
Although the offensive tackles caught the eye, there were several other standouts from three Senior Bowl practices that we'll mention as well.
Here are the players who stood out from a Patriots perspective at Senior Bowl practices this week:
Offensive Tackles
OT Dawand Jones, Ohio State (projection: top 50) - the football equivalent of rushing against The Mountain from Game of Thrones, Jones stands at 6-foot-8, 375 pounds with an 89 1/2 inch wingspan and plays to his size. He pulled a Zay Flowers, where he dominated the competition at the Senior Bowl, then shut it down after one practice. Jones mauls opposing edge rushers, and his foot speed is much better than you'd expect at that size. Teams picking in the back half of the first round could target Jones.
OT Darnell Wright, Tennessee (projection: second round) - If Jones wasn't in Mobile, Wright might be the biggest offensive lineman at the event. The Tennessee product is 6-5, 342 pounds and has arguably the heaviest hands of any tackle in this class. His punches stun pass rushers into wide rush paths, and Wright's grip strength takes over in the run game. However, we did notice some issues for Wright in pass protection drills with redirecting to speed rushers. Once he gets his hands on you, it's over, but his footwork and balance in his pass sets need some work.
OT Jaelyn Duncan, Maryland (projection: day two) - Duncan is another well-built tackle with above-average physical tools. He jumps out of his stance, moving well on his lateral slides and in the running game. His hand technique is one improvement that came up in Mobile. Duncan needs to improve his punch accuracy, timing, and overall technique to reach his ceiling. The big picture is impressive, but the little details need seasoning. He gets beat too often because he misses with his hands and lunges to recover.
T/G Cody Mauch, NDSU (projection: day two) - What a fun player and my podcast co-host Alex Barth always says I hate fun. Mauch is fun. The NFL views Mauch as an interior player, repping him mainly at both guard spots and giving him some looks at center. He's explosive, tenacious, and a flat-out bully. Although his intensity stands out, Mauch's initial explosiveness out of his stance is truly excellent. He reminds me a little of Cole Strange in that regard. Unfortunately, he's probably transitioning inside where the Pats don't currently need him. But we needed to give him some love because Mauch is freaking awesome.
OT Blake Freeland, BYU (projection: rounds 3-4) - I have some concerns about Freeland's game. He's an athletic, long tackle prospect with the foot speed for the position. But Freeland is a high-cut player who struggles consistently with his pad level, leading to reps where he's lunging at the waist and failing to leverage blocks. He's not overly flexible at the hips and knees to carry his height (6-7). There's probably a Nate Solder or Brian O'Neill (Vikings) comparison here. Still, in deep tackle class, I'd prefer other players.
T/G Warren McClendon, Georgia (projection: day three) - Like Mauch, McClendon will likely move inside but started every game for the national champs at right tackle last season. McClendon has limited range and agility to stay outside at the next level and is built more like a guard. But he had some of the best run-blocking tape of any tackle in Mobile. He generates easy movement at the line of scrimmage, combo blocks with great timing, and those traits could make him a fit at right tackle in New England. The Pats like that skill set on the right side.
Honorable mentions for IOLs: O'Cyrus Torrene (Florida), John Michael Schmitz (Minnesota), Emil Ekiyor (Alabama), Olusegun Oluwatimi (Michigan), McClendon Curtis (Chattanooga)
Wide Receivers
Tank Dell, Houston (projection: day two) - We've spoken about Dell before as a fit for the Patriots in the slot, and he didn't disappoint in Mobile. Dell has it all from a route-running perspective: lateral quickness, vertical speed, and an advanced understanding of leverage and angles. He creates ample separation and has a background in the return game. However, his size makes him a difficult NFL projection. Dell is only 5-8, 163 pounds. Although smaller receivers such as DeVonta Smith are succeeding in the pros now, Dell is much shorter and weighs even less than the Eagles star. Dell will be a total outlier at the next level. Maybe DeSean Jackson is the comp if he flies at the combine.
Jayden Reed, Michigan State (projection: mid-round pick) - Reed improved his stock more than any prospect at the Senior Bowl this week. Everything begins with Reed's vertical burst. Since he's a threat to go deep on you at any moment, Reed can stack his breaks off those vertical stems and showed some suddenness in his cuts to create separation underneath. His route-running stole the show in Mobile, and Reed is known for being a YAC merchant. The final hurdle for Reed to elevate into the top 100 is the 40-yard dash. On film, he doesn't appear to have elite top-end speed. If he runs well in the 40, his stock could soar.
Michael Wilson, Stanford (projection: day three) - Wilson wasn't on my radar until this week. His pre-Mobile projection was a late day three, UDFA type. But, man, this guy can run routes. Wilson was unguardable in one-on-ones, using a diamond release circuit to keep corners off-balance on every rep. He was losing corners on the underneath stuff but added a late vertical win on Wednesday to his rising draft stock.
Tight Ends
Luke Musgrave, Oregon State (projection: round two) - Musgrave might go earlier than the Patriots want to take a tight end, but he was the best of the group in Mobile. Musgrave will put up an eye-popping time in the 40-yard dash at 6-5, 255. His speed on verticals and crossers jumps off the film at you. It should make him a legit weapon in the passing game.
Cameron Latu, Alabama (projection: early day three) - we need at least one Alabama offensive player on here, right? Latu put up 787 receiving yards and 12 TDs over the last two seasons in Bill O'Brien's offense. He's a sharp route-runner who runs with textbook angles and pacing. Just a heady, versatile, and well-rounded player. Latu's athletic testing will be interesting as he is not supposed to run very fast. If he does, that could change his projection.
Payne Durham, Purdue (projection: day three) - Durham put some excellent run-blocking reps on tape at the Senior Bowl as a traditional in-line tight end. Durham is a day-three option if the Pats want to round out their tight end group with a hand-in-the-dirt blocker. Durham also made some impressive grabs in team drills, one on a back-shoulder fade for six.
Running Backs
Tyjae Spears, Tulane (projection: day two) - I don't see the Patriots needing a day two running back, but Spears is legit. His running style reminds me of Texans breakout rookie Dameon Pierce. Shifty, excellent contact balance and lateral cuts, and above-average breakaway speed.
Chase Brown, Illinois (projection: 3-4 round) - Brown wasn't perfect, but he held up better than most of the backs during pass protection drills and has home run speed. You could see his quick feet, explosiveness, and willingness to pass protect translate in the passing game.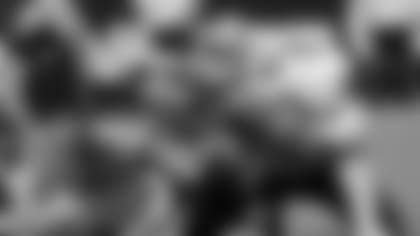 Defensive Line
Adetomiwa Adebawore, Northwestern (projection: 3-4 round) - Easily the winner from OL/DL one-on-ones for the defensive line. Adebawore has a devastating chop-rip move with a low, explosive get-off out of his stance. Nobody will ever be Aaron Donald. But you can tell that the Northwestern product takes from Donald's game.
Karl Brooks, Bowling Green (projection: early day three) - Lined up all over the front for the National team and clearly has an NFL build. Brooks was difficult to move at 6-3, 303 pounds, and has tons of positional versatility. He could play anything from five-technique to the nose.
Byron Young, Alabama (projection: early day three) - Young's hand technique stood out above the rest of the IDLs in pass-rushing drills. He's quick to fire, keeps his frame relatively clean, and has a few counters to his base bull rush/power. He gave the consensus top center in the draft, John Michael Schmitz, some problems.
Linebackers
Ivan Pace, Cincinnati (projection: early day three) - I first noticed Pace watching college teammate Darrian Beavers last offseason. Pace flies downhill to shoot gaps, log pressures on blitzes, and fill in the run game as a physical presence in the box. His pass-rushing reps as an interior blitzer were superb in Mobile. The only knock is that he's a bit undersized (5-10, 231).
DeMarvion Overshown, Texas (projection: 3-4 round) - Overshown is a modern-day hybrid linebacker who also played a little safety at Texas. His playing strength to take on blockers in the run game is a question mark. But he has great length (6-2), speed/range, and instincts in coverage. The Pats have been slowly gravitating toward this skill set more recently.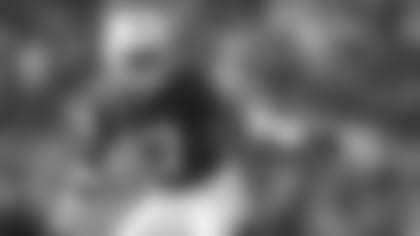 Cornerbacks
Kyu Blu Kelly, Stanford (projection: day two) - Another player already on our radar who showed out in Mobile, the Stanford product was the talk of the Senior Bowl on day two. Blu Kelly stood out in man coverage with excellent ball product and vertical speed to carry receivers. He also made some good plays in zone, which was a concern coming into the Senior Bowl. Although he's not a huge corner, Blu Kelly cleared six feet and 190 pounds in Mobile (6-0, 193).
Tyrique Stevenson, Miami (projection: day two) - Stevenson's reps in one-on-ones were jaw-droppingly good. He was running better routes than the receivers going against him, and it translates to full-team drills as well. A total stud in man coverage with excellent mirror-and-match talent and length (32 3/8 inch arms). Excited to watch his Miami film.
Julius Brents, Kansas State (projection: day two) - use all the eyeball emojis possible for this one. Brents is exactly what the doctor ordered at 6-3, 202 pounds, with incredibly smooth transitions for a corner of his stature. His leaner frame allows him to transition and run with all types of wide receivers, but he uses his length to add a physical element. Yes, please.
Darius Rush, South Carolina (projection: day three) - Gamecock corners just know how to lock down in man coverage. Rush has some size (6-1, 196) and flashed great instincts to read routes during one-on-ones. His patience and recognition are what is needed in a press-man corner.
Safeties
Jay Ward, LSU (projection: day three) - thought Ward was the best deep safety of the group during team drills. He paced out the routes well and gravitated toward the most dangerous threats based on the quarterback's eyes and positioning in the pocket.
Jammie Robinson, Florida State (projection: day three) - I wouldn't play him at boundary corner at all. Move him to man-to-man on tight ends and high-stress short-zone coverage. He can play.