The Patriots are an organization that leaves no stone unturned when it comes to the draft process.
New England's personnel department is typically present at the Shrine Bowl and other pre-draft showcases to observe and interview future NFLers. This offseason, Patriots head coach Bill Belichick and his staff jumped at the opportunity to coach in the Shrine Bowl. Belichick brought his staff to coach in Las Vegas for several reasons. One was to give acting head coach Troy Brown and the Pats coaches a chance to take on more responsibility than they're used to as position coaches.
Although it's an excellent opportunity for the staff, the other element is getting a rare sneak peek at the draft prospects in the showcase. The Pats coaches are schooling the players in New England's basic concepts, seeing how they take hard coaching, make corrections, and translate things from the classroom to the field. An NFL-like working environment.
"It's a job interview. It's all evaluations. That's why we're here," acting head coach Troy Brown told Patriots.com. "We're here to obviously help coach the team, but we got a chance to do our evaluations too. That's one of the biggest reasons that we're coaching this game and that they're playing is to have a chance for us to evaluate them."
It feels inevitable that New England's extended job interview with the West team will lead to multiple rookies ending up in Foxboro after the Patriots coached them in the Shrine Bowl. Even without the benefit of coaching in the game, the Pats drafted four Shrine Bowlers in the 2022 NFL Draft (Tyquan Thornton, Pierre Strong, Jack Jones, and Sam Roberts).
After taking in four practices in Las Vegas, here are eight takeaways from a week at the Shrine Bowl with the Patriots:
1. Patriots Search for Size at Cornerback Might've Ended in Vegas
We aren't breaking any news by saying the Pats are undersized at cornerback. The buzz around the Shrine Bowl was that Minnesota's Terell Smith (6-0, 207 pounds) is the closest prospect to Seahawks Pro Bowler Tariq Woolen. Smith's physicality in man coverage, instincts, and length in zone stood out. He made several plays on the ball in press-man coverage while flashing his closing speed in off-man. Along with Smith, the West team also had LA Tech's Myles Brooks (6-0, 201 pounds) practice well, while Ball State's Nic Jones (6-0, 191 pounds) has some length and ball skills. However, Smith is the Woolen comp getting the most traction here.
2. Patriots Could be Aggressive in Adding Offensive Tackles This Offseason
Another area of need for the Patriots that isn't a surprise to anyone is offensive tackle. New England has four pending free agents at the position, with Isaiah Wynn, Marcus Cannon, Connor McDermott, and Yodnjy Cajuste (RFA) set to hit the market. Plus, veteran tackle Trent Brown is entering the final year of his contract, which will count $12.25 million against the 2023 cap. It's possible that the Patriots could overhaul the depth chart at offensive tackle this spring.
With that in mind, two OTs stood out both live and in film review of this week's practices. First, Baylor OT Connor Galvin will likely be the first offensive tackle taken in April's draft who participated in the Shrine Bowl. Galvin measured in at 6-6, 293 pounds. His pass sets are very clean, patient, and West team coaches credited him for being a strong communicator. Galvin mainly played on the left side at Baylor and has starter potential at left tackle. The other standout was Indiana's Luke Haggard, who also came in at over 6-6 and 297 pounds. Haggard's athleticism out of his stance to protect his edge and run block on the move were impressive. Galvin and Haggard have question marks about handling NFL power rushers, as they'll need to add weight. But that seems doable with their larger frames.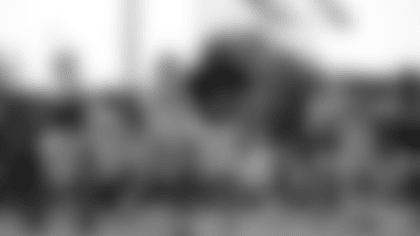 3. Patriots Get Extended Look at Three Different Tiers of Wide Receivers
Teams like the Patriots often organize their draft board in tiers or clusters. That means they might project a handful of players expected to be selected in a similar range as equal talents, so they'll move up and down the board accordingly. New England's staff got a look at three different layers of tiers at the wide receiver position this week. Tier one was Boston College's, Zay Flowers. We wrote an exclusive feature on Flowers that you can read here.
Although Flowers was the top prospect at the Shrine Bowl, Wake Forest's A.T. Perry solidified his stock in the mid-round tier with impressive route-running for a 6-foot-3 receiver. He can separate on digs, outs, and comebackers, which rounds out his vertical route tree as a prototypical X receiver. Liberty's Demario Douglas and Florida wideout Justin Shorter also made great cases to be drafted on day three. Douglas is the day-three Flowers with quick-twitch separation skills and good speed. Shorter, on the other hand, is later-round Perry, flashing a great catch radius and explosiveness for his size (6-4, 224 pounds). Now that we've seen them in person, it'll be interesting to see where this group lands in the draft.
4. UCLA QB Dorian Thompson-Robinson Impresses as a Pocket Passer
The UCLA product, whose nickname is DTR, was the best quarterback in Vegas. Thompson-Robinson is a true dual-threat quarterback with plus mobility that is very well documented. But he's currently a late day-three projection because there were doubts about his arm talent and ability to operate in structure. DTR did a lot to help his stock by throwing the ball well all week. He had one iffy interception during team drills on day three, but the ball had some zip out of his hand, and he read the field well during red zone work. Thompson-Robinson is working with renowned quarterback trainer Jordan Palmer on his throwing mechanics, and it's paying off so far. There's also a connection between Belichick, who spent some time with the quarterbacks, and UCLA head coach Chip Kelly. Thompson-Robinson told Patriots.com that the terminology is different in the Patriots offense compared to Kelly's at UCLA. But the concepts are very similar, so he felt comfortable in the system. Keep an eye on DTR.
5. Two Safeties Improve Draft Stock With an Eye Toward Devin McCourty's Heir
According to ESPN's Mike Reiss, veteran safety Devin McCourty had shoulder surgery recently to repair an injury he suffered in the Pats win over the Cardinals this past season. McCourty is still undecided on playing next season, and regardless, the Pats should be looking for the next DMac to patrol the deep part of the field in their secondary.
The two standouts from this perspective were safety Trey Dean III and Ole Miss's A.J. Finley. Starting with Dean, the Florida product fits a similar mold to Kyle Dugger as a versatile three-position player at 6-3, 211 pounds. He can play deep, in the slot, or on the second level of the defense and made an impressive interception as a half-field safety in cover-two where he jumped a seam-splitter for the pick. As for Finley, his smooth transitions and explosiveness to flip-and-run as a center fielder were apparent watching him go through drills. Then, he had a three-interception day on Monday. Dean could slide into day two with the expectation that he will have a great workout at the combine, while Finley is likely a day three target.
6. Oregon State's Jack Colletto and Houston's Ben Parish Shine as Two-Way Players
The Patriots are suckers for versatility, and the Shrine Bowl featured two players who played in all three phases for their college teams. We've discussed Colleto on the Patriots Catch-22 podcast already, but he won the Hornung Award as the most versatile player in college football, an honor that Marcus Jones took home the year before. Colleto projects as a Kyle Juszczyk-type who can play fullback and move around the formation (not in-line). Parish, on the other hand, recorded seven sacks as an edge rusher at Houston but was surprisingly a smooth route-runner and a natural hands catcher. If the Pats want a versatile fullback in the Juszczyk mold while grabbing someone who can contribute on special teams, these two are it.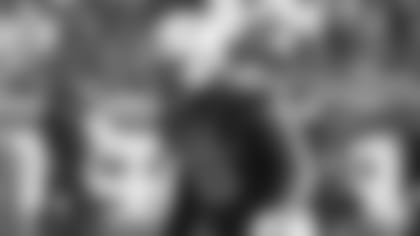 7. Reinforcements in the Defensive Front Who Could Come From Shrine Bowl
There were a handful of players in the front seven defensively who made themselves some money this week. First, Texas interior pass-rusher Moro Ojomo is a dude. Ojomo overwhelmed almost everyone lined up across from him with his first-step explosiveness and power. He had these interior O-Linemen on skates in Vegas. Nebraska's Ochaun Mathis and Wake Forest pass-rusher Dante Stills are two players who also generated some buzz, while it wouldn't surprise us if Tyrus Wheat from Mississippi State ended up a Patriot. Wheat is a hybrid edge rusher who is an extremely stout edge-setter against the run, and you see that hand power and powerful base in his build. New England loves tweeners in that spot, a mix between a standup OLB and a traditional defensive end, and Wheat is in that mold. Vanderbilt's Anfernee Orji was a standout at the off-ball linebacker position. He plays with the downhill physicality that the Patriots want, but he also had a few good moments in coverage, including an interception on day two.
8. Patriots Reportedly Conducted Offensive Line Coach Interviews in Las Vegas
New offensive coordinator Bill O'Brien was only visibly in attendance for Saturday's opening practice and was as vocal as any coach. But according to reports, the Patriots flew offensive line coach candidates Adrian Klemm and Ryan Wendell out to Vegas for interviews. Klemm and Wendell seem to have the inside tracks for the job. However, Ravens assistant O-Line coach Mike Devlin is another potential option. Devlin was O'Brien's offensive line coach in Houston for six of O'Brien's seven seasons with the Texans.