On Sunday, December 29, 2019, the Baltimore Ravens broke the NFL's single season rushing record previously held by the 1978 New England Patriots. The story below is adapted from a feature in the Patriots 2013 Game Day program.
You've really got to hand it to the 1978 New England Patriots.
Come to think of it, that's precisely what quarterback Steve Grogan did time and time again that season.
The 1978 team's 3,165 rushing yards in a season have stood the test of time. Thirty-five years later, the number still stands as the NFL record for rushing yards in a season.
"We attacked people," said John Hannah, the team's Pro Football Hall of Fame left guard.
"We just lined up and did what we did," said the team's leading rusher, the appropriately-nicknamed Sam 'Bam' Cunningham. "We made people play us."
Lest anyone think the team's quarterback was some pretty boy who played the part of a spectator in the proceedings, be advised that Grogan – as gritty a player as this franchise as ever known – was a willing and active participant. Tucking the ball under his arm, Grogan carried it 81 times for 539 yards and five touchdowns that year.
So, what made Grogan and his stable of backs run?
"The backs were great, but we had a lot of talent up front and those guys just loved to run the football," said Grogan, a member of the Patriots Hall of Fame. "The more you ran it, the better they got, and they loved dominating up front."
It was an offensive line that, in Hannah and tackle Leon Gray, boasted the best left side in Patriots history. Both enjoyed Pro Bowl campaigns in 1978. Guard Sam Adams and tackle Shelby Jordan manned the right side of the line. Bill Lenkaitis was the man in the middle.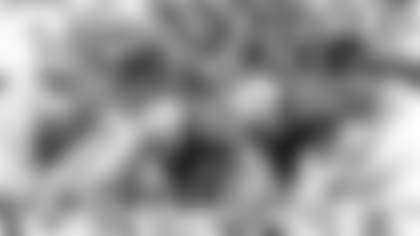 As durable as they were capable, remarkably all five started every game in a regular season in which the Patriots finished as AFC East Division champions with 11 wins, earning Chuck Fairbanks' team a first-round bye in the playoffs and the first postseason home date in franchise history, a game they lost to the Houston Oilers, 31-14.
None of that could erase the run the team enjoyed from the first week of September through the third week of December, however.
"Between Hannah and Gray, Lenkaitis, (backup Pete) Brock, Sam Adams and Shelby Jordan, we worked hard on the running game," said Grogan. "It was nothing like they do today in the game. It was the offensive line making different calls for what defense they saw, and I didn't have to change the play. They just changed the blocking scheme and we'd take off and go. We had a lot of smart players up front.
All that made it easier for the backs, who were great ones, too. There was Sam Cunningham. Horace Ivory ran for over 500. (Don) Calhoun could run with the best of them. I was running around like a banshee. And Andy Johnson had some yards. We were just so good at running it."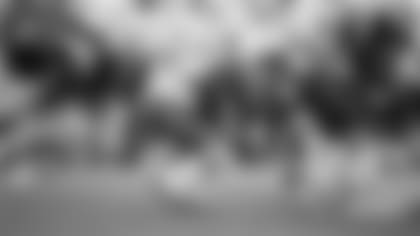 It was the "Foxboro 500" as the 1978 Patriots became the first team in league history to boast four backs who eclipsed 500 yards in a season.
"What's not shown in that statistic is that most people who have a good rushing year have at least one back with a thousand yards," said Hannah. "There was not one of our backs that had a thousand yards. I think it shows that, yeah, we had great, diverse running backs, (but) we had one heck of an offensive line."
"Everybody who played on that team should be proud of what we did because true football historians understand and they also understand how special that is," said Cunningham, who is also a member of the Patriots Hall of Fame. "For a football purist, to witness a team play like is amazing.
"It was almost like it didn't matter who you put in there to run the ball," said Mike Haynes, the Pro Football (and Patriots) Hall of Famer who as a third-year cornerback on the team got to view the ground assault from the other side of the ball.
"The offensive line was phenomenal and they were really connected. They were like brothers. And the running backs were phenomenal. It was a lot of fun to watch those guys run."
But not so much fun to defend.
"We kind of worked our way slowly but surely to the point where people really didn't want to play us because that meant they had to pick us out of their throat and their teeth and stuff because we got to a point where we were running downhill and when you watch that on film that's a scary sight to see," said Cunningham. "It was a mentality that we were going to run the ball."
"We ran left. We ran right. We ran pretty much wherever we wanted to run," said Hannah. "It didn't matter."
Gaining 768 of the franchise-record 5,453 yards he totaled over in nine seasons with the team, Cunningham led the way both literally and figuratively, the fullback's 1,065 total yards that season earning him a Pro Bowl berth.
After carrying the ball just three times for 10 yards the previous year as a rookie, Ivory enjoyed what would be a career season, totaling 693 yards and a team-leading 11 TDs on the ground.
Grogan's passing totals (2,824 yards and 15 touchdowns) may have been extremely modest by today's standards, but here was a dual threat who more than complemented his arm with his legs, averaging a team-leading 6.7 yards per carry while exceeding 500 yards on the ground in the fourth season of a 16-year career that would lead him into the Patriots Hall of Fame.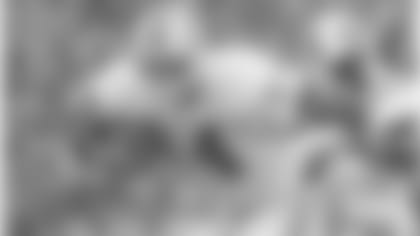 Coming off a lost season (knee surgery), Johnson found himself making a major contribution as well, to the tune of 675 yards rushing and another 267 receiving.
And while Calhoun may not have been a 500 hitter, the Buffalo Bills retread chipped in with 391 yards.
"Our offensive line, that was the key to the whole deal," said Cunningham. "We had a bunch of cats who could run the ball, but our offensive line made all that possible. If it wasn't me (running the ball), it was somebody else. If it wasn't that person, it was somebody else. That's just how it was.
"Every time we took the snap and tried to do what we did we did it better than anybody else. It was fun. I like catching passes and doing all that, but the most important deal is I like being a part of dominating the line of scrimmage and that's what we did really, really well."
According to Hannah, much of the success revolved around the mindset up front.
"I think (first-year offensive line coach) Jim Ringo had a lot to do with (the record), him coming in that year," said Hannah. "He put into the mindset of the offensive linemen a temperament that was a little bit cocky.
"The first thing when he came in, he gave us the definition of an offensive lineman. He said the difference between an offensive lineman and a defensive lineman is that a defensive lineman has to jump up and down and holler and shake his fist and do all this kind of stuff to play football. An offensive lineman will walk up to you just smiling and very casual and just haul off and mash you right in the nose.
"The next kind of proverb that he gave us was that football is very simple when you boil it down. I hit you. You hit me. We both hurt. Eventually, one of us is going to quit. It's not going to be me.
"Then, once we kind of got that into our mind he said, 'Some point in time in a game you're going to hit your guy and you're going to know you own him. When you own him when you go back to the huddle, just kind of pat yourself on the butt and what that's telling me is you've got him in your pocket.' He said, 'When you do that, you'd better have him in your pocket because we're coming over you.' It became a source of pride for everybody in that offensive line to go back to the huddle patting themselves on the butt."
Collectively, the figures were staggering.
Patriots Five Leading Rushers in 1978
Table inside Article

| RUSHING | NO | YDS | AVG | LG | TD |
| --- | --- | --- | --- | --- | --- |
| Cunningham | 199 | 768 | 3.9 | 52t | 8 |
| Ivory | 141 | 693 | 4.9 | 28 | 11 |
| Johnson | 147 | 675 | 4.6 | 52 | 3 |
| Grogan | 81 | 539 | 6.7 | 31 | 5 |
| Calhoun | 76 | 391 | 5.1 | 73 | 1 |
When all was said and done, the 1978 Patriots had a run-pass mix of 671-390 (the 671 rushing attempts in a season remain a franchise record). Their 3,165 yards on the ground exceeded the previous record of 3,088 yards set by the 1973 Bills in a season in which one back, O.J. Simpson, accounted for 2,003. The '78 Patriots produced a league-record 181 first downs on the ground and ran for a team-record 30 TDs.
To put all of this in its proper context, think of it this way: Over the course of the regular season, the 1978 Patriots averaged 41.9 carries and 197.8 yards rushing per game.
Far more often (11 times) than not (five times), the '78 Patriots exceeded 200 yards rushing in a regular-season game, peaking with 279 in a 14-10 win at Buffalo on Nov. 5.
It was the rematch with the Bills that year, a 26-24 win in Foxboro on Dec. 10 that clinched the Patriots the AFC East division title, that Hannah reflects on most fondly, however.
"That old locker room we had there (at Schaefer Stadium) wasn't worth much. There was some outdoor furniture in there and we were sitting in it and after every game we'd kind of sit there and rest before we took a shower or whatever," said Hannah. "If we had done a good job, Ringo would come in and talk with us. If we hadn't done a good job, he wouldn't show up. That was his way of showing he didn't like it.
"He came in after that Buffalo game when we broke the record and won the championship, put his feet up on the table, lit up a Winston, poured a glass of Johnnie Walker, looked at us and said, 'Well, boys, we're the best there was.' It was an unbelievable feeling."
The 1978 Patriots' rushing game has been the NFL's best for 35 years now.
"They say that all records are made to be broken," said Cunningham, "but some last a long time before they are."
Table inside Article

| BY THE NUMBERS | |
| --- | --- |
| Rushing Yards | 3,165* |
| Avg. Rushing Yards/Game | 197.8 |
| Rushing Attempts | 671 |
| Attempts/Game | 41.9 |
| Average Rush | 4.7 |
| Rushing Touchdowns | 30 |
| First Downs Rushing | 181* |