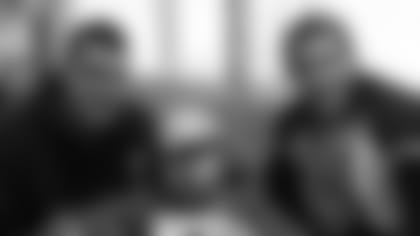 ]()The Patriots celebrated Monday night's big win against the Jets with youth across Rhode Island during a day of serving the community on Tuesday, December 7.
Patriots players visited three Rhode Island locations throughout the day, beginning at Hasbro Children's Hospital, followed by making crafts and speaking to youth at the Bradley School and finally serving dinner at the Providence Boys & Girls Club.
As part of the New England Patriots Charitable Foundation's season-long initiative to 'Kick Cancer,' Patriots players P Zoltan Mesko, LB Dane Fletcher, OL Steve Maneri and OL Thomas Austin with his wife Margaret spent the morning visiting children and their families at Hasbro Children's Hospital in Providence.
"Just putting a smile on the kid's faces really makes a difference," said Mesko.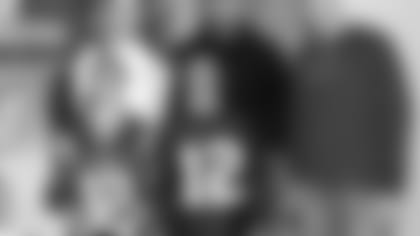 ]()During the visit he sang happy birthday to a patient who was turning 14, Mesko's jersey number.
"It definitely means a lot to me," he said. "Sometimes I don't realize how much we can make an impact as players."
After a morning at Hasbro, Mesko, Fletcher and Austin called upon their creative skills at the Bradley School, a day school for special needs children, where they made ornaments with younger students for their upcoming holiday celebration. The two players then participated in a question and answer session and signed autographs for older students.
"It's always a blessing to be able to meet the children," said Austin. "We are fortunate to play the game of football and it's great to be able to give back to kids in some way."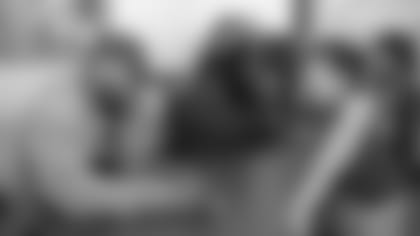 ]()Later in the day, RBs Fred Taylor and BenJarvus Green-Ellis visited the Providence Boys & Girls Club, where almost 100 hungry youth awaited. Donning aprons, gloves and an official Boys & Girls Club hat, Taylor and Green-Ellis joked with children while they served a healthy dinner.
"This is how I came up, that's no secret," Taylor remembered his local Boys & Girls Club. "Anytime you have an opportunity to share with children inspires hope in my opinion, it is special and a blessing."
The players met and spent time with each child. "The kids brought the biggest smile to my face, it was just a pleasure just to be in their presence," said Green-Ellis. "I wish I had a Boys & Girls Club when I grew up, so for me to come out and experience what the Boys & Girls Club is all about is great. This is more of an experience for me than it is for them."
In a special day, after a special win, Patriots players made their commitment to the New England community known, making it clear that they are just as honored to be a part of it.