Houston –Sunday's Super Bowl LI battle at NRG Stadium will have plenty of star power.
Atlanta's No. 1 scoring offense is led by presumed-MVP Matt Ryan, looking to outpace the Patriots own high-powered passing attack guided by G.O.A.T quarterback Tom Brady.
Defensively, New England brings the No. 1 scoring unit to town with Pro Bowlers Dont'a Hightower, Devin McCourty and recent Super Bowl hero Malcolm Butler pacing the play. Atlanta's upstart young defense includes NFL sack-leader Vic Beasley.
But history shows that many big games include big plays in the third, less-heralded phase. For New England, there have been Adam Vinatieri's Super Bowl-winning kicks and Desmond Howard's crushing kickoff returns.
Odds are there will be a momentum-changing play on special teams on Sunday in Houston. Neither Atlanta nor New England scored or allowed a score on kickoffs/punts this season. Dion Lewis did boost the Patriots with a 98-yard kickoff return touchdown against the Texans in the divisional round.
"I think the big plays come from doing the small things and executing the fundamentals of the assignment. You can't go there and try to hit the home run, you just try to make contact with the bat," Patriots special teams coach Joe Judge said. "So as far as the big plays happening, I think that's a result of sometimes someone getting outside their lane or trying to do a bit more on the other team and one team just executing their fundamentals."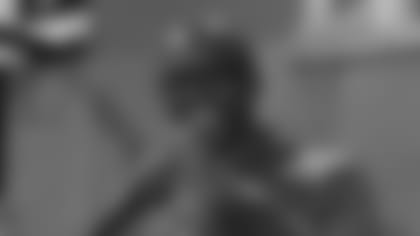 One thing that New England will never lack for in the kicking game is effort. From special teams captain Matthew Slater and core veterans Nate Ebner and Brandon Bolden down through impact youngsters like Brandon King and Jonathan Jones, the group is filled guys who seemingly truly enjoy the dirty work of the third phase of the game.
While Judge says that atmosphere is something you try to foster as a coach, it's also a direct reflection of the men making the plays.
"It's something you want to infuse into the culture, but it comes from the players you have playing. If you are coaching effort, if you are coaching desire, you are probably coaching the wrong player," Judge declared. "So we've been fortunate to identify players early and bring players in who have that sense of competitiveness on every play."
With the veterans leading the charge.
"They set the tone," Judge added. "Those vets in the core for us set the tone. And everyone else has to play catchup to stick with them."
Young and old, the kicking-game players understand being overlooked in the shadow of the Super Bowl stars.
"I mean you look offensively and defensively you've got 70 snaps a game on both sides of the ball," the Pro Bowler Slater says. "Maybe we have 30 plays, so I understand why maybe the average fan doesn't see the importance of the kicking game, but for us, it's huge. We have two great specialists, our punter Ryan Allen, our kicker Stephen Gostkowski. They're just straight professionals."
Limited or not, when the time comes New England's focused special teamers expect to be ready to answer the call to action on Super Bowl Sunday.
"This is going to be a big matchup for us," Slater concluded. "The Falcons are a team that takes a lot of pride in their special teams. I think you can say this about their defense, offense and special teams, there's so much team speed on the field, so we're really going to have to be on our Ps and Qs as we continue to hone in on preparation. It's really all about field position. When you're dealing with an offense like the Falcons, you want to be able to win the field position battle and make them drive the length of the field. If we can set up Tom and the offense in good field position, that would be great for us as well. Oftentimes you've seen in these big games a play in the kicking game that has kind of turned the momentum of the game. We've seen it time and time again, so we'll see how it goes this week."
Kraft's defense
Like it or not, the two-year Deflategate scandal and Brady's resulting four-game, season-opening suspension are a part of Super Bowl week. They are threads in the fabric of New England's run to Houston.
As such, it's no surprise that Patriots owner Robert Kraft was asked about his outspoken comments in defense of his franchise, including in recent interviews with the New York Times and other publications.
"Everyone wants to protect their family. I think our family was involved, or accused of being involved, in something that was mishandled and inappropriate, became a big distraction," Kraft said Monday at Super Bowl Opening Night. "Leadership is about stepping up when it's the appropriate time and then making sure everyone knows that we're all on the same page. Sometimes when you're in complicated situations in a business, people start pointing fingers, and we want to assure everyone that we're all together. When tough times come – actually, this is something in the Old Testament – there's nothing bad that happens that doesn't have good associated with it, if you manage it properly, and I think, in a way, that galvanized our whole team. We came very close last year, just at the end up in Denver, not getting to this game. We're really pleased we were able to get to this game. It has been sort of a peaceful year, and we hope we have the privilege of winning on Sunday."
Notes
Patriots linebacker and defensive captain Dont'a Hightower was asked who his favorite NFL defensive player was and had an interesting response. He went with former teammate Jamie Collins, who was traded to the Browns midseason and recently signed a $50 million extension with Cleveland. … Patriots offensive line coach Dante Scarnecchia told media at Opening Night that his plan is to return to coach for New England in 2017. The legendary veteran assistant returned to the sideline this fall from a two-year retirement to reinvigorate the line. … Left tackle Nate Solder caught a touchdown pass in the AFC title game a couple years ago against the Colts. The veteran sounds like he would be open to get a similar chance in Sunday's Super Bowl. "I don't think it's in the books but why not draw it up right now? We'll run it."