Players got their ankles taped, donned their practice gear, and headed out to the field. No sooner did they get there than they were told to turn around and head back inside.
Seemingly satisfied with what he'd seen over the past couple of days, head coach Bill Belichick gave his Patriots a welcome surprise Thursday: a day off from practicing on the last day of mini-camp.
"You'll have to ask Bill… maybe he was so mad that we've been doing so poorly, he wanted to get us out of here," joked linebacker Bobby Carpenter. "It was pretty exciting. I think a lot of guys were ready to get out of here."
There were position meetings scheduled for 1:15 this afternoon which the team still had to attend, but for all intents and purposes, this was the last we've seen of the 2012 Patriots until training camp begins at the end of July.
"Taking one day off, it doesn't matter a lot," Carpenter continued. "I think everyone in the league does it. Everybody's been at these OTAs, more or less… when you have that type of team cohesion, it's going to help.
"We got some good work in this offseason. Frankly, for one, I'm ready to get going, but now's when the preparation starts for training camp."
Carpenter, who signed as a free agent earlier this year, said he found the recent organized team activities and this week's mini-camp practices extremely beneficial.
"It's been exciting. It's been great being here with the guys, getting acclimated to everything. The offseason program, OTAs, then mini-camp… it's been great just to kind of get a feel for how everyone plays, get to know guys, so when you come into camp, you have a strong relationship. That really helps."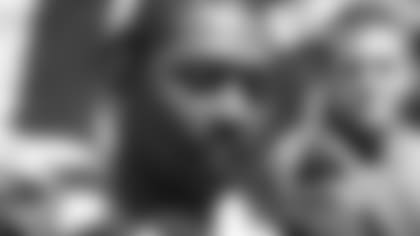 Even for players who were on the team last season, this spring's work has been rewarding. Second-year cornerback Ras-I Dowling, for example, is still a rookie in many ways. He didn't have the luxury of an offseason last year due to the league-wide lockout, then he was hurt early in the season and placed on injured reserve.
"Just trying to get better, healthy every day, striving to get back," Dowling said Thursday. "It's good to be back out with the guys. It's a great group of guys. … Hopefully, I'll be able to help the team."
Between now and training camp, Dowling plans to place an emphasis on his conditioning, backpedal, and film study.
"You want to stay sharp, obviously, mentally and go over the book and make sure you know what you're doing," added Carpenter, "but you also want to stay in shape physically. I think these next five, six weeks make a big difference going into training camp… because some guys take some time off and you if can find a way to get an edge over these next six weeks, it'll pay dividends come training camp and then in the season."
Patriots training camp begins at the end of July. Exact dates and times TBD.