There are a lot of exciting things to celebrate this time of year. We're just days away from Thanksgiving and just a few weeks away from the holidays. With the holidays comes lots of quality family time, and for Pegga and James Charest, two Patriots fans in Austin, Texas, learning who they will welcome home next May was a perfect cause for celebration.
The couple, who has been together for four years, joined members of the Austin Patriots fan club to catch the Patriots take on the Oakland Raiders in Mexico.  
At halftime they stepped outside of the bar, and Pegga lined up behind center with a plastic football filled with dyed corn starch. That corn starch -- either pink or blue -- would reveal the gender of their baby. 
James took off after the count of "baby Savannah or baby Brady," ran his perfect route and caught the pass for a touchdown. He executed the perfect Gronk spike to reveal they were expecting a girl next spring.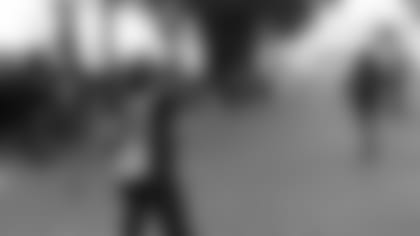 Football has been a major part of their lives. The couple even met at a party where they were both doing their fantasy football drafts. Since Pegga and James are lifelong fans, a Patriots themed gender reveal seemed like the natural choice.
"We're both avid football fans," James said. "Most of our friends are Patriots fans and most of the people we hang out with were there so it was a great way to share our happiness in our reveal."
After combing the internet and watching numerous videos, Pegga and James decided that they wanted to do something different than other families. Instead of kicking the football, they decided that a touchdown was the best way to share the news with their loved ones.
"Field goals are great, but we're all about touchdowns," Pegga said.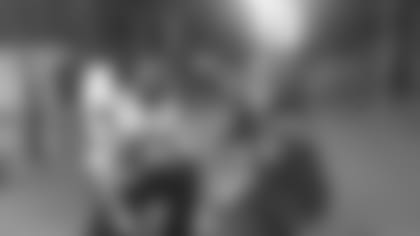 James insisted that they finish off the touchdown with the spike, so the couple switched the jerseys that they normally wear, with James wearing a Gronk jersey and Pegga in a Brady jersey.
With name for baby Savannah planned, the couple has planned to travel back east to Holden, Mass., to have their baby shower. On the Saturday before the Super Bowl, Pegga and James will be joined by family to celebrate their daughter at a football themed baby shower before she arrives a few months later.  
"Hopefully I'll be able to go to my first parade and James will get to go again," Pegga said.
Check out the touchdown for baby Savannah in the video below.