There is little doubt that the Patriots have a bit more to deal with this week leading up to Sunday's game at Wembley Stadium against Tampa Bay.
Beyond the long trip across the pond and adjusting their body clocks to the new time zone, players got a taste of the new culture while settling into their new surroundings Friday morning.
"It's big. It's big. I need to see the sport," Jerod Mayo said standing on the turf at the Brit Oval, the Surrey County Cricket Club's pitch that served as New England's temporary practice field on Friday. "I'm not really familiar with the sport. I saw their version of SportsCenter on TV last night and the sports on there a little different than they are back home. I saw bike racing, and snooker or something and things like that. So it's interesting."
And obviously football to those in the United Kingdom refers to soccer, a sport that Mayo said he's only involved with in a virtual sense.
"I play a little FIFA on my Playstation. Manchester United and all those teams," Mayo said, before again referencing a key soccer match that's also taking place this Sunday between Manchester United and Liverpool that the linebacker became familiar with via the TV news. "It's supposed to be a big game for Liverpool. They really need this victory. So hopefully they pull it out."
Another adjustment will involve the Patriots getting used to the environment at Wembley Stadium. While many talk about the questionable turf that's had trouble holding up to a pair of previous NFL contests, the unique crowd for the game isn't given quite as much attention. The fans in attendance bring a soccer-like style with them, including various noisemakers like bells and whistles.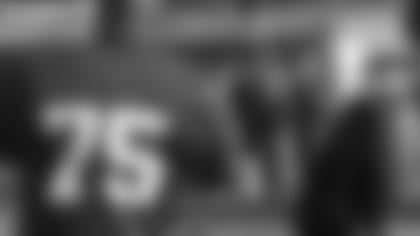 ]()"Now I heard about the whistles and stuff. Now that may be a problem. Because I've been fined, you know, a lot for unnecessary roughness," Vince Wilforksaid with a big smile. "So I have to make sure that the whistle I hear is the right whistle. You know what I mean?"
For Patriots rookie and German-born tackle Sebastian "Sea Bass" Vollmerplaying in Wembley is a European boy's dream come true. While he grew up playing soccer he says he will now stick with the blocking that got him a chance to take the field in one of the world's premier athletic venues.
"I mean you always hear the name. You never picture yourself playing in the stadium," Vollmer said of his youth. "I think it's going to be a great experience. I've never seen it. On TV I have, so that's going to be a great feeling.
"It's one of the best known stadiums in Europe. What was it in '66 when the World Cup was there? I think Germany lost, but...I think it's going to be good."
For even more updates from London, be sure to check out the PFW London Blog