Rob Gronkowski shuffled, stretched and began to sweat as the sun beat down Friday morning, but it wasn't a typical offseason workout for the tight end. Instead of football pads, Gronk was doing his best to channel fitness gurus of the 80s as he led an aerobics class at Tony C's Bar and Grill in Boston and unveiled his "Jerky Jam Touchdown Dance."
The neon clad Gronk led the class of about 50 fans in stretches and his signature dances, though he said he didn't utilize the best move in his dancing wheelhouse.
"My number one go-to dance, I would say it's my booty shaking," Gronk said. "I didn't really do that actually today, but my booty shaking is my go to."
Even without his favorite dance move, Gronk still brought the heat on the dance floor. There was the Macarena, Gangnam Style, the YMCA and, of course, the Oberto's Jerky Jam, which included spiking the jerky to the bits.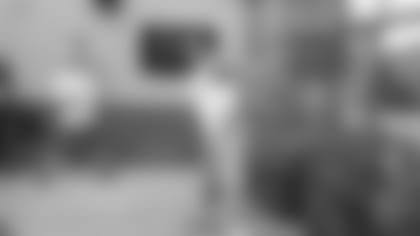 Though the class was quick, Gronk managed to motivate the aerobics students and get their hearts pumping. Gronk said getting to meet fans is always a good time, but dancing around and laughing with them makes it even better.
"It was a super fun time … The best part is just seeing the smiles on people's face and doing some dancing and interacting with each other and the excitement it brings coming out here, doing some dancing and them doing some dancing, working up a sweat, getting the blood flowing and having some good music out there," Gronk said. "It's always fun interacting with fans and feeling what it's like to be a part and get some inside scoop on some workouts that I can possibly do. It's super cool."
With any luck, Gronk-aerobics will be the next craze taking over the fitness world.