Last week, Pierre Woodssat down for a talk with some reporters.
The moment was noteworthy for two reasons. First, the reticent Woods normally eschews media attention. And second, he was actually able to talk.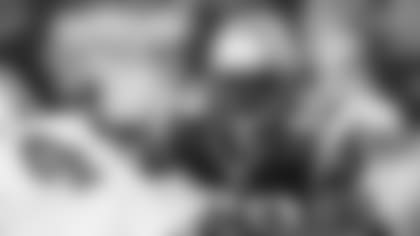 ]()When last we saw Woods at Gillette Stadium, the outside linebacker was jogging off the field last November, blood dripping from his mouth after absorbing a vicious hit against the Pittsburgh Steelers. He injured his jaw badly enough that the Patriots had no choice but to place him on injured reserve, ending his season prematurely.
But Woods' first reaction was to fight the decision. At the time of his injury, he was getting a chance to play in place of injured starter Adalius Thomas. Woods said he wanted to go right back into the game, and pleaded his case vehemently. But the Patriots medical staff eventually convinced him that that wouldn't be a prudent decision.
"I still wanted to play. I didn't want to leave the game," Woods recalled. "As soon as it happened, my first thought was they were going to put me on injured reserve. So, I called the head trainer and said, 'Let Bill know, don't put me on injured reserve. I'll be back before the season ends.
"They were like, 'You need to stop talking.' And I saw I was bleeding. Everyone thought I bit my tongue off."
Woods credited his mouthpiece with saving him from a more debilitating injury.
"All you young guys out there that don't wear a mouthpiece … wear a mouthpiece," he advised. "It was a big difference. If I didn't have it in, I could've shattered all my teeth, probably could have bitten my tongue, the side of my mouth, plus what I had."
Doctors inserted temporary wires and plates to stabilize Woods' jaw. That's when he realized his season was over.
"The doctor told me if anything happens and the plates break, I could have an infection in my mouth and all types of complications. So, I thought, 'Well, you guys do what you need to do. I'll just take this time to heal and get better. Just watch game film and try to learn from my mistakes.'"
The treatment left Woods speechless for an extended period of time. So, to communicate with his teammates, Woods relied heavily on text messages. But eating proved to be a more challenging task. He's able to joke about the experience now that he's fully recovered.
"For me, it was real tough … I love eating. That was one of the things I missed most."
Soft or puréed foods were all he could handle for the next few months.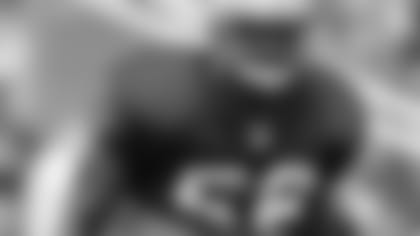 ]()"Whatever it was, I was blending it," he explained. "I had tuna and … I really don't eat cottage cheese, but … tuna and cottage cheese with pickles. Yeah, it was pretty bad. I put a piece of pizza in there, chopped it up real good. Put some spaghetti sauce in there. It was terrible.
"I put a lot of different mixtures together where people were like, 'Man, what are you thinking about?' But, to me, it was good. My favorite was beef stew with mashed potatoes. That's what kept me afloat. I did lose a little weight, but it wasn't bad. I'm back to where I need to be."
Back in Foxborough for the Patriots offseason strength and conditioning program, Woods insists there are no lingering effects from his injury and he's able to take part in all the workouts. And earlier this month, he actually went out to eat and had no problems downing a steak.
But what Woods is really craving these days is a chance to get back out on the football field.
"The thing I really missed was being out there with the guys on the team," he admitted. It was tough for me."
One of the guys he won't be playing with anymore is fellow outside linebacker Mike Vrabel, who was traded to Kansas City along with quarterback Matt Cassellast month. Woods said he was shocked to hear the news about Vrabel, with whom he is extremely close. And with reports swirling that New England may be interested in acquiring a high-profile player or two at Woods' position, he maintains he isn't concerned with exterior forces.
"I don't pay attention to it. Being around here, you don't pay attention to a lot of things outside these doors. Everything's about in-house. What we do, what we can control. I can only control what I can control. I can't worry about anything else, like who's coming, who's leaving. I just don't worry about it. If I do, I'll be worrying about, 'Well, is this guy going to do this, is this guy going to do that?'
"It's been a blessing for me to come into the National Football League as an undrafted player and to make the team, first of all, and then learn from the guy's I've learned from."
Regardless of who the Patriots add to the linebacker corps this offseason, Woods is just grateful to be healthy enough to have another chance to compete for a job. Because of his injury and his team's unusual absence from the postseason, Woods is even more eager this year to get started with the new season.
"Well, I was off for a long time. I just think that normally, we're in the playoffs. I don't think anybody around here is used to that, being off for so long."
Being around the locker room again is helping fuel that desire, he noted.
"Getting back into it, guys aren't hungry, they're starving."
In Woods' case, that can be taken both figuratively and literally.