New England did a lot of things right in their win over the Denver Broncos Sunday at Gillette Stadium. As a team, they set a franchise record for most first-downs gained (35). They ran the ball better than they have in a two-game stretch since 1978.
On defense, they didn't intercept Peyton Manning, but they rattled the QB enough times and forced turnovers at key moments to help preserve a victory.
Of all the plays that fans most wanted to look back on, however, was one that, at first, seemed inconsequential, but wound up being one of the most pivotal in what was at the time a close contest.
WOODHEAD'S 3RD-AND-17 SCAMPER
To understand why this play was improbably successful, we first must look briefly at the previous play. Facing 3rd-and-7 from the left hash of the Denver 47, Brady, from the shotgun, had running back Danny Woodhead to his left in the backfield. Tight end Rob Gronkowski was standing up a step behind right tackle Sebastian Vollmer. Wide receiver Wes Welker was in the slot, and Deion Branch the flanker to that side. Brandon Lloyd was the lone receiver to the short-side left of the formation.
Denver was in a zone dime package, and Gronkowski simply ran a few steps, turned and sat in a pocket in the zone, and hauled in an easy pass from Brady. It picked up 10 yards for what looked like a first down, but center Ryan Wendell was called for a holding penalty, which negated the Gronk catch and backed the Patriots up to 3rd-and-17 from their own 43.
Fully expecting New England to pass again, Denver defensive coordinator Jack Del Rio left his dime personnel on the field.
Patriots offensive coordinator Josh McDaniels kept his personnel from the previous play out there as well. He just shifted them around a bit and put Brady under center. The three Patriots receivers – Lloyd, Welker, and Branch – were positioned as they were before to stretch out the defense. With the ball on the left hash again, Lloyd and Branch switched places, with Gronkowski again standing up at the end of the o-line on the right side.
The Broncos were clearly expecting a pass. They rushed just three d-linemen, and their two linebackers were on their heels anticipating dropping into coverage. The corners and safeties were playing well off the receivers and drifting back as well.
Just before the snap, Gronk motioned to the other side of the formation. As he got there and turned to face the line in a blocking position, Brady took the snap and handed directly to Woodhead, who was heading to that short left side. Gronk manhandled Broncos d-end Elvis Dumervil, while left tackle Nate Solder swallowed up linebacker Wesley Woodyard. Both Patriots executed perfect kick-out blocks, forming, as Vince Lombardi once famously said on NFL Films, "A seal here."
Wendell and right guard Dan Connolly turned inward and walled off d-end Robert Ayers and linebacker Joe Mays, adding the other half of the Lombardi equation ("…and a seal here."), creating a huge "alley" through which Woodhead could run. Left guard Logan Mankins led the way as his bodyguard escort, as he had no one to block until he got 10 yards up-field and helped Branch double-team diminutive safety Jim Leonhard.
When the deep-playing corners and safety on the other side of the formation realized what was happened, they fell in to assist, but Welker raced ahead of them, because the guy covering him, cornerback Chris Harris, gave Welker only a perfunctory shove and stayed planted in his spot momentarily as he watched Woodhead run. This allowed Welker to be in better position to offer the necessary last block on strong safety Mike Adams, giving Woodhead the final escape route he needed to pick up the remaining seven yards he needed for the first down. Woodhead got them and a couple more.
Harris wound up taking Woodhead down, but by then, it was too late for the Broncos.
At the time, New England was leading just 17-7, and when the play started out, it looked as if McDaniels was simply folding his hand and settling for the inevitable punt to pin Denver deep in its own territory. However, the play-call took advantage of the Patriots' ability to create mismatches without changing personnel. It was perfectly executed, and instead of giving Peyton Manning the ball back down just 10 points, the New England drive continued. It lasted 16 plays, went 80 yards, and resulted in Brady's QB-sneak touchdown that extended the lead to 24-7.
Turns out, that's all the scoring the Patriots would have needed to win, but it never would have happened if McDaniels hadn't chosen the most unlikely of play calls for the situation.
DEMARYIUS THOMAS' BIG PLAYS
New England's defense had another solid effort overall. It came up with clutch plays in crucial moments, which helped preserve the victory. It certainly wasn't perfect, though, particularly against receiver Demaryius Thomas (nine catches, 188 yards).
Ironically, Thomas' longest catch of the day turned out to be his most ignominious.
It was the first quarter, first drive of the game. Denver had a 3rd-and-5 from its own 47. Nickel/right corner Sterling Moore was one-on-one with Thomas. At the snap, Thomas ran straight ahead. Moore backpedaled, then swiveled his hips toward the sideline, anticipating Thomas to continue on a fly route. However, Moore cut to the inside on a post pattern, which completely spun Moore around and allowed Thomas to gain a step or two on him.
Meanwhile, rookie free safety Tavon Wilson, starting in place of injured Steve Gregory, was in deep cover-two on the opposite side of the field. He came drifted over to the right, though, as he watched Manning's eyes focus there. But Wilson mistakenly thought Manning was going underneath to receiver Brandon Stokley, who was already being double-teamed by dime corner Ras-I Dowling and safety Patrick Chung. Wilson should have stayed deep to help out Moore in the middle of the field.
As a result, Moore collected Manning's pass around the Patriots' 24-yard line. No sooner did he do so, though, than Moore made a nice play to punch the ball out. He recovered his own forced fumble, thwarting the Denver drive. It was a heads-up play after an inexperienced effort by both Moore and Wilson.
On the next Broncos possession, on 3rd-and-10, Thomas was on the right side and facing Devin McCourty. Thomas simply ran a nice in-pattern, and even though McCourty was with him step-for-step, the throw from Manning was only where Thomas could get it. The play went for 15 yards and a first down.
Third Denver series, Thomas was back on the left side, against Moore again in solo coverage, 1st-and-10 from the Bronco 36. Thomas ran a textbook stop-and-go route up the sideline. Manning's pass was a bit overthrown, but Thomas extended his left arm and made a great one-handed catch for 30 yards.
Late in the third, Thomas torched Moore again, this time with a curl route on 3rd-and-7. Moore made the catch, spun out of Moore's attempted tackle, evaded safety Patrick Chung, and gained several more yards before going down.
Fast-forward to the fourth, and Thomas is back on the right against McCourty. It's 4th-and-1 from the Patriots' 42 and the Broncos are going no-huddle. Manning's in the gun, looking left initially before going back to the right, where Thomas is on an island with McCourty.
Thomas makes a quick shake move to the inside on McCourty, but the corner doesn't fall for it. He stays stride-for-stride with Thomas, who's running a fly pattern. McCourty notices Thomas looking back for the ball, but McCourty only gives a very quick glance up over his left shoulder. McCourty had good position, but didn't react well enough to Thomas' eyes or to Manning's underthrown pass, which Thomas adjusted well to stop and catch for a 28-yard gain.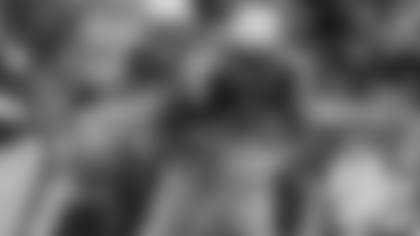 MISCELLANEOUS OBSERVATIONS
McCourty was late reacting as well to Manning's TD pass to Eric Decker at the end of the third quarter. Again, he has great position on his opponents, but McCourty isn't using his head and his eyes well enough to finish some of these plays.
Rookie Alfonzo Dennard acquitted himself rather well in his NFL debut. If he can stay healthy, he should see more and more playing time, perhaps at the expense of Moore. Dennard replaced Moore as nickel corner after Moore struggled early against Thomas.
As I wrote in my post-game analysis, New England's game plan played out as expected: get the Broncos, who substitute more frequently than most teams, in the wrong defense and pound them with play after play after play in the no-huddle. More than half of the Patriots' 85 offensive plays were run from no-huddle (48, to be precise); 44 of the 85 were shotgun formations (21 of those in no-huddle situations). Those were the highest single-game totals thus far for New England, in all the aforementioned categories.
New England's 54 rushing attempts were by far the most this season, too. Stevan Ridley was responsible for half of them. The Patriots gained 251 yards on the ground, 223 through the air. Great balance again in what is becoming a trend in their victories.
With just Gronk and Daniel Fells active at tight end, there were far fewer two-TE formations against Denver compared to previous weeks. Fells also didn't have a great day in his limited opportunities, whereas the three-WR combo was very effective, so, they stuck with it.
Chandler Jones is improving each week, even though he's not always getting sacks. He's developing a nice arsenal of pass-rush moves and getting pressure and penetration into the pocket consistently.
With rookie linebacker Dont'a Hightower out (left hamstring), veteran Tracy White took his place. But White left the game early with a left foot injury and did not return. The Patriots had newly-resigned Bobby Carpenter at their disposal, but instead chose to go with Dowling, a cornerback, effectively putting New England in more dime looks than they may have expected to play.
Right tackle Sebastian Vollmer appears to have injured a knee (right one, perhaps) during the fourth-quarter strip-sack of Brady on a failed 4th-and-5 attempt. He got up from the pile of bodies limping to the sideline and did not return to the game. Second-year man Marcus Cannon replaced him.
For more day-after reaction to New England's 31-21 victory over Denver, please visit the PFW blog. NFL.com's Game Rewind product is used for After Further Review.*