At least two events will come to define this latest Colts-Patriots drama: the debut of Aqib Talib and the injury to Rob Gronkowski.
In today's film study recap, we'll look at the fluke play that led to the All-Pro tight end's unfortunate injury (and one to another Patriots star), plus a couple of Colts scoring plays that were so close to being big plays by the Patriots defense.
Also, one player on the rise, and another apparently on the decline.
Gronkowski's bad break came on the final extra point of the game. Lined up in his usual spot on the right side of the line, Gronk blocked down to try to prevent Colts safety Sergio Brown from getting through. But Gronk either didn't fully extend his arms or was trying to use his left shoulder to impede Brown. Whatever the case, Brown's body squirted through the block at such an angle and with such force that it bent Gronk's left arm backward.
Gronk calmly walked to the sideline with his left arm hanging limp and asked for a doctor to escort him immediately to the locker room. He knew right away something was terribly wrong.
Rookie defensive end Chandler Jones, meanwhile, injured his left ankle with five and a half minutes remaining in the first quarter. It happened on a running play in which Jones was engaged with Colts tackle Jeff Linkenbach. It appeared as if, at the snap, Jones planted his right foot awkwardly in an effort to get leverage on Linkenbach. Jones instantly and instinctively lifted his leg up in obvious pain and, being off-balance, was knocked easily to the ground by Linkenbach.
With Jones out for the remainder of the contest, the Patriots moved left defensive end Rob Ninkovich over to Jones' spot on the right and inserted Jermaine Cunningham at left end most of the time.
On the Colts' first TD, a 1-yard scamper by Delone Carter, Jones nearly stuffed the Indy running back for a loss. Jones did a nice job of knifing past tight end Weslye Saunders and actually brushed Carter as he was bouncing to the left. Jones' momentum, though, carried him too far out of position to get both arms around Carter, who darted into the end zone untouched. Another inch or so and Jones might've gotten at least one hand on Carter's jersey, which may have slowed him down enough to allow other defenders to join in.
The second time Indy scored, newcomer Aqib Talib was victimized, but just barely. As he described right after the game, his technique wasn't the best on this particular play against rookie receiver T.Y. Hilton. Talib was backpedaling and angling to protect the right corner of the end zone, with his body turned at a 45-degree angle toward the Colts' backfield. Hilton ran a textbook pattern, leading Talib to believe he was headed for the corner before cutting inside to the post. This gave Indy QB Andrew Luck's pass the room it needed to find Hilton, and just missed the diving Talib's fingertips.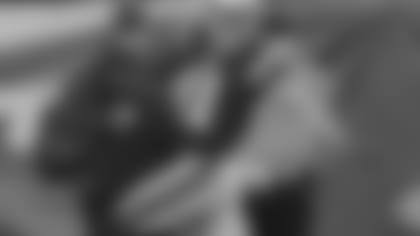 EDELMAN MAKES THE MOST OF IT
With Deion Branch (hamstring) having been released the day before the game, wide receiver Julian Edelman suddenly found himself getting more reps on offense. He took advantage of the opportunity, snagging five of the seven passes thrown his way for 58 yards and a touchdown.
In addition to his electrifying punt return for a TD, Edelman looked sharp running routes on offense. His two miscues were a drop in the first quarter near midfield (the ball was thrown a little to his right, but it should have been an easy haul-in for him) and a terrible pass by Brady that was dangerously close to being picked off by two Colts in the shadow if Indy' s goal line. All in all, a good day for Edelman.
Cornerback Kyle Arrington started the game on the right side, then moved to the slot in nickel/dime packages. Nothing unusual there, but after only a few plays (and a very poor start), he was supplanted in the base defense at right corner by rookie Alfonzo Dennard. Later, Arrington was replaced by Marquice Cole as the slot corner. We saw this happen once before this season, at Seattle, where Arrington was gradually phased out of the lineup.
NFL.com's Game Rewind product is used for After Further Review.