The Patriots-Alabama connection is well known given the presence of two of the most successful coaches in football history also being very close friends. So, it's no surprise that Bill Belichick has leaned on Nick Saban often in the past, and it's even less surprising this year with the Crimson Tide sending several quality wide receivers to the Combine.
Reports indicated that the Patriots planned to meet with several of the top-rated receivers in Indy, and three former Bama wideouts spoke glowingly of the team on Wednesday.
The first to hit the podium was a guy with a skill set and body type that will be familiar to New England fans: Slade Bolden, a 5-11, 191-pound slot receiver who has patterned his game after Julian Edelman.
"That's the easiest answer I have. Julian Edelman for sure," Bolden said when asked if there were any slot receivers he watched closely. "Just the way he played the game. How he works. His mindset going into a game: You can't guard me, you can't stop me, I'm going to catch everything. That kind of mindset, I kind of see myself being that kind of person. I try to emulate that as best as I can."
Bolden also spoke of his relationships with former Patriots offensive coordinator Bill O'Brien, who spent 2021 running the Crimson Tide's attack, as well as Mac Jones. While Bolden spent a lot of time watching Edelman, O'Brien talked incessantly about Wes Welker.
"All the time. It was basically kind of how they used me," Bolden explained. "If we need a good third-down play or third-down catch having that guy who is able to run an option route or catch and run in traffic in the middle of the field, and that's kind of how they used me."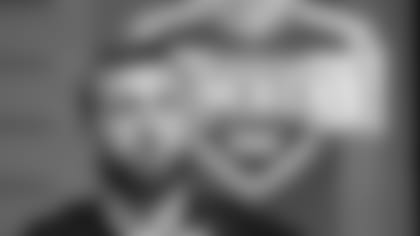 As for Jones, Bolden talked at length about their connection, which stemmed back to his official visit to Tuscaloosa that was hosted by none other than the Patriots quarterback.
"I'm pretty close with Mac Jones. Obviously we played together and we were roommates at one time. He was actually my host on my official so that's how we got connected," Bolden recalled. "I facetimed him about three weeks ago and we were just talking about the whole training process going into the Combine and he kind of calmed me down and told me to be myself and have fun and be confident in myself.
"Playing with Mac would be cool. It would be an easy transition for sure. Whoever gives me the opportunity I'll be thankful and I will take on that opportunity."
John Metchie and Jameson Williams are two highly regarded receivers both dealing with torn ACLs suffered late in the season. Metchie went down in the SEC championship game and Williams suffered his in the national title game, but both are still expected to go early.
Williams could still go in Round 1 while Metchie is considered a Day 2 pick after both enjoyed productive careers with the Tide. Like Bolden, Metchie spoke at length about the Patriots in Indy.
"The Patriots are really similar to Alabama as far as structure of team with Coach Belichick over there and Coach Saban at Alabama," said Metchie, who added that he had a good meeting with the Patriots. "I think the structure created by both coaches creates for a winning environment."
Metchie (6-0, 190 pounds) told reporters that his recovery is going well and that he expects to be cleared for activity in June. He enjoyed a tremendously productive season in 2021 with 96 catches for 1,142 yards and eight touchdowns. He also grabbed 55 balls and six TDs from Jones back in 2020 and wouldn't mind a reunion with "Mac 10," as he referred to him, in the future.
Williams is the most talented of the trio with speed to burn and the production to match. The 6-2, 189-pound wideout was electric in 2021, averaging 19.9 yards per catch while grabbing 79 passes for 1,572 yards and 15 touchdowns. Unlike Bolden and Metchie, Williams did not play with Jones at Alabama as he spent his first two season at Ohio State.
Williams talked about his rehab and said he had a formal meeting with the Patriots earlier in the week where they watched film and went over some defenses and specific plays.
"Recovery is going well. I'm about six weeks out of surgery," said Williams, who listed Randy Moss among his favorite receivers to watch. "I've been walking without the brace for about two weeks. I've recently been in the pool and getting some running motions. Everything has been going good."
With the Patriots in need of help at the position, it would make sense to lean on Saban once again.