For the first time in a decade, the Patriots opened their annual training camp as defending Super Bowl champions. There was hardly a seat to be found in the stands surrounding the team's practice fields behind Gillette Stadium as thousands of fans endured a sweltering summer day to watch their favorite team and players practice.
Several times during the 2.5-hour session, spontaneous chants of "Brady! Brady! Brady!" erupted from the crowd in support of Super Bowl XLIX MVP Tom Brady, who's in the midst of a legal battle with the NFL to try to overturn his four-game suspension. Because Brady's status for the first month of the regular season remains in doubt, much focus has shifted from him to his understudy, second-year man Jimmy Garoppolo.
After the first camp practice of 2015, Garoppolo drew a huge crowd of media and was asked right off the bat if he's prepared to take the helm of the defending champs for the first month of the season.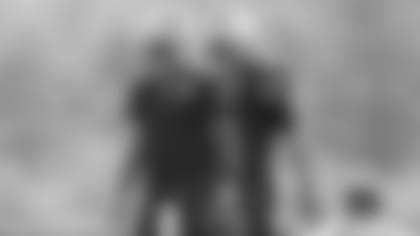 "We're not really looking that far ahead. I don't think anyone is," he maintained. "It's the first day of training camp; got out here with the guys and it felt good to get out here with all of them. There's an endless amount of things that I have to work on. We're all out here just trying to get better every day; take it one day at a time. There are little things every day that you focus on. You've just got to take it day by day, really."
He insisted he didn't have much reaction to the news this week that Brady's suspension had been upheld by NFL Commissioner Roger Goodell.
"Just stayed focused on what I can control and what I'm trying to learn right now and improve on. I'm just focused on myself, really, to be honest."
[wysifield-embeddedaudio|eid="343281"|type="embeddedaudio"|view_mode="full"]Garoppolo seemed to carry himself with more self-assurance in this, his second summer as a pro. Offensive coordinator Josh McDaniels agreed.
"He's not a rookie [anymore]. Any player at any position, their rookie year, they're trying to figure out how to process all the information we give them, how to process what the defense is doing, and physically play the game. Last year was a lot of that [for him]. It's a struggle for any player as a young guy, but then you come back in OTAs and mini-camps and it's the fourth or fifth time you've seen those things, and so the game seems to slow down.
"I think he's certainly a second-year player now," McDaniels observed. "I think every player comes into his second training camp feeling a little more comfortable playing in the National Football League than they did as a rookie."
"Oh man, last year's first day," Garoppolo recalled, "the first day was pretty cool last year just because I wasn't used to the fans and all of that, so I'm more used to that, but it's great to come out here and see all those fans out here. It makes it so much more fun just having them out there.
"In year one, the playbook is very, very big, especially coming in from college where I didn't have a playbook [compared] to this, it took a little while but this year it's completely different and I've got different goals."
Aside from a red-zone interception on a pass attempt over the middle Thursday morning, Garoppolo seemed to be much more in control of the offense than he did at this point a year ago, when he was the third QB on the roster to start camp. Garoppolo eventually won the backup job when the team traded veteran Ryan Mallett to Houston. This year, there are again three quarterbacks on the roster, but veteran Matt Flynn was placed on the non-football injury (NFI) list and was not on the field on Day 1. That meant Garoppolo and Brady got a nearly equal share of the snaps throughout practice.
"It's the same as it's always been," McDaniels said of the distribution of reps between the two. "Today was very close to 50-50, but that's normal. We haven't discussed anything like that and there's not changes to our procedure as to how we're going to build the football team. The quarterback position is really no different than any other position we have now. Those guys are both going to get a lot of work."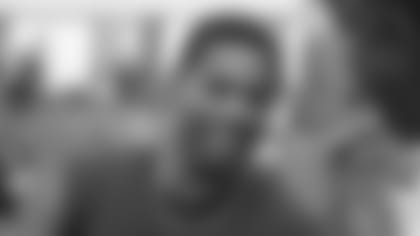 Another player under intense scrutiny this summer is also in his second year. A year ago at this time, cornerback Malcolm Butler was opening eyes when he was getting frequent reps opposite Darrelle Revis. His regular season contributions eventually tailed off, but he became a household name after making the game-clinching interception at the end of Super Bowl XLIX.
Today, he's legitimately vying for a starting job in the Patriots secondary.
Unlike Garoppolo, though, Butler contends that there isn't much difference for him from last year to this, except that he understands that more is expected of him.
"Most definitely. That's for each and every player – I'm not the only player. One year gives you good experience, so you know more things and can do things better, so I'm looking forward to it, but we will see how things turn out. Got to put the work in first, you got to earn your spot and earn the coaches' trust and your teammates' trust, so that's what I got to do to get to that point."
Butler admitted he was so excited for camp to begin that he had trouble sleeping the night before, but once he hit the field, he felt right at home, and he gave some of the credit to the vocal support of the fans.
"Very fun. I was very excited to get out here. The fans made it a great show. It felt good overall. Patriots fans are the best, so we expect that."
Things looking up for Hightower*
[wysifield-embeddedaudio|eid="343291"|type="embeddedaudio"|view_mode="full"]
After undergoing right shoulder surgery just days after the Super Bowl, Dont'a Hightower was expected to face six to seven months of rehab before being able to return to the football field. However, the Patriots did not place the linebacker on the physically unable to perform (PUP) list, meaning he was able to suit up for the first day of camp – even if he wasn't able to do everything he hoped.
"Not where I want to be," Hightower conceded, "but everything's going in the right direction. It's another good day in the books.
"I've had surgery before. That's just part of it. There's good days, there's bad days. There's days you do really well and days where you take a few steps back. It's just all about how you come back when challenged with adversity and just keep your head down and do it. Right now I feel good where I'm at. I'm making strides in the right direction. I'm out there with those guys, we're in the meeting rooms and stuff. It just feels good to get back to football, talk and communicate and stuff."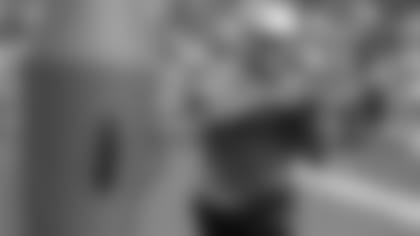 Buy: Aaron Dobson – The oft-injured third-year receiver started camp healthy and was involved quite a bit in the offense on the first day, including catching a nice touchdown on a fade pass at one point during the team period.
Sell:* Alan Branch/LeGarrette Blount – Both veterans were last-minute placements on the non-football injury list, reportedly because they failed their initial attempts at the prerequisite conditioning run.
Play of the Day:* During red zone 11-on-11, QB Jimmy Garoppolo dropped back and play-actioned not once, but twice (to his running back and a receiver on an end-around) before firing a pass down the seam to TE Rob Gronkowski. With safety Tavon Wilson trailing him, Gronk raised both arms above his head and kept them there to make the catch in the end zone. He then transferred the ball to his right hand while swatting away Wilson with his left and, in one fell swoop, spiked the football in the back of the end zone.