FOXBOROUGH – Forget the score. It doesn't really matter at this time of year. Aside from giving some lesser-known players a chance to show what they can do, preseason games can be considered a success if you come out of it with all your key players healthy.
In that regard, the Patriots weren't so fortunate. More on that in a minute…
The game was played in New England, but the weather made it feel more like a Louisiana bayou. Kickoff temperature was 89 degrees and the humidity level was so high, even the air looked like it was sweating. There was a lethargic feel to the first Patriots preseason game, beginning in pregame warmups, where it seemed like everything got off to a late start.
But the action on New England's defense picked up soon after kickoff – a long pass surrendered, a fumble recovered, a pick-six. Offensively, backup QB Jimmy Garoppolo, starting in place in Tom Brady, was under duress for much of the first quarter.
His o-line had difficulty handling the blitz pressure brought by the New Orleans defense in the early going. That may have led to some of Garoppolo's errant throws when he did have time to target his receivers.
Garoppolo found some rhythm in the second quarter, though. He had a bit more time to throw and connected on eight of 11 pass attempts for 135 yards.
"Yeah, it wasn't our best start, no question," the third-year player acknowledged. "We started a little slow, which we never want to do, but that's going to happen sometimes. You're not going to always start the right way and it's just how you react to that. It was a good experience tonight just being put in a difficult situation and then just seeing how the guys responded, how everyone responded. I think we reacted in the right way."
That aforementioned line is still trying to settle on five regular starters. The unit that blocked for Garoppolo – Nate Solder, rookie Joe Thuney, David Andrews, Shaq Mason, and Marcus Cannon – might not be the precise group that starts the season opener at Arizona, and while it was good that Garoppolo and the o-line were able to salvage something on the evening, they'll need to be much crisper over the next three games to feel confident about going on the road for a prime time tilt with the Cardinals.
The line surrendered two sacks of Garoppolo, but he shouldered the blame for one of them, a 14-yard loss late in the opening stanza.
"Having those guys up front, it's a comforting feeling. Those guys do a great job pass blocking and run blocking, and they did a tremendous job at both tonight. That sack, it wasn't a good one. I take responsibility for that; that was my fault."  
Flowers a late bloomer?
The 34-22 victory may have looked like an offensive explosion, but it was really a defensive domination by New England. Several players got in the act, from familiar names like Jamie Collins, Patrick Chung, and Jabaal Sheard, to newcomers like second-round draft choice Cyrus Joness and Trey Flowers, the second-year defensive end.
Flowers strip-sacked Saints backup quarterback Luke McCown early in the fourth quarter, then scooped up the loose ball and rambled 17 yards for a touchdown. It was Flowers' first touchdown since high school, he revealed in the post-game locker room.
"We practice that every day before practice," he added. "It felt good, when the lights came on and it was live. I put a lot of pride in my work. To go out there and prove it, it felt good."
Prior to that big play, Flowers was regularly getting pressure on backup QB Garrett Grayson in the second quarter and McCown thereafter.
Flowers had a sack last summer as a rookie in his first preseason game. He was injured on that play and eventually was placed on season-ending IR. His development in year two could be important, particularly in the early stages of the season, while veteran DE Rob Ninkovich recovers from a reported torn triceps muscle.
Mitchell's misfortune
Rookie wide receiver Malcolm Mitchell was having a decent preseason debut, building on his solid performances during training camp practices. He nabbed four Jimmy Garoppolo passes for 55 yards, all during the second quarter. However, on his final reception, while trying to turn up-field to gain extra yards, he was being pulled down by a Saints defender and tried to brace himself with his left arm. Mitchell's elbow appeared to bend in the wrong direction. He immediately got up clutching his left arm and was escorted directly to the locker room by the team's medical staff.
"I don't know what the injury is exactly yet," Garoppolo told reporters later, "but it didn't look very good when he was walking off the field. He was playing well, so hopefully he'll come back as soon as possible and keep rolling."
A post-game report by the Boston Herald indicated that Mitchell dislocated that elbow, but could be back in action as soon as a month from now.
No jitters for Jones
Jones, New England's top pick in this year's NFL Draft, made an impact on the first series of the game when he recovered a Saints fumble. Defensive end Jabaal Sheard knocked the ball loose from the hands of running back Mark Ingram and Jones, who started the game at cornerback, was in the right position at the right moment to scoop up the loose ball.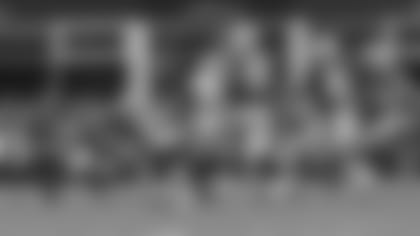 Jones also saw action as a punt returner. Throughout camp, he's struggled to hold onto the football in this area, but against New Orleans, Jones was able to field one of two punts he was sent out to return. Thought Jones didn't gain more than two yards, he showed that he wasn't shy about trying to make a big play out of seemingly nothing, taking the ball nearly half the width of the field to try to find an opening.
With Julian Edelman and Danny Amendola, the team's leading punt returners, not yet fully participating in practices, Jones has an opportunity to contribute on special teams. He also registered three tackles (two solo) on defense versus New Orleans.
Gaffney gets going
Third-year running back Tyler Gaffney, who spent the past two campaigns on injured reserve, made a nice cutback to his right on a third-quarter handoff and outraced the Saints defense 44 yards for his first touchdown as a pro. He gained 20 more yards on eight other carries and caught a pair of passes for seven total yards.
"It's been a long time coming," a smiling Gaffney said at his locker. "Working the past two years felt like a lifetime to get back out here. Very surreal moment, that run… the line did a great job of getting me started again.
"Everybody did their job. We've been working on that in practice and executed in the game. Man, it was wide open. You can't ask for any better hole to run through."
No job is yet guaranteed in the Patriots backfield, so, Gaffney might have a chance to do something this preseason to make the case that he should be on the 53-man roster.