The end of this latest game should not have come as a surprise to anyone.
This is who these Patriots are this year: a team that, win or lose, always makes you sweat it out.
Get used to it, folks. This is how it's going to be from here on out.
They're going to stop your heart at times, or cause it to leap into your throat.
The three games they dropped this year all came down to the final seconds. But two of their last three victories have also come at the end of regulation or overtime. That's a trend from which leaders on the team are beginning to draw strength.
Late in the contest, TV cameras caught defensive tackle/co-captain Vince Wilfork being demonstrably emotional as he appeared to bark at teammates.
Frustration setting in, or merely a motivational tool?
"I remember taking the field," he recalled later at his locker, "and I told our guys, 'Look, man, just take it one play at a time. Somebody make a play. Plain and simple. We've done it before. And I saw that guys believed. When you get a team to believe that you can do whatever you set your mind to do, that team is unstoppable."
Fellow captain Devin McCourty, playing safety again with injured starter Patrick Chung still on the mend, was among those buying what Wilfork was selling. He sealed the narrow victory with an interception in the end zone with 23 seconds remaining and the Bills threatening to score the go-ahead touchdown.
"We know when the game gets toward the end, those big plays, they change the game, they end up winning games at the end," said McCourty. "As well as we want to play with yards and everything, we know at the end of the game, if you can make a big play, get a big turnover, get a big stop, that changes the game."
Though the Patriots jumped out to an early 14-point lead, they could never quite put the Bills away. Buffalo countered with answers for nearly every Patriots score, save the final drive, when it counted most.
That made for some anxious moments, not only for you at home, but also for the Patriots who weren't on the field.
"We're watching the game like everyone else, trying to get the fans into it – and they definitely were," noted running back Danny Woodhead, who did his part with the first two-touchdown effort of his pro career.
"We got a great stop by the defense and we got the win."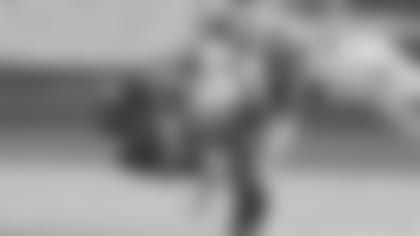 "It was a weird game," offered wide receiver Deion Branch. "I mean there are going to be games like this here. This is one that teams have to stand up and continue to just push and fight through it. It's not a good feeling, because I know that we're a lot better than what we put out on the football field today. We know that. Buffalo is a great team, but at the same time we didn't put our best game on the field."
"I think there's some improvement out there and that's a good thing," McCourty asserted, before conceding, "but then there are also some plays we know are happening and we know that we're hurting ourselves more than anything. I think that's a little frustrating, but I think that's something you just have to keep attacking. I think football is that way. I think a lot of teams go through that; everyone has different problems on their teams, offensively, defensively, and you just have to keep working and keep improving those things each week."
But the end result this day was another notch in the win column for New England.
And Wilfork, for one, is making no apologies for the manner in which it was achieved.
"We can always get better and do things a little differently going forward. There are some scheme and fundamental things we'd like to clean up, but we got away with a W to be 6-3. You've got to be proud of that. We've been on both sides at the end of the game, losing them and winning them. When you have close games, you have to play situational football… Devin made a big play.
"I'm never disappointed in a win," he maintained. "I don't care how we get it, because that's what this game is all about: winning and losing. I'm very proud of this team."
"No one wants to give up third downs or give up a lot of yardage and give up big plays, but you've got to try to poise yourself and figure out a way to correct it," remarked safety Steve Gregory, back on the field for the first time in more than a month.
"It's not getting frustrated and getting mad at guys, it's getting in there together and working as a unit to get things better. That's what we're going to focus on this game. But like I said, the main thing is to win football games and we won today. We came up with a play at the end of the game to seal it. The offense did a great job and we appreciate that."
The Patriots are trying to stay calm, it seems.
Because it looks like it's going to be a wild ride from here on out. PFW