Christmas Eve hasn't seen this dramatic a turnaround since Ebenezer Scrooge.
In Foxborough Saturday afternoon, New England couldn't do anything positive offensively in the first half against Miami. Quaterback Tom Brady was getting pressured consistently - thanks in part to a banged up o-line that lost two starters (left tackle Matt Light was inactive and left guard Logan Mankins left in the first quarter with a left knee injury). He was also sloppy, misfiring on several passes to open receivers.
Their defense didn't fare much better, giving up a number of long plays and 17 points. The brightest spot for the Patriots was punter Zoltan Mesko, whose booming kicks at least made the Dolphins work a little extra for the points they scored.
In the second stanza, however, New England looked reborn. Following an opening-drive field goal to make it 17-3, the Patriots defense recovered a fumble by Dolphins QB Matt Moore at the Miami 38-yard line. Brady and the offense then took immediate advantage, converting the turnover into seven points.
The defense held on the next Dolphins possession, forcing a three-and-out with two sacks of Moore. Again, New England's offense converted (the first of two Tom Brady touchdown runs) and the score was suddenly tied.
Brady and his receivers - particularly Wes Welker - found their rhythm and put up 10 more points in the fourth quarter, while the defense played stout, allowing a late touchdown drive to cut their lead to three with under two minutes to go. However, the Patriots offense was able to run out the clock on their final possession.
Ghosts can't be credited with this reclamation project, as they were with Charles Dickens' fictional character. So, what was the difference?
"We were flat. We weren't ready to go," admitted linebacker/co-captain Jerod Mayo. "We didn't really change that much at halftime, we just got the job done in the second half. Just better execution."
"Just execution," echoed tight end Aaron Hernandez. "We just knew we had to come out and compete and play a little harder. And that's what we did.
"Wes and Tom started clicking, and when they're clicking, everyone else starts clicking. They got it going and we just followed their lead. The defense stepped up, and when they step up, it's time for the offense to make plays, and that's what happened."
"I thought we executed better in the second half," Brady agreed. "We just had a hard time getting going. We obviously didn't play very well in the first half. I think we made a pretty big commitment at halftime to each other to go out and everyone do their job and quit worrying about everybody else and go out and play better and we did that."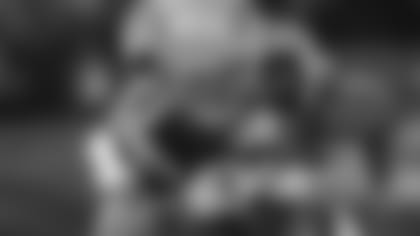 Welker, at halftime, took it upon himself to inspire his teammates, he revealed after the game in remarks to reporters.
"That was a pretty poor first half on myself. That was pretty bad. I just wanted to let them know that that was bull on my part and in the second half, I wanted to come out and play the way we needed to play to win the game and that's what we were able to do. We were able to make some plays and everyone chipped in, and that's what it's all about and that's how you win games. It takes a full effort from the whole team and nobody really was holding us back and I felt like in the first half, I really did that."
"There was never a doubt in our minds, especially mine, that we were going to pull this game out," insisted defensive tackle/co-captain Vince Wilfork. "We went to the sideline and we talked, coming into halftime, basically all we need is one play to get us started as a team."
"We never panicked. We never panicked," stressed right guard Brian Waters. "There was no panic on the sidelines. People were probably thinking, 'You guys are too calm.' Wasn't any yelling, wasn't any screaming. It was just about getting to the things we knew we could do well."
"We always talk about putting a good 60 minutes together," added Mayo. "We didn't do that, but we put together a good 30."
Today, that was good enough. It might not be in the playoffs, though, and the Patriots only have one more tune-up to fix what's been a problem for the past several weeks - slow starts.
"There's nobody playing perfect football right now. We're no different than any other football team," Waters pointed out, "outside of the fact that we know we have an extended season in front of us. Next week is an opportunity for us to get even better going into that part of the season."
 "We're at the end of the road and we still have room for improvement. Good football teams respond, which we did. Once again, this team just showed you its character," Wilfork concluded.
"To be down by that many points ... we believed in one another and stepped up. You never know how you'll win, but good teams always find a way to. That's what we have to continue to do."