CHICAGO – To the Bears, the weather outside was frightful. For the Patriots, it was a winter wonderland.
New England was dashing through the snow, while Chicago looked like it wanted to dash from it.
If the Bears felt like singing "Baby, It's Cold Outside," the Patriots were eager to chant "Let It Snow, Let It Snow, Let It Snow!"
And that was the difference in this game: fun. New England had plenty of it; Chicago none.
It only took Tom Bradyand the Patriots one drive to get their footing. After going three-and-out on the game's first possession, New England figured out how to operate in Chicago's blizzard conditions. And they had a blast doing it.
Third-an-10? No problem. Brady just fires a pass to Wes Welkerfor a first down. Third-and-12? Piece of cake. Brady hits Deion Branch for another. Pretty soon, it was 7-0 New England, then 14-0 … and it just snowballed from there.
Head coach Bill Belichicksaid he was "damn proud" of his team's effort on this memorable Sunday, and with good reason.
"We just tried to execute our game plan regardless of what the weather was going to be," said running back Danny Woodhead, who [
]()scored the Patriots' second touchdown.
"That's the most important thing – to focus on what we can focus on. [The weather's] something we tried not to think about too much. We just tried to focus on what we could do on the field."
Despite a steady snowfall and a brand new sod surface at Soldier Field, the Patriots seemed more prepared for the elements than the Bears.
"It was good [footing]," declared rookie tight end Rob Gronkowski, who opened the scoring with a touchdown catch from Brady. "Everyone had the right cleats. No one was really slipping out there.
"Oh, yeah, it was fun out there. It was cool."
Once they knew they could handle their business, the Patriots started having fun.
Already up 27-0 with seconds left in the first half, the team's coaches wanted Brady to take a knee and go to the locker room.
No thanks, the QB replied, and he tossed a 59-yard touchdown pass to Branch to make it 33-0. It was that kind of day for New England – on offense, defense, and special teams. While Brady and Co. were piling up the points, the defense was busy sacking, stripping, and shutting down the Bears.
Rookie cornerback Devin McCourtymade three big plays in the first half, before leaving later in the game with a rib injury (he said afterward that he was 'Okay'). Linebacker Gary Guyton, subbing for the suspended rookie Brandon Spikes, returned a McCourty-forced fumble for a touchdown and thwarted another Chicago drive with an interception.
"It felt good to go out there and make some plays," admitted Guyton. "I hope it's contagious."
Apparently, it was. Even newcomer Eric Mooremade an impact, strip-sacking Bears QB Jay Cutlerand dropping a Bears ball carrier for a five-yard loss.
"For some reason," Moore told reporters, "the Lord put me in a position to make the play and I made it. I'm thankful. I'm grateful for the opportunity.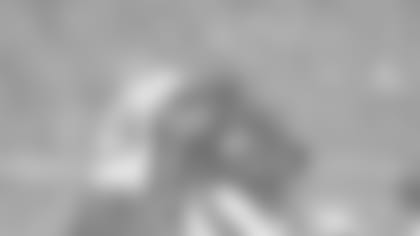 ]()"Yeah, we had fun. We took advantage of the opportunities we had, went out there, and made plays."
"Yeah, I guess so," added guard Logan Mankins. "Whenever we win, it's fun."
"Oh, a lot of fun," safety James Sandersempasized. "We're at Soldier Field, historic site. Just to go out there and play in this kind of weather and basically dominate, it felt good.
"We're a cold weather team, too," Sanders stressed. "We're out there practicing each and every day. As you can see, we can execute whatever conditions there are, no matter what the weather is. So, we go out there and have fun with it. It's not going anywhere, so, might as well embrace it, go out there and have fun and execute."
Special teams had their moments as well. Whether it was Julian Edelmanreturning punts or kicker Shayne Grahambooting field goals and kickoffs.
"You look out on the field and see little white tornadoes of snow … it's kind of a cool phenomenon to be a part of," Graham said in the post-game locker room.
"That's what makes this game fun, playing in these conditions. I don't think anybody on this team was worried about these conditions. We said, 'Let's go execute, perform, and have fun.' It ended up being one of those games when it's over, you're happy you played well. It's like one of those games in the backyard when you were a kid in the snow and everyone's having a good time."
With Sunday's win – the 11th of the year for New England – the Patriots have clinched a playoff berth. But the team doesn't want to focus on that right now. They still feel like they're still not playing at their peak, and they're probably right.
"It feels good, but we know we have a lot of work to do still," Sanders insisted. "Nothing is set in stone. We have to go out there and improve each week. We want to be playing our best football at the end of the season."
Cornerback Kyle Arringtonproclaimed, "I think we're gelling at the right time."
And having fun in the process.
"You always have to have fun when it's football," Woodhead concluded. "I mean, it was snow, like when you're younger, but football's a fun game."
Especially when you're playing the way the Patriots are these days.