Maybe it's the weather, so much like our own back home. It can be dreary, cold, wet, sunny, warm, and pleasant… all in the same day.
Perhaps it's the history, so closely linked are London and Boston.
Whatever the reason, the Patriots have played some of their best football here at Wembley Stadium, where the other football – with the round ball – is normally the main attraction.
After starting on the dubious end of an NFL record, New England settled down. On the game's opening drive, Rams QB Sam Bradford tossed a 50-yard TD to rookie Chris Givens, his fifth straight game with a catch of that long or longer – the first time any receiver has done that in league history.
The Patriots defense pitched a shutout from then on, while the offense exploded. Tom Brady threw for 304 yards and four touchdowns, two to tight end Rob Gronkowski and another pair to Brandon Lloyd. On the ground, Stevan Ridley and Shane Vereen both hit paydirt, and Ridley racked up 127 yards (8.5 per carry average) in the process.
"It was a fun day. Yeah, that was a fun day for us," Brady emphasized. "Offensively we played pretty well there in the first half, made some plays there in the third quarter and fourth quarter. It's great to come on a trip like this, put everything into it. We got the bye week next week. It's a good feeling. I'm sure the guys will have fun tonight."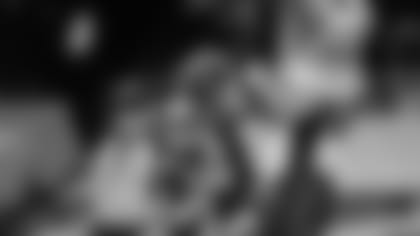 Gronk already had plenty of fun. His signature scoring celebrations – those thunderous spikes – were given an added twist tonight. A rather British flair, in fact.
After his first score, Gronk looked to mimic the changing of the guard ceremony at Buckingham Palace before slamming the football into the ground.
"You know the little Nutcracker dude that is guarding the house," he told reporters afterward, before being corrected. "Yeah, guarding the palace. I like how he sits there and stays still. It's pretty cool. I give that one credit to Chandler [Jones]. He told me to do it."
For his second TD, the big tight end raised the ball over his head with both hands and performed a sort of gyrating motion before his signature spike.
It was that kind of night for New England. A laugher. A cakewalk. A 45-7 throttling.
A jolly good time, indeed.
The normally stiff-upper-lip Brits and their United Kingdom mates added to the festive atmosphere. Though the game was technically a home game for St. Louis, the crowd was fairly evenly split, perhaps slightly skewed toward the "visiting" Patriots, but the fans were as raucous as any Stateside – albeit not always at the times you might expect (they still love doing the wave, here, by the way).
!"This is a great venue. This is a beautiful stadium. I know how historical it is. It's a great atmosphere for football," Brady continued. "So, I hope they enjoyed the game today, all the fans. I know it got out of hand there, but that's how the Patriots like it. So it was a fun game for us."
Even Brady's typically stoic head coach had to acknowledge that playing in London is quite a treat.
"Well, every stadium is different. Every stadium has its own personality, own atmosphere, environment," Bill Belichick remarked to reporters afterward. "Wembley Stadium is big, almost cavernous there with the opening up on top. The lighting is a little bit different. It's a big crowd, a good crowd. They were into the game. Again, you hear a lot of back and forth cheering in a game, which normally it's one way or the other. When you play home, it's your fans. When you play on the road, it's their fans. This is a bit of a split. It's unique. Usually don't get games like that.
"The stadium was great. Playing on grass is always good. We play most of our games on turf. It's good to see the jerseys muddy, grass stains. Guys picking up dirt out of their facemasks, stuff like that. We don't see a lot of that back in the States. We see grass fields down in Florida, Tampa, Miami, Jacksonville. It's Florida grass. We were out there in the mud and rain. Good old fashioned football game. I think our guys liked it."
With the long flight over the Atlantic and the damp weather these past few days, it's not surprising that some players found themselves a bit under the weather. Guys like Jerod Mayo and Vince Wilfork, co-captains on defense, weren't at their best tonight, but afterward you'd never know it.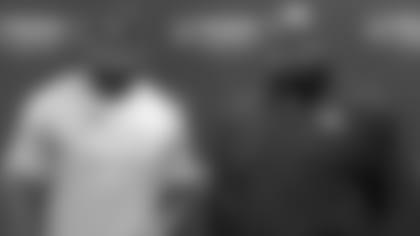 "Pepto Bismol, baby!" a laughing Mayo shouted as he and Wilfork shared the podium microphone to answer reporters' questions.
"You have to suck it up for games like this. It was a big game," said Mayo of the Super Bowl-like atmosphere, complete with a pre-kickoff mini-concert by Train, and performances of the national anthems of America and Great Britian performed by superstars Pia Toscano and Katherine Jenkins.
"Sometimes it might not be my best, but if I can walk, I can play," Wilfork explained with a grin. "This is one of them. We knew how important this was to us. Going into the bye week at 5 3 and winning two key games to get us going. We are right where we want to be."
In terms of their positioning in the AFC, yes, the Patriots are right where they want to be. But Wilfork could also have been talking about London itself.
Because, for New England, there's just something about this place that agrees with them.