NASHVILLE, Tenn. – If you were making a checklist of "To Do" items for the Patriots this past offseason, tops on the list would have had to be to improve the defense, which ranked near dead last in the NFL last season.
You'd also probably want a more balanced offense, if you were being nit-picky about a unit that saw QB Tom Brady throw for more than 5,000 yards in 2011. While on special teams, kickoff returns would have been the top priority for improvements.
The 2012 regular season opener was just one game, but if you the grade it based on the above criteria, you'd have to give it three check marks.
New England surrendered just one out of every three third-down opportunities, held the Titans to just 272 yards in the air, and – perhaps most shockingly – kept the Tennessee rushing game to a mere 20 total yards.
Yes, that's right: the entire Titans team rushed for a grand total of 20 yards. The equivalent of two end zone lengths.
A major reason for this marked upgrade in performance was the contribution of New England's top three draft choices. Right defensive end Chandler Jones had five tackles, including a sack and one takedown for a loss, plus a devastating strip-sack of Tennessee QB Jake Locker that resulted in a Patriots touchdown in the second quarter. Rookie linebacker Dont'a Hightower, the second of two first-round choices, scooped up the loose ball and shuffled six yards into the Titans end zone.
Second-round pick Tavon Wilson saw significant action as a rotating safety and came down with a spectacular interception (with a little tipped-ball assist from cornerback Kyle Arrington).
"Oh yeah, love it," raved left defensive end Rob Ninkovich post-game. "I mean, that one play – the sack by Chandler, and the scoop-and-score by Dont'a – it was just a good play, overall play. It was great to see them out there helping us and making impact plays."
Then, there was Stevan Ridley.
This summer, the second-year running back said he expected more of himself going into his sophomore season, because his team was demanding he assume a bigger role in the Patriots offense.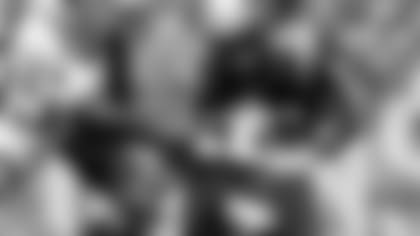 In the 2012 regular season opener, Ridley rushed the ball 21 times for 125 yards – a perfect 6.0 average per carry – and found the end zone once. So, was this the kind of day he was envisioning throughout the offseason?
"I think it's a little better than I envisioned," he responded with a demure chuckle. "I just try to go out there and not overdo anything. God opened some holes up for me. I just hit them."
God and his offensive line, of course, which did yeoman's work creating wide open lanes through which Ridley could run.
"It was a blessing, man, to be out there on this Sunday. I was very thankful starting the year off with a good game," Ridley continued in the LP Field visitors locker room. "Offensive line's doing a tremendous job. Coach had a game plan to run the ball effectively. He makes it simple for us every week and tells us to go out there and do our jobs. That's one thing I did: my job. Man, there was green grass to run to and I just tried to hit it hard and get downhill."
It almost seemed too easy at times, as Ridley read his blocks and made clever cuts to avoid Titans defenders.
"When you get days like today when you're running the ball well," observed Ridley, "you can definitely feel it. But there were some runs that were there and some that weren't. The coaches just did an exceptional job of finding the ones that were doing well and they just kept calling them.
"And our offensive line was just blocking and getting on people. It was bodies on bodies, and I just had to hit my creases and run. I didn't do anything out of the ordinary. I just was the player I was and went out there and played ball."
"He did good," left guard Logan Mankins said of Ridley. "He had over a hundred yards. We got on guys and he made the proper cuts and got in the second level and made some good runs. I think [the Titans] were getting tired. I know I was getting tired. We just kept plugging away and it was working. When something's working, you keep with it."
A by-product of New England's ability to run the ball so effectively came in the passing game. Several times, the Patriots lined up in obvious running formations – so-called "heavy packages" – from which quarterback Tom Brady would throw play-action passes.
How much did the running of Ridley help the already potent Patriots passing game?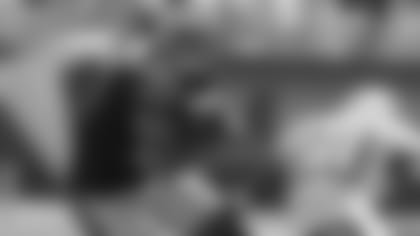 "A lot," answered tight end Aaron Hernandez, "because it's a lot more the defense has to worry about. When you have no run game, all they're worried about is the pass. Ridley did a good job today. Hopefully, he keeps playing like that and the line keeps doing what they're doing so we can have an effective year."
"It's tough pass blocking the whole game," explained Mankins, "when they're really keying off and just rushing up the field, getting after the quarterback. It helps us out, it helps the whole team out."
"Coach McDaniels does a good job of mixing that up. We don't want to be predictable," said Ridley. "All our backs can run and catch. If [opponents] are going to try to game plan it that way, they might have a long year ahead of them."
Lastly, though they only returned two kickoffs all afternoon in Nashville – one each by Devin McCourty and Matthew Slater – there was some improvement there, too, over last year. McCourty took his lone return 28 yards, which was noticeably better than the team's 2011 average. Plenty of work still needs to be done in this area, however.
For now, the Patriots can look back on their 34-13 victory in Tennessee and be proud of the effort in all three phases of the game.
"There were some good things, definitely, and we can build off that and improve the bad things," said left tackle Nate Solder. "I thought our run game was successful at times, and we were [pass] protecting pretty well most of the time."
"I thought we started better than the past two years I've been here," stated Hernandez. "Good start. A lot to learn from and get better every week.
"We've got something to build on," Ridley concluded. "For us to start off this way, we have to get better every week. We can't be satisfied. I'm not satisfied. I'm going to enjoy this win today, but we're right back to work on Monday."