Expectations from those outside of Gillette Stadium's walls were tempered after the New England Patriots selected an offensive tackle from Germany in the 2009 NFL Draft.
International players were a rare commodity in the National Football League at the time, and the player in question, Sebastian Vollmer, wasn't even invited to the NFL Combine that year.
Despite that, Patriots head coach Bill Belichick and Patriots Hall of Fame offensive line coach Dante Scarnecchia took a chance on Vollmer anyway. Team chairman and CEO Robert Kraft also saw the potential value in the 58th-overall pick: to help grow the game internationally – even if that notion was lost on Vollmer initially.
Still, no one could have imagined the return on investment.
"Mr. Kraft was saying in 2009, after I was drafted, that we're going to go play in Germany one day," Vollmer recalled
This was inconceivable for the rookie, who knew little to nothing about American football when a high school classmate approached him to join a team in Düsseldorf – just east of his hometown of Kaarst in Western Germany.
Kraft's prediction seemed a lot less far-fetched to Vollmer after he helped the Patriots win two Super Bowls, and then serendipitously found his second career as an NFL broadcaster for German television networks, cementing himself as a household name in his homeland.
Without realizing it, Vollmer organically helped the franchise come full circle to one of his first conversations with Kraft. During the 2023 regular season, the Patriots will play in front of their German fan base for the first time with a "home" game against the Indianapolis Colts on November 12.
"Obviously, he had a vision, and I think we started small but now it's pretty big," Vollmer said of Kraft. "Anything in between we just tried to come up with different things we could do. I never thought about the scope, it was just doing things that felt right in the moment. Every year it's felt like it's taken off, but now it's getting steeper and steeper."
Millions waited in the queue when tickets went on sale to see the Patriots in Germany and soon sold out. After seeing the reception of the first-ever NFL game played in Germany between the Tampa Bay Buccaneers and Seattle Seahawks last season, this wasn't a shock.
The league and Ticketmaster received three million ticket requests to see former Patriots quarterback Tom Brady compete at Allianz Arena in Munich, with nearly 70,000 fans lucky enough to be in attendance.
After a 21-16 victory, the seven-time Super Bowl champion referred to the regular season game "one of the greatest football experiences" he'd ever had. He said everyone involved, from fans to players, would have an amazing memory for the rest of their lives.
For the Patriots especially, it was both exciting and validating to hear. Front office executives knew the market for American football wasn't necessarily a new craze in Germany, but it took patience to make it a reality.
"It took longer than we would have hoped, but the game that took place this past year, you saw the energy, and it sort of just validated everything we saw through the communications we were having with fans there – that people were hungry for NFL football," Patriots president Jonathan Kraft said on the NFL Deutschland podcast hosted by Vollmer's broadcasting partner and former NFL defensive tackle Markus Kuhn.
"We've wanted to play there for a really long time – even before the NFL started the International Marketing Program where teams could bid to have the opportunity to call another country a home market. We had always told the league, 'If you're going to play a game in Germany, we want to be there.
"We've always found as we interacted with fan clubs around the world, or when we used to do all of our merchandise in-house, Germany had a disproportionate level of communication with us. Our fans there are passionate, there were obviously large numbers, and it's clear that the Germans really understand American football better than any place in Europe, or at least as well as the United Kingdom, maybe, because so much time that's been spent there."
When the NFL announced its new Global Markets Program last year, it allowed all 32 clubs to bid for a "home market" in nations abroad. The Patriots pursued Germany and Germany only, something Jonathan Kraft referred to as a "no-brainer."
There, the foundation was already built.
During World War II, U.S. servicemen introduced the sport on military bases in Germany, and when NFL Europe was established in the 1990s to grow the game in Europe and develop international talent, the league caught on.
"The groundwork was laid between 1995 and 2007 with the NFL Europe," said Marcel Berninger, president of the PatriotsArmyNRW fan club. "If you watched Football during that time, you experienced the games of Duesseldorf, Rhein Fire and Frankfurt Galaxy in front of 30,000 fans with power parties and tailgating outside the stadium. It was something like a light version of the NFL for us."
NFL Europe was introduced as a six-team league with teams also based in England, Scotland, Spain, and the Netherlands. In its final season, five of six teams were based in Germany, with the sixth in nearby Amsterdam.
The league dissolved in 2007 to make way for the NFL's decision to host regular season games in London, but left a massive void for football fans.
German fans still found the game, one way or another.
"My friend Max made me watch my first NFL games and my first Super Bowl on TV in 2010," Berniger said. "I'd heard of Tom Brady before. But funny enough, I saw 'Family Guy' episode in which Tom Brady recruited Peter Griffin to play for the New England Patriots."
Thomas Rzyszka, of the Gründer Patriots-Fans Germany club in Berlin, says his fandom goes back to the year New England won its first Super Bowl.
"I've been an American Football fan since about 1986," Rzyszka said. "At first, I liked multiple teams because of different reasons. One of them was the Patriots because I've always liked the New England area and the city of Boston. After September 11, when the Andruzzi brothers walked on the field with the American flag, the Patriots became my favorite team."
Rzyszka's fan club has more than 5,000 members on Facebook, and they routinely plan watch parties for Patriots games. They are just one of many fan clubs in Germany that have popped up over the years.
"On Patriots.com, we have a section called the Fan Club & Bar registry," explained Fred Kirsch, Vice President of Content for the Patriots. "As of today, we have 14 fan clubs in Germany, the oldest being the New Berlin Patriots, formed in 2005. These aren't clubs created by the Patriots. They are clubs created by the fans on their own for the sole purpose of supporting the Patriots and meeting up with other fans in their area. These are as die-hard a group of fans you will find."
If the early years of the Patriots dynasty didn't catch the attention of Germans, watching Vollmer become the first German native to win a Super Bowl certainly helped.
"Obviously that helps because you're capturing NFL fans, but also for this brand, you're capturing Patriots fans," said Vollmer. "And if you're a new fan, you most likely associate yourself with the best team, right?"
The Patriots benefited from more than their dominance, though, with ProSieben (a German free-to-air television network) airing a weekly NFL doubleheader beginning in 2015 that averaged 500,000 viewers.
Prior to that point, regular-season games were only available on paid channels, and the only matchup shown for free was the Super Bowl. The decision by the network made games much more accessible, and with a handful of German players already in the league, it sparked a firestorm.
"During that time we actually had a few Germans playing in the league," said Kuhn. "Sebastian was active, I was active, and then shortly after me, Björn Werner was drafted. Then another German who played at Boston College, Kasim Edebali, signed as an undrafted free agent with the Saints. So you had four Germans at one point playing in the league at the same time, and that's just more media coverage and awareness."
Kuhn was born in Mannheim, Germany, and watched his first Super Bowl just before his teenage years. At 14, he accompanied his family on a trip to Florida and became captivated by the big stadiums and the game broadcasts.
He began playing on a team with his older sister's friends, and eventually, earned a scholarship at North Carolina State. The defensive tackle was picked by the New York Giants in the seventh round of the 2012 NFL Draft, and he made history in 2014 after returning a fumble 26 yards to become the first German national to score a touchdown in the NFL.
Following four seasons in New York, he signed a contract with New England and got better acquainted with Vollmer. Their friendship grew from there.
"One thing we always talk about is that there are not many people in the world, especially for me with a German background, that kind of had the same experience," Kuhn said.
"There's almost nobody I can talk to about some of the things that I have experienced in my last 15 years in America. Not many Germans have left their home country to play college football, then make it to the NFL, and play in the NFL. So there are so many things that nobody can relate to me on in certain ways, but Sebastian is one of the few people, literally in the world, who I can say does."
Kuhn was released by the Patriots as a roster-cut casualty in 2016, but for him, it all worked out. Vollmer announced his retirement ahead of 2017 after missing the entire 2016 season with an injury, and the two fell into their next chapters together.
"I was successful with the Giants. I was happy there. I loved it there," admitted Kuhn. "I played there for four years and they offered me a contract after my rookie deal was over, but then the Patriots offered me a better contract, and they were the best team. I knew it would be a risk, because they had a more competitive roster and were just in the Super Bowl, but it was a decision for me to come here. I didn't make the final squad, but I think it helped me to build relationships while I was here, whether it was with Sebastian or with other people in the building, and ultimately we stayed in touch.
"From then on, we started broadcasting games to Germany. Maybe my football time was over here, or it wasn't the right fit, but I actually think what I'm doing right now is perfect. No team is that aggressive or that popular in Germany, or is so open to some of the ideas that I bring, so I love working with the Patriots right now. They're so aligned in anything we do relating to the internationalization of the game."
The duo had dabbled with doing television together, and though neither had ever called a game before, Vollmer asked Kuhn to join him in the booth when the Patriots approached their recent retiree about potentially broadcasting preseason games in Germany.
"It all started super small," Vollmer said. "I called him and was like, 'Hey, how do you feel about doing a broadcast?' He had never done it before, me neither, but it was like, 'Ok, cool. Let's do it."
Kuhn interjected, laughing, to mention that's how they go about everything these days. And the approach keeps opening up opportunities for more, sustaining their popularity in Germany even after hanging up the cleats.
Vollmer and Kuhn have called preseason games streamed to Germany and the entire DACH region, which includes Austria and Switzerland, ever since. Those roles have evolved, with them also calling games across the NFL for the current rightsholders, RTL and DAZN.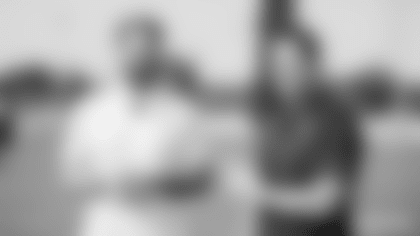 "Sebastian playing here is a big cornerstone of why football is, especially for this organization, where it is in Germany right now," said Kuhn.
"We started broadcasting games for them in preseason of 2017, and then the first time a regular season game was broadcasted from the U.S. to Germany was also the two of us with the Patriots and the former rights holder (ProSieben) back then. It's a lot of firsts. Since 2017 we've done so much, there's been so much progress, but now the Patriots are also playing in Germany. It's kind of wild. That new station got into this football endeavor, and now they're like, wow. This is the greatest decision we've ever made."
As much as Vollmer and Kuhn are relishing the game in November, they're most excited for the Patriots fan base. To those who remained loyal, all the way from Germany, all these years, this is a thank you.
"There are 14 fan clubs all across Germany that have been following the Patriots hardcore," said Kuhn. "I think it's just a thank you and a huge reward for all of them. A lot of them will bite and scratch to get tickets, but even if they don't, they'll be in the city where the game is and at our events. It's a long time coming and it's exciting to be part of it."
For the Patriots, this new international market isn't being looked at as a fad.
The organization had to submit a five-year plan to the NFL detailing how they'd grow the sport in Germany if awarded that market, with football already the second-most popular there behind soccer. Patriots executives have been taking German lessons for months, and the Patriots have made strategic partnerships to engrain themselves in German culture – including one with the German men's national soccer team.
In 2022, the team hired a German content producer, Yannick Julen, based in Foxborough, to help grow the Patriots Deutschland social media channels with original content. As beneficial as that digital presence has been, Julen says visits to Germany make the growth most apparent.
"Ever since we started being more physically present in Germany with events and visits, the growth is definitely visible," said Julen.
"I think having a presence on social media is great and important but being present in Germany, Austria, and Switzerland is probably even more important. If you can create an amazing and unique experience for fans, that's probably worth more than your presence online. With the time difference and the geographical difference, it's difficult to make the fans feel close to the team. But with being present where they are, we can create some sort of bond, connection, and closeness to the Patriots."
Rzyszka and Berninger both say their respective fan clubs are planning to travel to Frankfurt for the game, hosting watch parties and events near the stadium, as they did for the Buccaneers-Seattle game in 2022.
"The atmosphere in Munich last year was way better than what we've seen in London the years before," said Berninger, speaking to Germany's passion for the sport. "If you walked through Munich that weekend you saw more Brady jerseys than Bayern Munich jerseys. Everybody buys the original jerseys from Fanatics and we don't settle for cheap copies."
The Patriots will host their own events the week of the game but have been sending players and personnel overseas since the 2022 season to engage with fans. It's been well received across generations.
As part of their plan to grow the game, the Patriots and NFL have kids playing flag football in schools.
"With all the initiatives that the NFL and Patriots have, flag football teams are in schools now – there are no sports in high school there, that's one of the differences between German and American sports," Vollmer said. "Now, it's part of the curriculum. It's there. Kids are part of that."
Patriots linebacker Josh Uche, who visited the country for the first time on a trip with the NFL Players Association in June, was pretty popular during his overseas tour.
"The biggest fans of the NFL were mainly the kids at the flag football event we attended," Uche said. "They had so much fun playing the game and you could see them trying to replicate what they saw NFL players do during their flag tournament. It was my first time in Germany and what I look forward to most about going back is being in a stadium filled with cheering German Patriots fans."
That time, years in the making, finally has come to fruition. It's a long way from the days when Vollmer rode public transportation to football practice, fending off strange looks from strangers confused by his helmet and shoulder pads.
Now, the NFL has a permanent office where he used to play in Düsseldorf, and Vollmer, like many others, knows this is only the beginning.
"To be honest with you, playing in my home country would have been special," Vollmer says.
"But this is still pretty cool. We were there last year and took over a pub. People were running through the door. Thousands were waiting, and no one was even there but us – the team didn't even play. So now, I expect it to be even bigger. I expect it to take another step and really take off."