I personally believe the [Josh] McDaniels signing was great! But I have two questions. Do you think this could be a disruption for the team heading into the playoffs? And I don't remember a team signing a former OC so late in the season. Does this happen often?
Pat S.
A distraction? Not at all. Quite the opposite, in fact. There could not be a more seamless transition from one coordinator to (presumably) the next. Officially, McDaniels is an "offensive assistant" at the moment, but I have little doubt he will reclaim the offensive coordinator title for the 2012 season.
Granted, it's a rather unique set of circumstances that led McDaniels and the Patriots to reunite at this late stage. A similar situation unfolded in Dallas a couple of seasons ago, when the Cowboys hired a former Miami Dolphins assistant from that year to join their staff in the playoffs. But it almost never happens.
Erik Scalavino
On your radio show that aired before [Bill] O'Brien was made the HC at Penn State, you stated that [George] Godsey could take over QB coach duties. My question is do you see him going with O'Brien to Penn State given their past together? Do you see any current Pat coaches going with O'Brien? I fear losing Pepper [Johnson] to be O'Brien's DC since he was passed over for DC duties here.
Ryan Blodgett
You're right, Ryan, I did speculate that Godsey, a former quarterback at Georgia Tech under O'Brien, might be a logical candidate to become New England's next QB coach/offensive coordinator-in-waiting. Clearly, that was before McDaniels' return came to pass (pun intended). Godsey may wind up going with O'Brien to Happy Valley, and that may have happened even if McDaniels hadn't been rehired. We probably won't know, of course, until New England's season comes to an end, what further staff changes are afoot.
Certainly, though, there could be more current Patriots assistants heading west with O'Brien, particularly some of the younger members of the staff. I'd be a bit surprised, though not completely, if Johnson jumped ship, even though he thus far hasn't been tapped to be defensive coordinator here. His ties to Bill Belichick run deep.
Erik Scalavino
Two questions: 1) Why are the Patriots coordinators so heavily sought given their collective success (or lack thereof) in other organizations? And 2) Is there a way to lock down assistant coaches for multi-year contracts to keep other teams from scavenging away from Belichick's coaching staff?
James Cunningham
The phenomenon of assistants being harvested from a winning organization is not unique to New England. It's been happening for decades. Success breeds either success, or at least the hope for success, elsewhere. Success by association, you might say. Is there a common thread among the reasons why so many former Patriots assistants haven't been able to duplicate that winning consistency as head coaches? Tough to say, as I haven't really examined each scenario closely enough.
However, as long as New England keeps competing for Super Bowls each year, other teams will covet its coaches. Some will leave for greener pastures, others will stay put. Coaches have contracts, just like players, but often, clubs will grant assistants permission to talk to other teams about head coaching vacancies or coordinator positions. That's the way business is done in the league. That model has worked for a long time and I imagine it will continue.
There's something to be said for continuity, but there's also an argument to be made for promotions and giving opportunities to hard-working people who are so deserving. As a fan, you may not want to see your team pillaged year after year, but you just have to accept the reality that change – of rosters and coaching staffs – is one of the many constants in the NFL. And look at the bright side: if your team is viewed so positively by others, it must be winning!
Erik Scalavino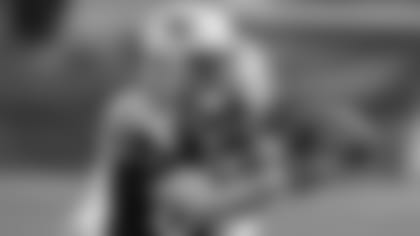 What is the status of Wes Welker's contract? I hope the Patriots will get him signed soon.*
*Mike Thomas
Welker's contract expires at the end of this season, meaning the Pro Bowler will become an unrestricted free agent unless the Patriots designate him their franchise player and/or re-sign him to a new contract.
Erik Scalavino
Dear PFW, with all the talk of coordinators at the moment, could you run through the process of a standard defensive play-call, from the start (and who is calling) to the green dot?
Conor Spencer
Sure. Defenses, in general, try to match their personnel to the groupings that the offense trots out. Sometimes, this can be easily anticipated (e.g., third-down nickel/dime packages), other times not (e.g., play-action passes from run formations). This move-countermove ballet is most often performed in the precious seconds that tick away between plays. There's not a lot of time, usually, to react, so, coaches and players have to be focused intently from one snap to the next.
On New England's defense, safeties coach Matt Patricia calls the plays, with input, of course, from Bill Belichick. Via headset, he and the defensive assistants make rapid-fire decisions on which subs they may or may not want to send into the game, and Patricia relays the defensive play to linebacker Jerod Mayo, whose helmet has a green dot that indicates the presence of a built-in headset. Mayo then calls the play in the huddle or passes it on by shouting commands or with hand signals if the offense goes no-huddle.
Erik Scalavino
The Patriots have a system for scouting, evaluating, grading, and selecting draft prospects, but do they ever go back and reevaluate their draft system? Do the coaches look at the entire draft from previous years and look at how players were graded going into the draft and where those players are today? More than a few draft selections have not worked out lately and I would like to do a better job in future drafts (as every team does). Look at all available players from the past few years not just our picks. Even guys who were not considered a good fit in our system. Did guys turn out as we predicted? Maybe that would help tweak our scouting and evaluation process. I know drafting is not an exact science but can we learn from the past? I appreciate all you guys do. Thanks.
Dave DeLuca
Unfortunately, PFW isn't allowed inside the football offices at Gillette Stadium to see exactly how the Patriots go about their various processes. Just imagine the stories we'd get from it if we did! However they do it, though, rest assured, they do a thorough self-evaluation at the end of each season, prior to the start of the new league year in March, in an effort to determine what worked, what didn't, and what, if anything, should be changed going into the next season. At least, that's what Belichick tells us at the start of every offseason. It would be great if we were invited to witness that first-hand.
Erik Scalavino
Hey guys, I am a big fan of your PFW in Progress podcast. Keep up the good work. Now that it's confirmed that Josh McDaniels will take over as our OC, I heard in a report a bit ago that Brandon Lloyd said he's tied to and will follow McDaniels wherever he goes because of the way Josh uses him as an every-play receiver. If that's true, do you think that the Pats would bring him in with Josh's request for a low money deal? If the two systems are very similar, do you think he could come in and be able to produce right away as a deep threat and maybe allow us to focus more, if not all, of our draft on defense while still getting a proven playmaker with hopefully a bit left in the tank. Thanks a lot guys.
Sebastian Belcourt
Lloyd would be an attractive addition to New England wide receiver corps. He is scheduled to become a free agent this offseason, too, so, expect to hear his name tied to the Patriots more and more frequently in the coming days. This team certainly could use more talent at the position behind Wes Welker, and the fact that Lloyd has produced in Patriots-like systems with McDaniels in Denver and St. Louis means he'd be more likely to have an impact than a newcomer like Chad Ochocinco did this year, coming into a completely foreign system with no off-season.
That said, I'd still like to see the Patriots target a receiver in the draft at some point, and perhaps another free agent or two (remember how well that worked in 2007?), while also taking care of their needs on defense in both areas.  
Erik Scalavino
Watching the Giants/Falcons game and an interesting call occurred and would like to get some clarification on the rules from you knowledgeable gentlemen. From my understanding, a DB can have contact with a receiver in the first five yards from scrimmage. If a pass is only thrown 2-3 yards past the line of scrimmage, can contact continue even when the ball is in the air? I realize it is a judgment call by the official. To me the whole pass interference rules/interpretation is something that needs to be worked on by the league. Love your segment from Iqaluit, Nunavut, Canada. GO PATS GO!!!!!!
Michael Jewis
I agree, Michael. There are far too many rules in the NFL today. The rulebook needs to go on a diet. The scenario you describe sounds like it would be ruled pass interference in most cases, but it would probably vary from officiating crew to officiating crew. Stay warm up there in the near-Arctic region of Canada!
Erik Scalavino
Gentlemen, while watching the playoff game between Cincy and Houston I noticed the Bengals' left guard tapping the center to inform him to snap the ball. How is this legal without being a false start? Also you would think the defense would be able to time this. The moment the guard tapped the center's leg, he immediately snapped the ball every time! Thank you AH, PP and ES for all the outstanding work.
Don Schobel
You're welcome, Don. It's truly our pleasure. The Patriots have actually done the exact same thing this season on numerous occasions (the Philly game stands out), with right guard Brian Waters being given the task of tapping the center's leg. Again, this appears to be a judgment call by the referees, who apparently are allowing some movement by linemen and quarterbacks before the snap. Some centers even rock back in their stance to look back at the QB … It's a very vague, grey area, but a great question. When the officials visit Gillette this summer in training camp, remind me to bring this up to them and I'll see if we can get you a more concrete answer.
Erik Scalavino
What is being done to promote some crowd noise at Gillette Stadium this post-season? I really think this crowd needs to get into it. Especially the "red seat folk." Could it really play a factor for these playoffs? If so, PROMOTE!!
Gregory Clark
This is something fans need to take up themselves. There's only so much the stadium staff can do to get the crowd into the game. If those in attendance can't get excited on their own, just by being at an NFL game in person, then shame on them. Loud crowds can't work miracles, but there's no doubting that they can influence the dramatic swings in momentum that we often see in football games.
One idea that a member of the PFW graphics department suggested was a great one. She said we should get the decibel levels from other famously loud, outdoor stadiums (Arrowhead, Mile High, etc.) and post them on the giant video boards at Gillette. Then, using a real noise meter, show the crowd exactly how loud they're being in relation to those other places. Maybe a benchmark is what the fans here need to embarrass them into doing their part.
Erik Scalavino