OK, so I am sure you got this question about 100 times this week so here is 101. How do we justify getting one second-round pick for Cassel and Vrabel now that the Broncos got two first-round picks, a third-round pick and a starting QB for Cutler? I am not comparing Cassel and one season to Cutler, but please!!!!Tom Raymond
First off, I think Josh McDaniels and Co. turned things around and pulled off a steal of a deal with the Bears. Josh stepped in you know what and in the end came up smelling roses. But there is a lot at play in the two trades you are comparing, tangible reasons for the differences. The biggest, in my mind, is the contract situation. Cutler is under contract moving forward at reasonable money while Cassel carried the franchise tender of $14-plus million. Any team looking to get Cassel had to have that cap space available and then would either have to sign him to a very lucrative long-term deal or risk losing him to free agency next spring. So the finances of the situation greatly lowered Cassel's trade value while greatly increasing Cutler's. Chicago gave up a bunch of draft picks but didn't have to invest huge money in Cutler, as would have been required in a deal for either Cassel or one of the top QBs in the draft. Conversely the Chiefs didn't have to give up as much in the trade for Cassel but are on the hook for huge money and don't even have a guarantee that they can hold onto him for the long term. But even saying all that, I still think the Broncos pulled one over on the Bears. McDaniels got great draft picks, unloaded a headache and got a more than serviceable QB to run his offense for the time being. Kyle Orton may not be as physically gifted as Cutler, but he is experienced, reads through defenses well, has a pretty accurate arm and seems to be a natural leader. All those things will fit in well under McDaniels' tutelage in Denver.
Andy Hart
Hey guys! I love Tuesdays!! Do you guys think the Pats haven't worked out contract extensions with Vince Wilfork, Richard Seymour or Logan Mankins because they want to see how this upcoming draft shapes out? I hope that's the case, I really don't wanna see any of the 3 with different jerseys on after this upcoming season. Another quick question, ideally in terms of positions, where would you like the Pats to target with their 1st and 2nd round picks? I say 2 linebackers, one inside one outside, and 2 defensive backs, one corner one safety.Juan Rodriguez
While I don't think the lack of extensions is quite as simple as you make it seem, there is a good chance the Patriots will look a bit harder in that direction after the hectic draft preparation process comes to a close. That said, the uncertainty of the rules that will be in place moving forward in terms of a CBA or potential uncapped season are also major hurdles that any big-money extensions would face. Certainly in the case of Wilfork, you are talking about a pretty special player who's looking to cash in in the prime of his career. He wants to be a Patriot for his entire career, but that doesn't mean he's going to sell himself short. We all know that to some degree …what for it… the NFL is a business. That's true now more than ever. The Patriots have some key decisions to make on these extensions in the coming months. That likely means the team won't be able to re-sign all three guys you mentioned. Time will tell, maybe that time will indeed be after the draft.
As for the final part of your question, I'd like to see the team add at least one first-day outside linebacker, one first-day cornerback, one first-day offensive playmaker (TE/WR/RB) and then the best available player (T?) with the final of the four first-day picks. We'll see what happens.
Andy Hart
Is there any new news on the Jason Taylor front?Marc Hamblin
Not much has come out in the last few days on the Taylor front. A lot of guys who know him seem to think he wants to return to Miami. A lot of Dolphins are lobbying for that return. It'll be interesting to see if Taylor and Bill Parcells can work something out a year after their initial breakup. If they can't I still think the Patriots are well positioned to be next in line for Taylor's services.
Andy Hart
Hey Ask PFW. I've got a couple questions to ask. First, who do you guys think the Pats will draft with their first 3-4 picks? Just list them in order if you'd like. Also, what other free agent acquisitions would you like to see the Pats pick up? Could someone like Marvin Harrison come here or would he just make our WR core even older?
Chris C.
No thanks on Harrison. I think he's done on the field and I don't think he'd be a good fit off the field. I would like to see Jason Taylor end up in New England. Sounds like he wants to go to Miami, but I'm holding out hope to see him in a Patriots uniform next fall. As for the draft picks, I'd like to see Larry English, Darius Butler and Percy Harvin all end up in New England in the first two rounds. It's probably not possible, but stranger things have happened. I also wouldn't mind hearing the name Rey Maualuga get called for the Patriots, although I'm not sure the need on the inside is quite as high at this point.
Andy Hart
With Seymour, Wilfork and Mankins, I have a feeling that only Wilfork might be with the club in 2010 if he is franchised or signed. If so, Pats may draft DL perhaps with one of our first two picks, and OL perhaps in late round 2. Would you agree?
Adam K.
Based on how Bill Belichick and Co. see things potentially playing out with the extensions you mention I do think that both defensive line and offensive line could be targets in the draft a bit earlier than many of us have projected. If a couple, or all three of those guys are gone after this season then there would be some serious holes in the trenches. Belichick is always focusing on building his team for both the short and long terms, so the type of selections you bring up would certainly seem to be in play. Aside from outside linebacker, the Patriots don't have a ton of immediate, top-of-the-depth-chart needs at this point thanks to the early work done through free agency and trades. Therefore such draft picks along the lines wouldn't be out of the question.
Andy Hart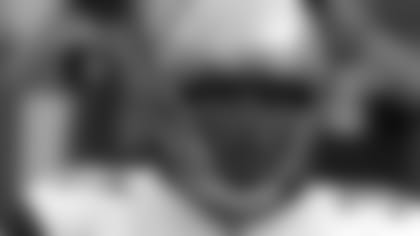 Hey guys, what do you think about bringing back Rodney Harrison and Roy Williams and moving Brandon Meriweather to FS to start over James Sanders? I mean this would be the lineup: The starting SS would be either Harrison or Williams and the starting FS would be Meriweather and no. 2 would be James Sanders. Just wondering what you guys were thinking and if we have enough cap space to do that. So should we and do we? *Caleb R.*
I don't have access to all the exact numbers but my feeling is that the team could bring both Harrison and Williams aboard if it wanted to. The problem I have with your scenario is that I'm not sure either player is an every-down starter in the New England scheme at this point. Harrison's health, recovery and durability are a major issue with his future. Williams might be suited to a nice hybrid safety/linebacker role, but I think that would be a situational job with the Patriots. Right now I still think that Meriweather and Sanders are your two starters at safety, with both players displaying the ability to perform both free and strong roles. I'd actually really like to see Williams in a Patriots uniform in the role I described. He's not the Pro Bowl safety that his reputation implies, but I think Belichick could turn him into a pretty unique playmaker in New England.
Andy Hart
I think that the Patriots should draft USC Linebacker Rey Maualuga [if he's still available at 23] especially if they can't land Julius Peppers. Rey is a good player overall and loves to hit people which is good for a linebacker to have that mentality, especially if they are a good pass rusher which Rey could be. What do you guys think?
Will Gellman
I like Maualuga's game a lot. I think he would be a stud inside linebacker for the Patriots. Put him next to Jerod Mayo and the middle of the New England defensive should be solid for years. But I don't think Maualuga would make his money rushing the passer in New England. I think he could probably be a decent rusher from the inside, but his real job would be stopping the run and making tackles all over the field. If you are looking for a guy to be an impact pass rusher coming out of the draft I think you need to look to someone other than Maualuga.
Andy Hart
Hey, I want to thank you guys for all the questions you answer that get me through the offseason. What do you think about the Patriots picking up Plaxico Burress? The Patriots just recently signed Joey Galloway and he will probably retire soon. Since Plaxico is most likely getting a suspension, he can sit out this year and replace Joey Galloway next year to make a killer WR lineup.Bob Thompson
No thanks. I've never liked Burress and I'm not interested in taking on his baggage, on or off the field.
Andy Hart
Reports say the team will wear throwback uniforms for the Buffalo Bills game to mark 50 years. Will the logo be the 1960 blue tri-corner hat worn only that first season?Mark F. Farrell
Mark, my understanding is the throwback uniforms will be from the 1963 season in which the Patriots went to the AFL title game. That will include the use of the Pat Patriot logo as well as the red, white and blue color schemes for the jerseys.
Andy Hart
Hi PFW my question is with so many running backs in are system what are your thoughts on moving Laurence Maroney to receiver next to Wes Welker? It would keep him healthier.Joshua Pales
I don't think Maroney has anywhere near the pass catching skills to play receiver. He didn't catch the ball much in college and has just 26 catches over three seasons (22 coming as a rookie). He doesn't have natural hands or route running abilities. It just wouldn't work.
Andy Hart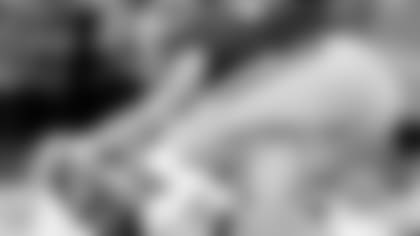 I really don't understand why people keep projecting the Patriots to draft Alphonso Smith or a corner early considering the potential Jonathan Wilhite and Terrence Wheatley showed last year and considering that Ellis Hobbs is still a young corner. Another thing is 'backers. 'Backers like Clint Sintim, Aaron Maybin and Larry English. Belichick usually picks versatile players. These guys are known for pass rush specialists and all have questions transitioning to the 3-4 complicated defense Belichick plays. Some of the 'backers make sense like the two 'backers from USC, Matthews and Cushing. They come from a defense that depends on what's in their heads. Do you guys agree with any of my opinions? *Francis*
First, I think some of the focus on cornerbacks stems from before the Patriots signed Leigh Bodden and Shawn Springs. Combine those vets with the young guys you mentioned and I do think the need is lessened at that spot. That said, you can never have enough cornerbacks in today's NFL and the search in New England for the No. 1, playmaking cornerback of the present/future remains. As for the linebackers, playing a 3-4 scheme like the Patriots do necessitates the team projecting players when it comes to drafting in the front seven. It's just part of doing business. Virtually all college players would face some transition to OLB in the Patriots 3-4, it's just the way it is. I really like English and think he'd look very good in New England. He's a proven pass rusher and I think he could transition into the rest of the role. Cushing is a guy I'm hot-and-cold on. If he lands with the Patriots he'll probably have a nice career working for Belichick. But I wouldn't target him if I were doing the drafting. I don't like Matthews, especially as a first or early second-round pick. I think he's a mid-round prospect who's been overrated thanks to his name, his workout abilities and the scheme he comes from. He'll probably be a solid pro and a very good special teams player. I just don't think his an impact, first-round talent.
Andy Hart
From what you see do you think that Clay Matthews is worth the 23rd pick in the draft?
Matt Burns
No. For part of the reasoning see the previous answer. He's a nice player. He works hard. He's smart. I just don't think he'll be an impact defender in the NFL. That's what you have to get if you draft a guy at No. 23 overall. I don't think Matthews is that guy.
Andy Hart
First off, I'm a long time Pats fan out of Canada, and I had a question about the draft. Malcolm Jenkins seems to be slipping down mock drafts. Do think there is a chance he's around at 23? I believe he would be a perfect fit for our secondary, he's a play maker! I'm not buying much of the talk about his poor workouts. Put on the film he can flat out play! What's your take on Malcolm? Would you like to see him a Patriot?
Max Yovanovich
I would love to see Jenkins as a Patriot come April 25. I think he's a proven playmaker and will be at the next level as well. For better or worse he brings some potential versatility as a safety or a corner. The Patriots love versatile defensive backs and that's what the modern NFL requires as more offenses spread out and diversify. I don't think he'll be around come No. 23, though. Mock drafts are one thing, but the real thing is altogether different. I just don't see nearly two-dozen NFL teams passing up on Jenkins' overall abilities. He's a good cover guy. Those are rare. And if by chance his speed isn't good enough to play corner in the NFL you can always – lame joke alert! -- put Malcolm in the middle. (Sorry, couldn't resist.)
Andy Hart
I know we signed 2 free agent WRs already, but do you think the Patriots would get a wide receiver in the draft? What do you think about getting someone like Percy Harvin, or another talented rookie like him? I think the offense would be unstoppable if he is added to the mix... Keep up the great work.Ian M.
I like Harvin as a true playmaker. I think he could help an NFL team in a variety of roles and he already has a relationship with Belichick from the coach's visits to the Florida campus each spring. It's an intriguing thought, even though there have been some off-field rumors floating around Harvin in recent weeks. Not sure the offense needs to add a guy like Harvin right now, but it would be fun to watch Belichick find ways to use him. If he's there in the second round, I would very much consider snagging him.
Andy Hart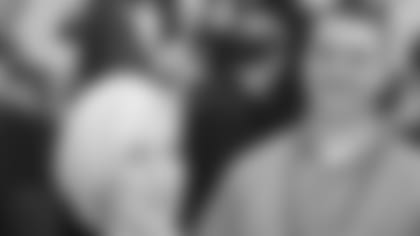 Better cheerleader: Jessica Simpson, Vanessa Hudgens or Jennifer Hudson?*
*Fred Powel
Simpson by a mile. She has the best pompoms. But she's still no Kellie Pickler!
Andy Hart
Why is it that every time someone asks a question about the acquisition of Jason Taylor or Julius Peppers, Richard Seymour's name seems to pop up first as the one to go? I know he has had some injury problems in previous years, but last year, I thought he did a really good job. The guy always draws double teams, and still managed to put up very respectable numbers - I've read that they weren't too far off of that guy who used to play for the Titans, and now is way overpaid in Washington. Seymour knows the Pats system inside and out, and is a proven commodity, so is there something I'm missing here regarding how either Taylor or Peppers - who have no real experience with the Pats - is a better fit for the team than a guy that has been a cornerstone of probably the best defensive line in the NFL? Thanks for your insight.Clinton Kaneoka
I think you are confusing a few different issues here. Seymour is a 3-4 end for the Patriots, while either Peppers or Taylor would play outside linebacker in New England. So, technically, neither would replace Seymour on the depth chart. But the greater issue might be financial. Adding players, certainly a guy with the financial desires of Peppers, means that there wouldn't be enough money/cap room to go around elsewhere. With Seymour playing out the final season of his contract and the team also potentially looking to re-up with Wilfork and Mankins, there may not be enough money to go around. Many people, including myself, seem to place a higher priority on re-signing Wilfork. Therefore adding a big contract like Peppers' and re-signing Wilfork would likely mean there wouldn't be enough money left to re-sign a still young, productive, well-respected guy like Seymour. So I don't think anyone is trying to run Seymour out of town after a bounce-back season, I think it's just a case of him falling lower on the list of potential priorities than other needs.
Andy Hart
I was just wondering who to throw this out to for discussion? I think that if Darrius Heyward-Bey is available for the Patriots to pick up, he would be a great complement to the team. He has blazing speed and good size. With Brady, Moss and Welker back, adding him would leave the other teams not knowing who to cover. Thanks.Patriot Fan
I'm not in love with Heyward-Bey. He certainly has the size and speed to be a playmaker. The problem is he hasn't proven consistently enough to be that type of dynamic playmaker. I get the feeling that this is a case of the sum of the athletic parts not equating to a great football player. I certainly don't like him in the first round or even at No. 34. Maybe later in the second round. What I really don't like is that he sort of reminds me of another former Patriots second-round pick – speed burner Bethel Johnson. Not exactly a comparison that makes me feel all warm and fuzzy inside.
Andy Hart
Two questions, please answer both fully, thanks. I have been reading Ask PFW for about four years now and haven't missed many weeks and am wondering how demanding this posting is on you guys? Second, the past few weeks I have noticed with all the talk with J.P. and J.T at (olb) people have been down on A. Thomas. Can you tell me your thoughts on Thomas since we acquired him and the talent that he brings to the system?
T. Bergen
Not really sure how to answer the first question. We read all the emails that come in and then answer as many as we feel are interesting or relevant in any given week. We post those answers on Patriots.com each and every Tuesday. Thanks for reading and thanks for sending in a question.
As to the Thomas portion of this query, I think you bring up an interesting topic. In my opinion Thomas has been good but not great since joining the Patriots. He's been limited some in terms of production by extended time playing inside linebacker as well as missing time due to injury. That said, I don't think he's been the impact, playmaking athlete that we all thought we were getting as a free agent coup in the spring of 2007. I just haven't seen him make enough plays for my liking. Maybe that will change if he's healthy and plays on the outside throughout this upcoming season. I hope so. The defense, and the pass rush in particular, could use a boost from Thomas this fall.
Andy Hart
Can a team use compensatory picks as part of a trade or include them in a package to move up in the draft? Are the Pats allowed to do whatever they want with the 11 draft picks they have or are there restrictions on any of the current picks?Dave DeLuca
Teams cannot trade compensatory selections. So the Patriots will definitely be picking at No. 97, 170 and 207 on draft weekend. New England is free to do what it wishes with its other eight selections in terms of possible trade options.
Andy Hart
I hear a lot about Kevin's [O'Connell] ability to scramble. I also hear some rumors about Pat White being taken to be receiver/Wildcat QB. Why can't Kevin run the Wildcat if he has great scrambling abilities.Brian Shin
O'Connell is a very athletic player and probably could run some reps out of the Wildcat formation. But he's not anywhere near the runner of a guy like White. O'Connell is a better athlete but a similar style to a guy like Matt Cassel. He can run. He will when he needs to. But it's not like he's Mike Vick looking to run first and throw later. I wouldn't rule out O'Connell for a few reps out of a unique package, but I don't think he'd be the type of weapon that White would be after running the spread offense in college with great running ability. Another factor is that the Patriots clearly want to develop O'Connell into a true backup quarterback with the ability to step in down the road. I'm not sure that practice or game reps running the Wildcat would be progress in that direction. He could also get hurt doing it. I don't think that's what the team is looking for. O'Connell is a quarterback who can run. Guys like White are runners who happen to also play quarterback and can throw a little. There is a difference.
Andy Hart
I have two questions how likely is it that the pats sign Jason Taylor? And is Greg Lewis a real possibility to start opposite of Randy Moss or the Pats plan to draft a receiver?*Anonymous
*[Editor's note: I actually forgot to cut and paste the name into my Word document. Sorry, whoever you are.]
I'd put the Taylor thing at 50-50 at this point, although that's just the opinion of one man who's actually been out of work the last week on paternity leave. So take it for what you will. Taylor seems interested in returning to the Dolphins, but if that doesn't happen it feels like New England has a great chance. And I do think that Lewis could start, at least part of the time, as New England's No. 3 receiver. His reputation is as a very solid route runner with very good hands. Sounds like the kind of guy that both Tom Brady and Bill Belichick will fall in love with. The Patriots have become a more spread offense with many three and four receiver sets. I think Lewis is going to find a nice home in those sets and many times in the starting lineup. I think he's really going to enjoy playing in New England and could surprise people by catching 40 or 50 passes this season.
Andy Hart
Do you think the Patriots will draft Darius Butler? He's got good height he's fast and has played WR so he has good ball skills I think he would be a good replacement for Asante Samuel. What are your thoughts?
Jeff Paquette
Butler is certainly a guy I would keep an eye on as a Patriots fan. He's got a lot to like in terms of a cornerback prospect. It's also interesting that Belichick took in his UConn Pro Day last month. He's clearly an elite athlete and can make some plays. I'm not ready to say he's the next Samuel or even worthy of the No. 23 pick, but I'd consider him in the second round. From what I understand he's a pretty level-headed guy and would fit in with the Patriots both on the field and in the locker room.
Andy Hart
Hey guys, thanks for keeping the offseason fun! This is the worst part of the year for me and you guys have made it less miserable. Anyway, regardless of Rodney Harrison's return, which I think he will, do you think he's a HOF guy? I don't think he's a first ballot guy and his numbers are good here (sacks, tackles) but not crazy good in other places like INTs and such but he is a HOF in my biased mind. He is a leader, Ring bearer, a Sack god, hard hitting, (kinda) dirty player, that leads the Pats in tackles when he finishes the season (and before The Mayo!) So I see him going in 2-3 years after eligibility. Also, will Big Willie get in and if he does do you think he'll go as a Patriot? He seemed to leave on bad terms.:(Evan Noel
A few weeks after finding out from one email that we are "less boring than school" wee get PFW's glowing endorsement of the week: We make life "less miserable." The T-shirts are already being printed. Go to the Pro Shop and buy yours now!
I don't think either Harrison or Willie McGinest will ever get to the Pro Football Hall of Fame. Safety is a nearly impossible position to get in and I don't think Harrison has the reputation or the resume to join the select group that includes Ronnie Lott. He's been a very good player over his career, but never truly elite guy like former Defensive Player of the Year Ed Reed. McGinest (By the way I don't really think No. 55 left on bad terms in New England. He knows it is a business as much as anyone.) is in a similar boat. He's had a long career. He's been very productive and helped the Patriots win a lot of big games. But he was never great; never one of the best in the game at his spot. He's a sure Patriots Hall of Famer but will get even less support than Harrison for the Pro Football Hall.
Andy Hart