If the [Kansas City] Chiefs do cut [running back] Larry Johnson is there any chance the Pats pick him up and try to make him the next "Corey Dillon project," or would he be to high-risk? Thanks, and keep up the good work.
Zack Ross
Hey guys, do you see Larry Johnson landing in New England if/when KC decides to part ways with him?
Roy Kiesler
Short answer: no. You may have seen the reports over the bye weekend that Kansas City and Johnson have struck a deal, whereby he will remain suspended for two games (until November 9, for recent inflammatory comments he made) but will only be docked one game check (NFL players are paid weekly over the course of the 17-week regular season). It sounds like he'll remain a Chief, at least for the remainder of this season. Where he winds up next year is anyone's guess at this point, but I'd be surprised if it's here in New England.
Every time a player like this is in danger of being divorced by his current team, fans instantly want to label him the next Corey Dillon or Randy Moss. But those who do are missing a significant difference between the Dillon and Moss cases and the likes of Johnson. The former were both well established veterans who were at points in their careers when what mattered most to them was winning, and they had displayed enough maturity for the Pats warrant giving them another chance.
Johnson's recent behavior, conversely, is just the latest example in a disturbing pattern of improprieties from the player, who, by these accounts, comes across as petulant, at best. Talented? No doubt, but there are plenty of other players who could be just as good if given the opportunity (BenJarvus Green-Ellis, perhaps?) and are far less of a headache than Johnson. The Pats should, and likely will, focus their energies on trying to attract those kinds of individuals to New England.
Erik Scalavino
Hey PFW, first-time/long-time … My question is more of a coaching thing, but I notice that Tom Brady (and every other NFL quarterback) points out the "Mike" linebacker prior to starting his snap count sequence. Is this to alert the O-line to adjust their blocking scheme or is there another reason? As a follow up, if the defense is running a 4-3, is it still necessary to point out the "Mike" backer when there is only one man playing in the middle?Kevin Townsend
Good observation, Kevin. It's not just the quarterbacks, though. You'll often see the offensive linemen themselves pointing out players on defense. This is usually to ensure that everyone is on the same page as to who's blocking who on the other side of the ball.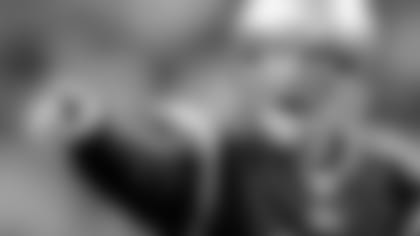 ]()Very often, the players aren't just pointing, but also barking out instructions or other messages to one another. For instance, a linebacker – even a lone middle 'backer in a 4-3 – might be lined up in one position, then start cheating in one direction or another, so the o-line or quarterback may feel the need to point this out to make sure everyone else sees what he sees because that could affect the protection scheme that's been called.
Furthermore, in some cases, it may look like the QB is pointing out the Mike, but he may in fact be indicating that another player on D – a safety, let's say – is creeping closer to the line of scrimmage and may be intending to blitz, which would also necessitate a chance in protection. And, of course, there are instances when all the pointing is just for show, in an effort to outwit or trick the defense into thinking that the offense is altering its plans so that they'll react accordingly. More often than not, however, it's a more involved process than it may seem.
Erik Scalavino
Hey PFW, good to be back again. I was wondering about our RB and TE positions. In both positions, we have yet to establish a number-one. The past two games, [Laurence] Maroney has been very productive. Would that make him a number-one even after Taylor comes back? Also, Benjamin Watson has been more involved in the passing game than he's been in a long time. Has he emerged as this team's number-one tight end from the production he's had thus far? One more thing, we could use an established number-three wide receiver. Any idea whom that would be? My money is on Aiken.
Jonathan Trujillo
I think Maroney is who he's been for his entire career – a decent back in spurts, but not a reliable, every-down ball carrier. As a result, I think you'll continue to see the by-committee approach that New England has employed at running back. It has worked for the Pats, and it helps spread the wealth while keeping all the available legs fresh.
Watson is an interesting case. He does seem to be playing with more purpose of late, and looks more relaxed, more comfortable in his role. He's also been hanging onto the football much better than in years past. But until he plays a full 16-game season (something he's yet to do in his career), I suggest taking a cautiously optimistic outlook with him.
And you're half right about the wide receiver position – the Pats definitely need an upgrade at that third spot, but I'm not convinced Aiken is the answer on a regular basis.
Erik Scalavino
With seven games played, would you give an assessment of the key rookies? It looks like [OL Sebastian] Vollmer is getting some good playing time and has played well. [CB Darius] Butler is playing much more, [S Pat] Chung is getting more time the past couple games, [WR Brandon] Tate is being worked into the rotation and [DL Ron] Brace is nowhere to be found. Which rookies are performing the best and which will contribute the most the rest of the season?Austin W.
Why even ask for our opinion? You did a pretty good job of it yourself, Austin, although you left out a few names, including sixth-round pick Myron Pryor. He's been seeing a lot of work along the defensive line since Week 1 of the preseason and appears to be getting more and more comfortable in the system each week.
]()Vollmer is indeed a legit talent, it would seem, and the future at left tackle, getting valuable experience maybe sooner than planned thanks to Matt Light's injury. Butler gets better each week and is working his way into a starting role one way or another, be it as an edge corner or in the slot. I'm not quite ready to say the same about Chung, though he is finally getting increased reps. It's just too early with Tate, but he had an encouraging debut. And Brace has been a disappointment after a strong start in the preseason.
Given the immediate needs at o-line and wide receiver, Vollmer and Tate will likely continue to see more action in the final nine games, as well as wide receiver Julian Edelman, whenever he returns from his broken arm. Ditto for Pryor and Butler, although for them, it's pure talent that's getting them in the lineup. I'd like to see more from Chung and Brace before I give them a grade.
In all, the Patriots have 10 rookies on the 53-man roster – an astounding number – and most are regular contributors. Don't forget long snapper Jake Ingram. With every field goal, extra point, and punt snap, he's quietly making people forget about Lonie Paxton. Plus, the fact that Brian Hoyer remains the only active quarterback on game days behind Tom Brady speaks volumes about his ability.
Erik Scalavino
After Sunday, I'm having my doubts about this team when they start to play in November. They have arguably the toughest opponents in the Colts, Saints, and Dolphins. Do you see any chance of winning against three great offenses that the above teams have?
John Opitz
Three great offenses? I only see two in your list: Indy's and New Orleans'. Miami's offense is balanced, I'll give them that. They're averaging 153 yards per game both passing and rushing. So, clearly, Ronnie Brown and Ricky Williams are a potent tandem. But QB Chad Henne leaves much to be desired at this point, that's to be expected from such a young player at that position. I'm splitting hairs with you, however. I agree with your premise, that the Pats' schedule in November is brutal. They play Miami twice in a five-week span and have three road, prime time games in four weeks.
I think they'll split with the Dolphins, as they usually do, beat the Jets at home, and win at least one of the other road games, either Indy or New Orleans. There might be an unexpected stumble in December, when the slate gets easier (on paper), so I see the Pats finishing at 11-5, winning the AFC East, and hosting at least one home playoff game in January.
Erik Scalavino
I am curious as to how the officiating crew was chosen for the London game. Was it just the "regularly scheduled" group to referee the Pats/Bucs game this year, or were the guys "specially selected" to make the international trip? Do they also get a "bye week" on the other side, or is it biz as usual for them? Did they travel with one of the teams? I assume the NFL picked up the tab for their travel and accommodations, but was curious how the refs were picked. I am guessing they are NOT football refs who live in England. (Didn't get their names, so can't check). Thanks.
Miranda Good
Geez, Miranda, you sure did "use a lot of quotation marks" for "no apparent reason" to "ask your question" … I won't hold that against you, though, just giving you a little good-natured ribbing. It's what we do here at PFW.
Anyhow, NFL officiating crews typically work together for an entire season and never travel with the teams. The NFL takes care of their travel and accommodations, as most of the men live in cities or towns all across the U.S. and convene every weekend for the game to which they're assigned. That process is handled internally by the league. We're not privy to how or why certain crews get selected for certain games, although we're to assume its done randomly during the regular season (post-season and Super Bowl assignments are doled out based on regular season performance, with the best crews and individuals getting the plum games). Every NFL game official is an American citizen employed by the league.
For the Pats-Bucs game in London, Jerome Boger was the referee, Carl Paganelli the umpire, John Schleyer the head linesman, Gary Arthur the line judge, Joe Larrew the side judge, Doug Rosenbaum the field judge, Tony Steratore the back judge, and Mark Burns the replay official. That same crew worked this past weekend at the Seahawks-Cowboys game in Arlington, Texas, so, no, they did not get a bye week. I'm not sure if they've had one already or will get one in the future, but one can assume they'll get at least one weekend off, just like the 32 teams.
Erik Scalavino
If the NFL gives London a franchise, could a US team legally trade a player there? Would he have to go?Fred Rosenthal
We're kind of putting the cart waaay before the horse, here, but presumably, all those logistical issues (i.e., citizenship, visa requirements, etc.) would be worked out well in advance of the league establishing a permanent base overseas.
Erik Scalavino
Is it true that the New England Patriots are thinking about changing their name back to the Boston Patriots??? I hope not, I like New England better.
Sara Pierce
Rest easy, Sara. No, it's not true. For this year's Legacy Games (the throwback jersey games honoring the American Football League's original teams), the Pats were referred to as the Boston Patriots, their original name in the AFL, just like the Jets were known as The Titans of New York, the Tennessee Titans were called the Houston Oilers, and the Kansas City Chiefs were the Dallas Texans. It's purely a ceremonial gesture on that particular game day, not a permanent name-change.
Erik Scalavino