Hi guys, I am a bit worried when I am writing these lines, we just waived McCarron and Hansen + Jeremy Hill placed on IR. On WRs side it means we have only 3 on roster before next game as Slater is a pure special teamer and Edelman still suspended. It's far too thin. Do you think Billingsley will be promoted to practice squad? Or a trade is coming? About Hill placed on IR, I really think Webb will be promoted to roster and Bill will take time to assess if a trade is needed also. Your thoughts?
Ludovic
Versailles, France
The Patriots have already reportedly signed former Browns first-round pick Corey Coleman, who'll be on his third team in less than a month. The team also reportedly added veteran Bennie Fowler, veteran former Broncos backup. While that adds a couple supposedly talented bodies to the mix, Coleman's fit on and off the field has to be questioned, as does his ability to get up to speed in a tough system. Maybe there is a little carryover from his short stint in Brian Daboll's system with the Bills, but he's still playing major catchup. I think the receiver position is going to be a major work in progress all season and Coleman won't be the last new face we'll see. Julian Edelman's return will help in October, but contributors on the outside will still be a question for the long haul. As for running back, what started as a deep position now feels thin. Jeremy Hill is gone with the torn ACL. Mike Gillislee is in New Orleans and Brandon Bolden is a Dolphin. Sony Michel has yet to suit up for game action of any kind. The team could very well consider bringing in an outside veteran because I'm not sure that practice squad rookie Ralph Webb is truly ready for the call-up or game action. But it's a position worth watching.
Greetings to the whole team from Germany! I am considering whether the number of wide receivers will last the whole season in order to be successful in the long term. I trust in Brady's ability to make everyone better and know BB's approach to playing over tight ends and receiving backs. Are there still options to get a proven receiver? I'm thinking of Martavis Bryant or Breshad Perriman (I don't know if it's that easy, but I read that both are waivers) Keep up the good work!
Perriman is still out there and is reportedly working out for the Eagles. Philly was reportedly interested in Coleman, too, before he reportedly signed with the Patriots. I'm not sure I'd have great faith in either guy. As for Bryant, he's reportedly facing a major NFL suspension after his release in Oakland. I don't think he's an option. Dez Bryant has also kept himself in conversation by commenting about the Patriots and his possible fit in New England on social media. For the here and now, though, I guess Coleman and Fowler are the next guys to get a shot. But since Coleman's on his third team in a month I don't assume he's in New England for the long haul, necessarily. The wide receiver position should be written in pencil on the depth chart for the foreseeable future.
Hi Guys, just wanted your thoughts on the running back position now after Hill's injury. Do you see a trade or free agent signing? Webb looked impressive but I'm guessing he doesn't fill the big back role.
I agree with your sense, as I don't see Webb being thrown to the mix just yet. I wouldn't be surprised if there was a signing or trade at the position, one where it's a little easier to hit the ground running quickly rather than having to work into the mix as is the case at receiver. Still, I think running back, wide receiver and punt returner are all areas to keep an eye on for possible transactions in the coming days and weeks.
Hi guys, have to say you do a great job and are always interesting. My question concerns our RB group. During pre-season Ralph Webb showed a lot of potential and was many of we fans' favorite. I understand with our depth at the position how the decision to release him came about and he is now on our PS. Wondering if one of our current RBs should have an IR kind if injury ( not hoping for such I really like who we have) but in such a case do you think BB would sign Webb to the 53 or look for a vet outside RB? I know the young guy was passed over by 31 other teams but does he, did he show enough to warrant being brought up?
Another Webb query. He's a popular guy this week, especially in light of Hill landing on IR. I liked what I saw in flashes from Webb in the preseason. I think he may have an NFL future as a backup running back. But he did average just 3.3 yards per carry playing against second- and third-tier players. Out of pure lack of depth or necessity, Webb may get a chance. And sometimes all it takes is for a guy to get a chance to prove his worth. But right now I'm dubious.
Given punt struggles, send McCarron back to practice squad and bring back Cyrus from Ravens practice squad?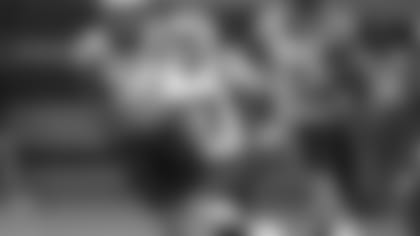 You got part of your wish. Riley McCarron was released on Monday and I won't be surprised if he returns to the New England practice squad. I'm not sure Cyrus Jones will be brought back or if he'd even want to come back after two-plus difficult seasons in New England. I do think someone could be brought in to add depth to the punt return spot, but I am doubtful that it will be Jones.
By far the worst part of the Patriots game was kick coverage. They couldn't keep the returner inside the 30, forget about the 25. At one point I was just hoping that the special teams coach would give up on return coverage and have Gostkowski boot it through the uprights. It seemed like they were continuing what they had success with last year, that is kicking it high and having it land within a yard of the goal line to force a return. Unfortunately the returns were net negative for the Patriots. My question is whether this is due to the new kick off rules, or more the coverage unit taking a step back, particularly Ebner and Slater, and no Brandon Bolden. The other aspects of special teams looked good - blocking a punt, downing a punt inside the 1, etc. but kickoff coverage was really bad.
I would agree that kickoff coverage may have been the worst consistently-bad aspect of the Patriots opening day performance. Belichick acknowledged the issue and did allow for the new rules to have some slight part in the struggles. More importantly, though, he noted that the coaches and players need to find a way to execute better. I thought Gostkowski did a nice job putting the ball right at or near the goal line. The coverage team just couldn't get Tyler Ervin down. It's on Belichick, Joe Judge and the players to figure it out. For a team that spends so much time and roster space focused on special teams work the kickoff coverage against Houston was unacceptably bad.
I was surprised to see that Gronk and Hightower were not re-elected team captains. Any idea why they weren't chosen?
Specifically? No. It's hard to necessarily say why players may or may not have voted for certain players. The Patriots are blessed to have a lot of trusted, respected veteran players in all three phases of the game. That's a lot of candidates for captain. I don't think anyone would question the addition of guys like James White or Patrick Chung to the mix. Did Gronkowski's offseason absence from OTAs or talk of retirement play into it? Maybe, but I really have no idea.
Hey Guys love your show, big fan since the days of Mack Heron, Don Blackmon and Tim Fox...LOL. With the Pats needing Receiver help, here's a thought. AJ Green! Bengals currently have 7 receivers on their 53-man roster. I believe they are heading towards a youth movement. The Bengals are going nowhere. AJ is 30 and will not be a part of that movement. Bengals trade Green to Pats for 3rd rounder and they get to stick it to the hated Steelers. Your thoughts?
The Bengals trading their best player to the Patriots for a third-round pick would stick it to the Steelers? I'm sorry, I don't follow. I would take Green in a heartbeat – even though I have always thought he was a little soft – but I can't imagine Cincy getting rid of him. Fingers crossed, though!
I do like Bryan Hoyer, he seems like a nice guy, but what about bringing Tim Tebow back?
Will the Patriots continue to live on the edge with their QB situation? I like Danny Etling a lot but he seems to be a project that could potentially work out but that's saying a lot and with a 41-year-old QB and a backup (Hoyer) who in my opinion is a 3rd string QB at best leaves the Patriots severely compromised. With that said what are the chances the Patriots kick the tires on Paxton Lynch? Are there any other QBs out there that may be on the Patriots radar? I really don't think their current QB situation serves the team well at all. I've never liked Brian Hoyer as a QBl and would really like to see the Patriots address this position and not leave it the way it currently stands. I would have liked to have seen them pursue Teddy Bridgewater.
Sometimes I think these questions are just screwing with me! Bring back Tebow? What? He couldn't hack it when he was here in the preseason a few years back. He's so done as an NFL QB that he's playing minor league baseball as well as serving as a broadcaster. And anyone who's familiar with my history knows I never thought Tebow was NFL-worthy as a passer. Sorry. That said, I understand the lack of confidence in Hoyer as the backup. He's a journeyman who had a less-than-impressive summer/preseason. His arm strength at this point is just not very impressive. I think the Patriots are like just about every other NFL team in that if their starter – G.O.A.T. Tom Brady – goes down, they are in trouble. I've never been a Lynch guy, either. Bridgewater would have been nice, but I don't think there was ever any way the Jets were going to do a trade with New England, even if the Patriots ponied up what the Saints did. Cross your fingers and hope that Brady continues to take virtually every snap, as he's done throughout his career other than his ACL season of 2008.
We all know injuries are always going to be a part of football-some are season-ending and others are minor but regardless of severity they're a given. However, it seems that the Pats are bit snake-bit this year with a high number of their rookies going out on IR or if not IR, dealing with lingering training camp injuries. At some point, does this give pause for thought for someone like Bill Belichick, who has been around football his entire life, and direct him to look at the existing strength and conditioning programs to see what is and is not working well and make changes to those training and preparation regimens?
Yes, the Patriots address these issues every year. They keep track of their injuries as well was how they compare to other teams across the league in both the short and long term. I think you answered your own question, to some degree. Injuries are just a part of the game. All the clichés are true. It's a battle of attrition. There is a 100-percent injury rate if you play long enough. It's part of why the Patriots believe in having a strong middle class on the roster. And the Patriots alter and tweak their training programs as needed and as advancements in research, medicine and technology warrant.
Hello gentlemen. Do you think BB and Nick Caserio need to take a different approach to drafting in rounds 1-3 by not trying to maximize the "value" of the pick? Maybe overdraft a little for known talent? They seem to find injury-prone players, underperforming disappointments, or both with few exceptions in those rounds and it's frustrating as a fan. I find that Belichick finds a lot of talent in the later rounds and undrafted free agents but generally struggles early on in the recent drafts (Easley, Richards, Dobson, Cyrus Jones, Antonio Garcia, Ras-I Dowling). Thanks!
Many of the top picks in recent drafts – not all of those in the first round – have left plenty to be desired in recent years. That's a change from Belichick's past as a drafter. There was a time when his first-round selections were considered virtual locks to have key roles in New England. When you marry that with some latter-round finds, that's how you end up with some drafts that build the foundation of championship teams. Recent years have seen a few more issues up top and trades of altered the pick landscape. It's hard to make up for that. It's part of the reason why ESPN recently rated the Patriots as the worst team for talent under the age of 25. I do know that New England spends a lot of time self-scouting its draft process and sees the same things we see. Will that change anything when they are on the clock in future years? We'll see. I would say that taking chances on players with injury questions in the first round – Dominique Easley and Sony Michel – has not paid off. The fact that New England hasn't had an elite, impact first-round pick since Chandler Jones and Dont'a Hightower back in 2012 is a bit eye-opening, even if the reasons for the drought vary. In some ways it magnifies Belichick's ability to fill out the roster as a championship level in other ways.
I know this isn't all in my imagination, but I lived in New England in the military and civilian life from 1976-1996 as a season ticket holder. Moved to Florida 1996 and continued to come up for several games a year until last year. This included many playoff games... Life as a Pats fan has been awesome and, yes we are spoiled. We have been treated to eight of the closest SB games in the history of the games…sometimes we win in the last minute because of offensive or (one time) defensive miracles … sometimes we lose in the final minutes because of overwhelmingly DEFENSIVE SUBSTANDARD PLAY. I just don't understand the staff and ownerships reluctance to devote drafts, trades and dollars to building defenses like we had in the late 90s and early 2000s. Offensively, TB makes fillet mignon out of hamburger meat WRs every year, but defensively, our DBs and safeties kill us at crunch time. Why don't they address our biggest weakness year after year. Even stockpiling draft picks should result in trading multiples for above average players on that side of the ball. TBs days are winding down and, I think, he only once had an elite, world-class receiver in Randy Moss. And look what they accomplished. Better start building some elite D, but I've been saying that for 15 years.. TB saving them big bucks in salary $$$ has been squandered and it's cost them three Super Bowls on D. OK, how utterly dumb do I sound?
I don't think you sound dumb, you sound passionate. I love that. Is some of the passion potentially misplaced? Sure. But I'll never fault anyone for passion. First, in the 15 years you've been calling to bolster the defense the Patriots have been to seven Super Bowls and won four of them. Not too shabby. They've been to the title game seven straight years. So, despite whatever you perceive as deficiencies, they have found a way to win consistently. Certainly Brady is the biggest part of that. I also think they have invested more than you think on defense with mixed results. There have been plenty of high draft picks, some of which haven't panned out on defense in the first couple rounds. They also went out and gave Stephon Gilmore the biggest free agent contract in the history of the team. This isn't to say they can't do more – or better. But I do think they've invested in trying to be better on defense in various ways. Also, as much as I shoot this down myself, they did have a top-5 scoring defense a year ago! For whatever that was worth.
As I see it where Julian Edelman is showing signs of wear from so many seasons. Do you think that the Pats can work out a deal with the Cowboys for COLE BEASLY? When I see him play he is the TYPICAL Patriots slot receiver. And he would give them the depth they need at that position. As we know Jerry Jones likes to wheel and deal draft choices. He is always looking to the future and not today.
Much like the Bengals, I can't see the Cowboys giving away a proven receiver when they have issues in the passing attack. They aren't just going to wave the white flag for this season. And while Edelman is coming off an ACL at the age of 32, I haven't necessarily seen signs of wear. I actually thought he looked good this summer and am hopeful that when he returns in October he'll be ready to get on the 100-catch pace that's seemingly expected of the job in New England. And while you can point to him missing time to injury over the years, that was an issue he faced just as much when he was young as he does now. I'm more hopeful Edelman will be a key part of the offense at this point than any other receiver not currently on the team, including Beasley. Will an Edelman replacement be needed moving forward? Sure. But my guess is that guy comes through the draft, with 2018 selection Braxton Berrios getting the first shot.
After the Super Bowl it was obvious the Patriots needed defensive help. In the draft, 2 first rounders went on offense. Can you explain that logic and in your opinion has the defense improved? Thanks.
Tom
Concerned Pats fan in Ireland
The logic is easy, the Patriots likely took the best player available – based on their opinions/scouting -- when they were on the clock last spring. You can argue it and maybe down the road time will prove they were wrong. We'll see. Second, I do think the defense has the chance to be better this year. I really like the addition of Adrian Clayborn at defensive end, a spot that was a rotating cast of bad options last fall. I like the youth at that spot as well. Ja'Whaun Bentley brings more to linebacker, where Hightower's return to health is huge. It will be interesting to see if Malcolm Butler's departure is a hole in the back end, but many point to him as having a bad year in 2017 anyway. So, Eric Rowe, Jason McCourty, Jonathan Jones and others may be enough to make up the difference. While I'm not sure the defense has done enough to be considered the strength of the team or anywhere near elite, I think it could be better overall as this season plays out.
I believe the Pats loaded up with draft picks in 2018 for the option of moving up in the draft in selecting Brady's heir apparent. Do you feel the same about this?
Nope. I think the year they had good ammo was this past spring, with two first-round picks. While they have extra mid-round selections this coming year, that's not elite ammo to move up to get an elite heir. I think Belichick likes to have a lot of draft picks in general. I think he likes to have options to make trades of any kind and picks are a part of that. Do I think they will be on the lookout for a quarterback? Yup. But they almost always are. If they were in must-get mode I think they would have traded up for one this past April. There was a pretty deep class and they had the picks/players to get a deal done.
It looks like Danny Shelton has a hard time holding at the point of attack. I see this as a problem for our run defense. What can the Patriots do to help him without sacrificing pass coverage?
I'm not ready to say Shelton is a problem just yet. In fact, I still have hope for the potential of the defensive line. Certainly the run defense had its issues against the Texans on Sunday. Though I've not yet broken down the game via replay, Shelton may have been a part of the problem. I also think Malcolm Brown needs to be better. Adding depth of versatile talent at linebacker with Hightower and Bentley will help. But you still have to be stout in the middle of the defensive line. Shelton, Brown and the rest need to improve in that area. No question.
What are Patriots doing with all the $$ saved by not signing above (last year) players? They certainly are not paying Brady! I live in SC so am not readily accessible to Patriot data. It seems to me that B.B. certainly failed to provide the necessary replacements WR, OT, DB, etc.
They are spending just about up to the salary cap, which they do on an almost annual basis. The money is spread out all over the roster. They have elite players in terms of contract at quarterback, tight end, guard, safety, linebacker, cornerback and kicker. They have well-paid middle class players as well all over the roster. You can argue with how they spend their money and cap space, but you can't really argue that they don't spend. The reality is that they do.
Why does everyone thing Jimmy G is going to be such a star? I was at the first game he started in Arizona when Tom was serving his suspension and he played really well. But he got hurt the next game and that was it. I know he won five games with the 49er's but take a look at the level of competition he was playing against and the fact that it was late in the season. He may go on to be the next great QB in the NFL but I think too many people are giving him the brass ring a little too quickly. Your thoughts?
Jimmy Garoppolo certainly showed a lot of things to like in his time in New England and short time in San Francisco. He's a clear leader and has the intangibles of the position. He seems to make mostly good decisions on the field, has a quick release and is generally accurate. All that led the 49ers, and other teams, to think Garoppolo has a high-end starter in the NFL. It's a league where potential at the position gets people overexcited. We've seen it with Garoppolo. We've seen it in Indy where they believe Jacoby Brissett is a top-15 NFL passer. We've seen in in New York where one great game for the Jets has rookie Sam Darnold as the talk of the town. I think Garoppolo is going to be a very good but not great quarterback, but I can understand why people have gotten so excited about him. There is a lot to like at a position where people talk themselves into liking much lesser talents. He obviously struggled a bit in his first career loss on Sunday on the road against a very good Vikings defense. But he'll bounce back, especially when he gets a little more talent around him.