With the signings of [Darrelle] Revis and [Brandon] Browner on defense and [Julian] Edelman and [Brandon] LaFell on offense, how do you guys see the depth chart at each position as of right now?* *Zach Strong
Cornerback: dramatically improved. Wide receiver: better, but still in need of help. Erik Scalavino
Want to start out saying you guys do a hell of job giving us your input on a week-to-week basis and to keep up the good work. My question is now that we have solidified our corner needs with the signing of Revis and Browner, we still have a big hole at safety. Do you think that Adrian Wilson or [Duron] Harmon can fill that gap next to McCourty or do you see us pursuing another safety in the draft or via free agency? Also, if we end up releasing [Vince] Wilfork, how do you think that would change our drafting plans? Jeremy Roberts
Thanks, Jeremy. Safety is definitely an area in need of an upgrade on this Patriots roster. Perhaps Harmon can make a significant year-two jump in development, but I'm not counting on it. The free agents I was hoping they'd chase have already been signed by other clubs, so, I would like to see the Patriots invest in a safety in next month's draft to help bolster the competition there. Erik Scalavino
Hi from Brazil. Do you think Duron Harmon could be a good starter in the NFL? If he doesn't develop in four games of preseason and the first four of regular season, do you see Brandon Browner moving to the SS position? He is a hard-hitting player with size and we still have depth at cornerback.* *Gustavo Ferreira
I've heard a lot of speculation about Browner and the safety position since he signed a few days ago, and I find it mystifying. Throughout the 2013 playoffs, all we heard was how Seattle's Richard Sherman was revolutionizing the cornerback position as a tall, aggressive, powerful body who can match up with equally big receivers, and how that was the model other teams were going to try to copy.
Now, the Patriots get a player like Sherman – his former teammate, Browner – and all anyone can talk about is his potential as a safety? I just don't get it. I fully expect Browner to play corner at this point. That's his natural position – one at which he made the Pro Bowl in 2011 – and until I see otherwise with my own two eyes, my expectation is for him to line up on the right side, opposite Darrelle Revis, giving New England something they've lacked for quite some time: two bona fide starting cornerbacks.
And as for that supposed depth at the position that you mentioned, may I refer you to the most recent AFC Championship Game, when that "depth" was exposed by a potent offense. With regard to Harmon and the safety position, please see above. Erik Scalavino
I am a huge Patriots fan from Pennsylvania and love reading your answers every week. I know there are lot of Pats fans still not satisfied with the wide receiver position in regards to a legitimate deep threat. I believe that [Aaron] Dobson and [Josh] Boyce will have very good sophomore seasons and they can be the deep threats. Do you agree or do you think they should address this further in free agency or the draft? Also I love all the acquisitions we made so far in free agency, especially Revis. Do you think there is any chance at locking him up in a multi-year deal even though it will be very expensive or is he going to be one-and-done? Thanks for the work you guys do you are doing a great job. Michael Pizzoli
I would be more optimistic about Dobson's prospects for 2014 had he not recently undergone surgery on his left foot which will keep him out, most likely, for all or most of the spring. As Bill Belichick likes to tell us often, an NFL player's most important development comes between years one and two. If that's the case, it would have been better for Dobson to be healthy and fully involved in the offseason strength and conditioning program, rather than focusing on rehabilitating his injury. The jury, meanwhile, is still out on Boyce, who rarely got a sniff of the field last season. So, it makes perfect sense that the team added free agent Brandon LaFell (6-2, 210), and it wouldn't surprise me at all if they took a playmaker at wide receiver in the draft as well.
As for Revis, yes, I think it's possible that he and the team could work on an extension if this season plays out as expected. But it's far too soon to be thinking along those lines. As a fan, you should be concentrating on enjoying having the best cornerback in the NFL on your team for the time being… however long that winds up being. Erik Scalavino
With [Dane] Fletcher and [Brandon] Spikes now out of the lineup, do you see Jared Allen in a Pats uniform? Don Blakeborough
The statuses of Fletcher and Spikes (now in Tampa and Buffalo, respectively) had absolutely no bearing whatsoever on my desire for the Patriots to make a run at Allen. For one thing, Fletcher and Spikes are linebackers and Allen is a defensive end. For another, even if they all played the same position, Allen is light years ahead of them in terms of talent. The Patriots could really use a player of Allen's caliber to be the lead pass rusher, with Chandler Jones as the complementary guy on the other side of the d-line. I hope they find a way to attract Allen to Foxborough sooner or later. Erik Scalavino
Ok, so we add Revis and Browner, (Reaction: "Yay, our defense just got better!), but then we lose Spikes and most likely Wilfork. Do you feel like we took two steps forward and then two steps backwards, or more even? We lose a great run-stopper in Spikes and one of the greatest NT's in the league. Do you see the Patriots filling these gaps in free agency or the draft, and depending on which one, who do you think would be the best fit for our beloved Pats? Thanks for everything, love the work you do.* *David Guerra
Two steps forward. Two gigantic steps forward. You should have no other reaction to the Patriots moves thus far on defense than that. Wilfork is not yet gone, and even if he eventually is, we've seen what life without him is like, and the good news is, it can only get better. Last year's Patriots rush defense was a major weakness, for sure, but not just because of Wilfork's absence. Veteran Tommy Kelly was lost with a knee injury early on, and if he can come back relatively strong, that area will automatically improve even without any additional moves at d-tackle. I'm not nearly as concerned about the departure of Spikes, who was a solid player, but certainly not one who can't be replaced. Even at this early juncture, New England's defense is far ahead of where it ended last season. Erik Scalavino
Do we need to find someone to replace Spikes since he has moved on to Buffalo? I know Collins made alot of progress last year but is he good enough to fill that role yet? Thanks for all your hard work. I really enjoy all that you guys do for us fans. Jim Ruggiero
Spikes was an inside linebacker, Jim; Collins is an outside 'backer. Different skill sets and responsibilities required for those positions. If anyone fills the Spikes role, it will likely be Dont'a Hightower, who did so quite often last year. What the Patriots need now is depth at linebacker behind expected starters Collins, Hightower, and Jerod Mayo. That area is pretty thin at the moment. Erik Scalavino
What's your opinion on the Patriots double-dipping in the draft for two big defensive tackles, like back in the day when they had Ted Washington and Keith Traylor? Ryan Plourde
First off, Ryan, a clarification: Washington and Traylor never played together on the Patriots. Washington was on the 2003 squad, Traylor the '04 club. And that was at a time when the nose tackle position was key to New England's 3-4 front. Today, with a 4-3 base, the Patriots could certainly use two stout tackles, so, it's not out of the question that they could pick up a couple in the draft. However, they also have a need at defensive end that, to me, is much more important a position nowadays. I'd prefer they address that position first, then worry about the tackles. Erik Scalavino
Do you have any information on the status of the players who underwent surgery, were on the IR, or non football injury list? Do you have any insight on the date of return of said players especially Gronk? Morris Hickok
Nothing we can report, no. Occasionally, we see players in the building either going to of just finishing up a rehab session, but we're not at liberty to divulge who or what we've seen unless it's in a formal media session. Looking forward, though, to seeing which guys are actually healthy enough to suit up for spring practices in May and June.* Erik Scalavino*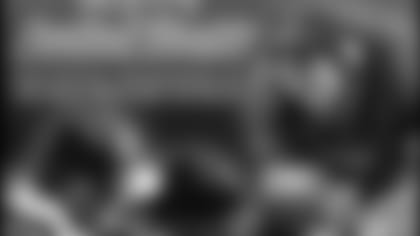 ](/fan-zone/patriots-football-weekly.html)Erik, in this year's draft, I can see the Patriots going a few different ways. But, I have a notion that it is going to all involve what quarterback is on the board at 29. It's time to start looking towards the future in New England. I believe if Derek Carr is on the board, he'll become a Patriot barring a trade involving a future first round pick. There is a lot of speculation over Jace Amaro amongst other quality defensive linemen but I don't see it. I think it's going to come down to the best available player in my opinion, Derek Carr. I'd like to hear your thoughts. Ben Stolt
I certainly agree, Ben, that the Patriots need to begin looking for their next starting quarterback soon, whether that's in this year's draft or a future one. I would be surprised, however, if they took a quarterback in the first round this year. The team has so many more areas of immediate need to address, particularly if they don't sign a veteran pass rusher like Jared Allen to finalize their augmentation of the defense. On offense, they also need some pass-catching weapons for Tom Brady, either a wideout or a tight end. Nothing can be ruled out where Belichick is concerned, but, again, I would be mildly stunned if a QB was New England's choice at 29 this year.
Having said that, I must add that I haven't seen much film on Carr or any of the other passers yet. Perhaps you're right and he's so good that he can't be passed up if still on the board there, but at this point, I think they'll look at other position and/or trade options for that 29 spot. *Erik Scalavino