With the recent cuts, I think for most of Patriots Nation, why Deion Branch? Yes he is 33 but his knowledge of the offense and Brady is just too valuable. His stats alone compared to others just doesn't warrant this. Would seem we are going backwards as far as offense.
Gene Daskey
While I don't think the offense took a step back with the cuts this summer, particularly Branch, I do think it's fair to say it didn't improve, either. When Brandon Lloyd was brought aboard as a free agent, the idea was that Branch then fell to the No. 5 passing option. That's not bad for a guy who caught 50 passes a year ago, and certainly more than Chad (Ochocinco) Johnson brought to the team a year ago in that same slot. But now, you've basically just swapped Lloyd for Branch and retain a four-pack of productive targets with Wes Welker, Rob Gronkowski and Aaron Hernandez. I think Greg Salas will add to this at some point, but still would have kept Branch around. The No. 2 offense in the NFL will be fine, but I still think the Branch cut is a strange one.
Andy Hart
Now I respect Bill and his coaching style but I've been questioning him for the past few years now. I feel as if Bill has lost his "touch" to win big games. This was the first time since 2007 that Brady has won a playoff game. It feels, with the talent we have, we should've won the Super Bowl by now. But we lose to the Giants twice, the Jets twice, we have had too close of calls with the Ravens, I just don't see with the talent we have how we haven't won the Super Bowl since '04. But what has me most concerned was with these past cuts. I understand cutting Gaffney or Stallworth, but not both. Why did we cut Deion Branch? He has been productive and a pain in defense's behinds for years now. Why did we cut him? Why can't we seem to win the big games anymore? Why do we have the injured Shiancoe, Fells and Ballard on our roster when we could've kept Branch? I do respect Bill but like I said, he just doesn't seem like the man he used to be.
Kyle Rodgers
I have a few problems with the premise of this email. First, especially on defense, I'm not sure the team should have won the Super Bowl with the talent the team has had over recent years. I was stunned that the Patriots made the Super Bowl last year given the basic ineptitude on defense for the bulk of the year. Second, Ballard is not on the roster. He's on PUP. Daniel Fells is the third tight end. A very good one and role the team clearly wanted this year. And Visanthe Shiancoe is a versatile veteran pass catcher who could very well be on the new partial-season IR that can come as early as today. Once/if he goes on that list, that will open up another roster spot. Could Deion Branch fill that spot? It's possible. I'm never surprised any more. But as I said above, I was surprised that Branch was cut in the first place and would not have made the same move. He's not what he once was, but he proved last year that he can still be a very productive complementary player.
Andy Hart
Is there a picks contest this year? I do not see it on the site and the first game is in 48 hours.
Dan Claybrook
No picks contest this year?
Wayne Paris
Sorry to disappoint you, but the picks contest on Patriots.com has been discontinued.
Andy Hart
With all the cuts at the receiver position, what do you see the Pats doing? Do we bring back a player we cut? I'd like to see Jesse Holley back, he showed ability with the Cowboys last year. Or pursue a free agent like Mike Sims-Walker, (I'd be excited to see him). Or could we make a trade, such as we did for Salas. As a fan I don't see how they can be comfortable with the drop in skill after Lloyd and Welker. Thanks!
Ian B.
Salas did add a little depth to the position, but I'd still expect to see another receiver make his way through town. I wouldn't be surprised if that was one of the veterans who were sent packing. I don't think it will be Holley who had a tough summer catching the ball. He also failed to be on the same page as the quarterbacks, best seen on the interception from Brian Hoyer that basically ended the preseason. For what it's worth, New England got away with just two productive receivers a year ago with the No. 2 offense in the NFL. If they're lucky, maybe they'll do the same with Welker and Lloyd in 2012.
Andy Hart
Hey guys, who is Mike Rivera and what type of production do you expect we will get out of him?
Mike Anderson
Rivera is a thick middle linebacker type who spent half of last season on the Patriots practice squad. He previously spent time on the practice squad or in training camp with the Dolphins, Bears, Titans and Packers. The 6-2, 255 pounder was a two-time all-Big 12 selection during his career at Kansas from 2004-08). He had a decent preseason and could be seen as a backup in the middle for a guy like Brandon Spikes. But his first contributions would probably come on special teams. Don't think he's ready to be a regular contributor on defense.
Andy Hart
I'm Curious. If the Patriots win the Super Bowl do the players on IR get Super Bowl rings?
Viraj Patel
Yes. Generally all players on the roster, practice squad and injured reserve receiver Super Bowl rings.
Andy Hart
Even after all these years BB still unpredictable as ever. The defense has 8 rookies on the 53 man roster with 2 undrafted players (3 undrafted players made the roster altogether). Then when you add up the $6,000,000.00 in signing bonuses the team ate for free agents that were cut: Fanene, Addai, Gonzalez, Gallery, Stallworth, Gaffney etc. What are your thoughts on the defensive youth movement and the 2012 free agent class that was not? Thank you.
B. Larson
For the most part I like the youth movement. I am intrigued by Chandler Jones, Dont'a Hightower, Tavon Wilson, Alfonzo Dennard and Justin Francis, just to name a few. Obviously the defense has struggled in recent years, so a change could do it good. I also am not shutting the door on the free agent class as I think that Steve Gregory is going to be a very important signing and that Daniel Fells could also play a decent role. The Patriots have often signed a lot of veteran type players over the years with the idea/hope that some of them work out. There is still a chance for that this year with the guys I mentioned, although it clearly won't go down as a banner year in that area given the Fanene situation, in particular.
Andy Hart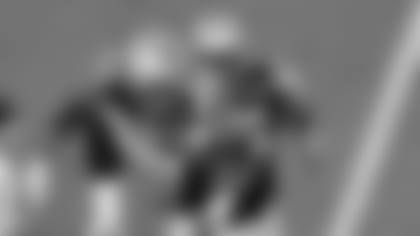 I haven't heard much about Andre Carter lately, has that ship already sailed? Also what percent of a chance is there Brian Waters reports?
Kyle T.
I don't think that the Carter ship has sailed. I still think there is a pretty good shot that when he's healthy and lowers his money requests that he lands in New England. Clearly no one else has wanted to sign him right now, either. As for Waters, I would put those chances a bit slimmer. I never thought there was a good shot he'd be back and think it's probably down to about 20 percent or less right now. But I'll never say never with Bill Belichick.
Andy Hart
Do you think the replacement officials will hinder the offense operating in a no huddle?
Loring Rowe
That is certainly a possibility, and one that I'm sure everyone involved will be monitoring. The officials have struggled to keep games going in the preseason and it will only be faster in the regular season. Add in some no-huddle work and these guys will have their hands full. Remember when the Bucs couldn't keep up with "Mr. Brady" and his no huddle last preseason. We could see a similar thing from the officials. And if that happens, watch Brady and Belichick blow their stacks!
Andy Hart
In the end, BB went with 3 tackles. All of them young, all of them with question marks this preseason. Solder I am the least worried about. Vollmer has looked good when he has played, but has an injury history. Is there anyone on the waiver wire that can be a fourth tackle? The Pats seem to be loading up at center, which I accept as "best player available." Last year, we got Waters off of last cut. Is there a quality veteran tackle out there looking for a ring?
Michael S.
First, Waters was a free agent last year before the last cuts. He just didn't want to sign before the season. So he was a little different case in a unique lockout year. There aren't too many suitable veteran tackles out there and the ones on the market don't really seem to want to play football anymore. That's why I'm much more concerned about Solder. While I think he can play the spot, he needs to prove it. And if he can't, there really isn't another suitable option. Unless you think it's Vollmer, who's unproven there and has his health issues. I really hope Solder can get the job done because he's very talented and seems like a great guy. But there is a lot of pressure on him this fall.
Andy Hart
Greetings! I cannot find a single question about the Patriots roster moves - they went for talent, youth, and cost. But I do have one perhaps touchy question -why didn't Pats get Tebow back then? Unlike Mallet, he can contribute on the field now and in a number of different ways, and Bill likes availability and versatility.
Stan Cohen
Unlike Tebow, Mallett can actually throw. Since the Patriots are a passing team, that means Mallett is a much better Patriot. When Tebow gives up his dream of being a quarterback, he might have a spot as a jack-of-all-trades in New England.
Andy Hart
What on earth is Greg Salas going to give you on the field that Branch or Stallworth or Gaffney couldn't give you?
Wayne Y.
Youthful potential. In just his second season, Salas could be the developmental receiver that the Patriots seem to lack, unless you include Edelman in that spot. Salas had good production in a limited time as a rookie for Josh McDaniels in St. Louis. He had a lot of production as sort of a big slot receiver at Hawaii. He may have some long term versatility. I'm not saying I would have cut all the veterans just to keep Salas, but I do think he brings something to the table in New England.
Andy Hart
Why did the Patriots release all of the big-name people?
Kyle Koman
C'mon Koman!? Last I checked Tom Brady, Rob Gronkowski, Wes Welker, Aaron Hernandez, Logan Mankins, Vince Wilfork and Jerod Mayo were all still on the roster. That's some pretty big names with some pretty impressive talent. The Patriots did release some older big-name guys, but that seems to happen every year. Fans become more attached to names than Belichick does in the bottom-line business of the NFL. That's the way it has to be. He's paid a lot of money to make the tough decisions and does the job well enough to give the Patriots a chance to win the Super Bowl each and every season. Blind player loyalty is for fans. Tough, cold-hearted decisions are for Belichick.
Andy Hart
What was the extent of Jeff Demps injury? Is he eligible to be taken off IR? If he isn't, do you think the Pats return game will be bad again this year?
Jack Davis
Demps injury was a bit unknown, although he clearly suffered a leg issue in the preseason finale against the Giants. How long the recovery from that would have been is anyone's guess. But for a guy who'd already missed a lot of time, falling even further behind would not have been good. So he's on IR and cannot play this year. As for the rest of the return game, I think Julian Edelman is good to very good on punt returns. I have no concerns there. As for kickoffs, I'm still doubtful. That was an area of real weakness a year ago and I've seen nothing to make me believe it's going to morph into a strength this year. Belichick and Scott O'Brien have tried a ton of combinations at returner this offseason but nothing has really sparked. Danny Woodhead is the incumbent, but I have to think other players will continue to get a chance to prove something in the regular season to improve the spot.
Andy Hart
The Patriots pride themselves in making moves to enable them to be the best they possibly can be. My question is why they are allowing Brian Waters to string them along like he is-this whole idea of, "Is he going to play? Is he not going to play?" Due to his absence, the O-line is much weaker, and protection is not as solid as it should be. The Patriots banked on him coming back, and didn't prepare for his possible absence. There were top-notch guards available in the offseason, but now the Patriots have a hole due to the games that Waters is playing. Why didn't the organization do their homework? Seems like a bad personnel decision.
Mike Milbury
How do we know that the Patriots "banked on him coming back?" They re-signed Dan Connolly and Dan Koppen. They signed Robert Gallery. While two of those guys aren't on the team now, they clearly were a part of the offseason plan on the interior line. I wouldn't be surprised if they projected Gallery to start at right guard, based on his reps before he retired. I'm also not sure how much time or thought Belichick or anyone on the team has spent worrying about Waters. He's out of sight and out of mind. I don't think they had any pre-planned deal with him in place, as has been speculated by some media types. Would the team be better with Waters in camp? Yes. Will he be here at some point? I doubt it. But I certainly don't feel like the team got caught with its proverbial pants down.
Andy Hart
What constitutes 'eligibility' for the practice squad. Thanks.
John Mann, Toronto
According to Article 33 or the NFL CBA the ruels for practice squad eligibility are as follows:
"Section 4. Eligibility:
"(a) The Practice Squad shall consist of the following players, provided that they have not served more than two previous seasons on a Practice Squad: (i) players who do not have an Accrued Season of NFL experience; and (ii) free agent players who were on the Active List for fewer than nine regular season games during their only Ac-crued Season(s). An otherwise eligible player may be a Practice Squad player for a third season only if the Club by which he is employed that season has at least 53 players on its Active/Inactive List during the entire period of his employment.
"(b) A player shall be deemed to have served on a Practice Squad in a season if he has passed the club's physical and been a member of the club's Practice Squad for at least three regular season or postseason games during his first two Practice Squad seasons, and for at least one regular season or postseason game during his third Practice Squad season. (For purposes of this Section, a bye week counts as a game provided that the player is not terminated until after the regular season or postseason weekend in question.)"
Hope you enjoyed this little trip into the legalese that is the NFL's CBA!
Andy Hart
I know this is getting old but any update on Brian Waters? That is all.
Erik L.
No update from Belichick, as he simply said that Waters isn't on the active roster. The team also gave the No. 54 jersey – worn by Waters last season and still assigned to the Pro Bowl guard throughout the summer – to rookie linebacker Dont'a Hightower. And when we next get locker room access on Wednesday, I wouldn't be surprised to see that Waters' nameplate has been removed from his former locker. I wasn't one who held out too much hope that Waters would be here this season and I feel even less confident of that now.
Andy Hart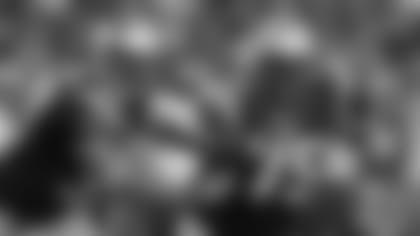 Question about the Rob Ninkovich position change to DE. Is this his role this year or is he going to be playing both OLB and DE? I know Bill is a D genius and I do trust in him, but Rob was the third most productive linebacker last year next to Mayo and Spikes. Also I was wondering if you could ever do an update on the mobile app for the most up-to-date roster, and depth chart. It would be cool! Thanks for the info.
Jake Gobielle
Ninkovich will begin the season as the Patriots starting left defensive end. But that could obviously change because of a number of factors. He could struggle or get worn down as he is a bit undersized for the spot. Or, the lack of depth at linebacker could require him to play linebacker. Or, Andre Carter could return to play end. Or, a million other things could change. I did think that Ninkovich had a pretty good year last fall, putting up the best numbers of his career. It will be interesting how it works out moving back to his college position of defensive end.
Andy Hart
Hey guys first of all you do an excellent work answering all the fan Q`s, I am a big fan from Mexico City and my question for you is that I have not seen anything about Andre Carter; last year, he did amazing things and was a Pro Bowler. ¿Do you think we'll see him playing next year?
Alfonso Urdapilleta
First of all, the upside down question mark before questions was one of my favorite aspects of the Spanish language when I studied it in school. Thanks for bringing it to Ask PFW! I would do it myself, but have no idea how to type it in Microsoft Word. Anyway, Carter remains a free agent as he continues to work back from his torn quad suffered last season. He's worked out for a few other teams – reportedly the Rams and Raiders – but neither signed him. That tells me he's not as healthy as he tried to profess earlier this summer. I still think there is a pretty fair chance that he'll return to New England this fall once he's healthy and his financial demands come down bit. I hope so, because Carter was arguably the Patriots best defensive player last year and I would love to see him work with Chandler Jones this fall.
Andy Hart
I keep hearing that Brian Hoyer's playing style is much more like Tom Brady's style than Ryan Mallett's is. Can you please explain what exactly this means? Thanks and keep up the good work.
Aaron McCloskey
Hoyer is a more cerebral, weaker armed player. He seems more comfortable – at times – going through his reads and progressions in a Brady-like manner. He also has been short accuracy than Mallett, a strength of Brady's game. Mallett is a taller quarterback with a stronger arm. He's not afraid to try and make plays with that arm by firing the ball into a tight spot. He also seems to have the gunslinger ability of moving on after a bad throw to make a similar throw again, that type of short memory that is required when you take risks. He lacks some of the progression ability and short accuracy that Brady possesses. In real basic perspective, Mallett is more like Drew Bledsoe than Tom Brady.
Andy Hart