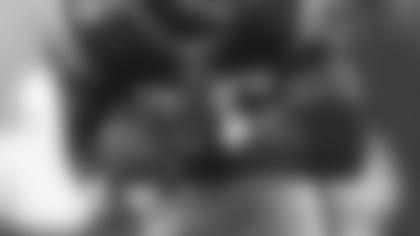 ]()Media reports speak about Willie McGinest and his desire for a possible return to the Patriots this year to finish his career here. What did his performance levels in Cleveland demonstrate to you regarding his current potential? I feel that he could play a great role mentoring younger players at the OLB spot and play a key role as an edge rusher this year in a limited capacity.Dave McDermott
McGinest spent three years in Cleveland and never really gave the Browns defense the pop it was looking for. He only missed seven games in those three years but he recorded just eight sacks during that time. He made 56 tackles while playing 14 games last year but again had just one sack. So I'm not sure what kind of heat he's still capable of bringing off the edge at this stage of his career. In a limited capacity he could provide some leadership and guidance to the young outside guys but I'd prefer to wait to see if injuries or poor performance create a need to add him to the mix. Otherwise, I'd rather take my chances with the guys currently on the roster.
Paul Perillo
Here is a different kind of question for you: Of these four USC quarterbacks currently in the NFL, which will have the best complete career when all is said and done: Carson Palmer (1st rounder), Matt Leinart (1st rounder), Matt Cassel (7th rounder) or Mark Sanchez (1st rounder). This is not necessarily a baited question trying to elicit Cassel as the answer, but simply a question that will be interesting to follow over the next few years. If I were to handicap it, I'd go in this order: Sanchez, Cassel, Palmer, Leinart. As you can see, I believe that Palmer is somewhat overrated, realizing of course that he's had injuries and head case WRs to deal with.
Jeff O.
While I do think Palmer was a tad overrated in the past, I'd still put him at the top of this list. Palmer had some great years with the Bengals and not many quarterbacks have been able to say that over the years. He did have some great talent around him on offense but Cincinnati only became a legitimate team after they made the switch from Jon Kitna to Palmer in 2004. Sanchez has yet to play so it's tough to project what he'll accomplish. The odds are that he will not duplicate or better the performance that Palmer has already put up based on past first rounders' performances. I like Cassel a lot but I do believe there was something to the school of thought about his being in a perfect situation to succeed last year. If he were to post similar numbers and win totals with Kansas City then I'd have to re-evaluate this discussion. Leinart didn't do much in his limited time but I'm not quite ready to toss him aside just yet. He'll get another chance to play and I believe he'll be on par with Cassel before all is said and done. So if you're asking me to rank them 1-4, I'll go Palmer, Sanchez, Cassel, Leinart.
Paul Perillo
Hey guys. I look forward to every "Ask PFW." I just have one question. With everyone talking about Vince Wilfork and Julius Peppers, I was curious who you guys think is be more valuable to the team: Richard Seymour or Logan Mankins. Seymour is great at stopping the run but Mankins is protecting Brady. Help me out!Jacob Reid
I'd say Seymour by a landslide. Mankins is a terrific player and he will be in prime position to cash in via free agency next year assuming the CBA talks go well, but he plays guard and that's not as tough a position to fill as the defensive line. Seymour plays a position that is very difficult to fill, especially in the Patriots 3-4. The Patriots have won Super Bowls with Russ Hochstein, Damien Woody, Joe Andruzzi and Mike Compton playing guard. And I'm not talking about for one game as a fill in here or there; I'm talking about for entire seasons and postseasons. Seymour has been replaced by Jarvis Green for the short term but over an entire season or more it would be tough to find a guy that does it as well as he does. It's sort of a difficult exercise to explain, but I just feel the important of good defensive ends in the 3-4 outweighs the need for guards, which I feel can be somewhat interchangeable. I'm certainly no expert on that, but a lot of football folks believe you can always find guards and the fact that they're rarely chosen at the top of the draft would seem to indicate there's some truth in that philosophy.
Paul Perillo
Greetings from Canada! The Pats have a history of converting pass rushing DEs to OLBs. Why not use Jarvis Green as an OLB in passing situations? It seems Belichick covets size at this position. He's 6-3 and 280 pounds, which is very similar to Adalius Thomas?
Leon Boegman
I don't feel Green has anywhere near the level of athleticism to make such a move. Usually the players Belichick targets to make the switch are undersized college defensive ends with some length that can run. Green doesn't run well and has been a defensive lineman for his entire eight-year career. Thomas is somewhat of an athletic freak – much like Julius Peppers – in that they run and move like men much smaller than they are. Thomas is listed at 270 pounds while Green is listed at 285. That's a big difference, especially when considering Thomas is already big for the position. While I'd never dismiss anything as out of hand when it comes to Belichick's willingness to experiment, I don't see Green as a player with the necessary tools to make such a transition.
Paul Perillo
The Jason Taylor/Julius Peppers situations have resolved themselves, and the Willie McGinest rumors are more nostalgic than practical. While I certainly have more faith in what the coaching staff sees at OLB with Shawn Crable/Pierre Woods/Vince Redd than the pipe dreams of fans like myself, why not kick the tires on Derrick Brooks? Granted the system he has been in is different, but he had long been lauded for his football IQ and would be likely to adapt. Add to that the lack of real interest he seems to be garnering (Giants/Saints perhaps?) and it would seem to be a logical 'Seau-style' fit for perhaps two years. Your thoughts?
Jamey D.
My thoughts would be that Brooks would be an inside linebacker in the Patriots 3-4 system and at 6-0, 235 pounds he may be small for that as well. Brooks is a great player and, as you put it, by all accounts a student of the game, but sometimes you just can't put a square peg into a round hole. Brooks is not big enough to play outside – plain and simple. I have no doubt that he could adapt and play inside despite less-than-ideal size, but I can't see it on the outside. I'm also not sure what he has left at this stage of his career, although based on the past I would not be willing to bet against him. He's been one of the game's truly great linebackers for a decade.
Paul Perillo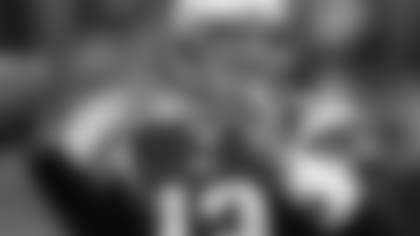 ]()Hey guys. First off, thanks so much for addressing the "Tom Brady or 19-0" scenario on Debate Friday. Shortly after that Super Bowl I kind of entertained the idea that, had we won, we may not only have seen the end of Brady, but maybe Rodney Harrison and Tedy Bruschi may not have returned, along with Junior Seau. Perhaps even Vince Wilfork and Richard Seymour may not have wanted to renew their contracts - having won a combined six rings, they may want a new challenge elsewhere. I foresaw a mass exodus. Losing that game, but being able to keep these players, is fine by me. So no surprises that I had to side with my guy Andy Hart on that one.*
*Saj S.
Even though I'm obviously a rather biased party on this matter, I believe this is a great debate because there have been some really good points made on both sides. Fred and Erik have been adamantly on the 19-0 side while Andy is just as adamant on the 10 years of Brady side. I am on the 19-0 side, but much more toward the middle than anyone else (which is very unlike me as you all know). I can honestly see both sides. But I feel the argument has been somewhat misrepresented at times. Many on the Brady side have argued they'd rather have multiple titles than go 19-0. So would I but that wasn't the question. In our debate, there was no guarantee that the Patriots win any more titles with Brady while there was a guarantee they'd go 19-0. Therefore, I took the guarantee of immortality. Just like in your case, Saj. You're adding all this other stuff into the equation – guys retiring, leaving, etc. That wasn't part of the debate. It was 19-0 and Brady retires or no 19-0 and Brady for another 10 years. Let the debate rage on!
Paul Perillo
If Bill and company had known in February what the team's OLB situation would look like right now, do you still think Mike Vrabel would have been traded? I sometimes wonder if there was a plan in place that never materialized.Bill S.
Obviously without asking Bill directly there's no way of knowing for sure, but my guess is he would have. I don't think the Vrabel trade was made strictly because the team was looking for a player to replace him as much as because for financial reasons. Getting Vrabel's $4 million (roughly) off the books allowed the team to enter free agency aggressively and the Patriots made some moves. They likely wanted to make another with Jason Taylor but as you aptly wrote it never materialized. Based on comments it certainly appeared as if the Patriots wanted Taylor and were somewhat surprised that he chose Miami instead, so I guess one could wonder if Belichick had to do it over again whether he would have pursued another option rather than dealing Vrabel.
Paul Perillo
In my opinion the starting LBs should be, Adalius Thomas OLB, Tedy Bruschi and Jerod Mayo at ILB, Shawn Crable at OLB. What do you think?
Brendon Whitfield
I think you've hit on three of the four but I believe Pierre Woods will be the starter in place of Crable and play on early downs and run situations. I think Crable certainly will play a lot and get some opportunities to rush the passer on later downs, hopefully giving the Patriots a nice three-man rotation on the outside. I'd also expect Gary Guyton and maybe Paris Lenon to work into the mix on the inside and provide some depth in there as well. Short of another acquisition (Derrick Burgess?) this looks like the core group of linebackers the Patriots will take into the 2009 season.
Paul Perillo
Where does the "Ask PFW" staff rate Dean Pees compared to other defensive coordinators in the NFL? Is this a make or break year for him?Chris Noble
I don't have any rankings of defensive coordinators to fall back on and frankly I don't see enough of every other team to accurately make those determinations. I know Philly's Jimmy Johnson and Pittsburgh's Dick LeBeau are considered two of the best, but beyond those kinds of names it's tough to rank them. I believe Pees does a terrific job with what he has to work with, which in the past couple of seasons hasn't been anywhere near as much as in the Super Bowl days of 2003-04. Last season Ellis Hobbs was the team's best cornerback. The Patriots traded him for two fifth-round picks, so that shows you how much value he had on the open market. I don't believe this is any kind of make-or-break year for Pees considering the amount of youth that figures to be added into the mix in 2009. I believe the potential for significant improvement exists but there are still some question marks. It all comes down to the players – remember back in 2005 when the Patriots couldn't stop the run at all with Monty Beisel and Chad Brown manning the inside linebacker spots? Everyone was killing first-year defensive coordinator Eric Mangini at the time and then Mike Vrabel moved inside and Tedy Bruschi returned from his stroke. Suddenly, the Patriots defense was playing as well as anyone's down the stretch. So was Mangini a stiff and then suddenly 'got it' at some point, or did the players change everything? I'd go with the latter. We'll see if the players can make life easier for Pees in 2009.
Paul Perillo